Proton Beam Therapy Fast Facts
Proton beam therapy is different than standard radiation in that it doesn't leave residual "exit dose" radiation in the body. Exit dose radiation can harm healthy tissue and cause long-term side effects.
Evidence shows proton therapy is safer than traditional radiation for pediatric cancers and head and neck cancers, but more research is needed to prove the same for other cancers.
Nearly two-thirds of the time, insurance will refuse to pay for it.
In November 2017, Randy Montgomery, then a 58-year-old man living in Wichita Falls, Texas, visited an ear, nose, and throat doctor complaining of swollen lymph nodes. Like so many patients, Montgomery was shocked by the words "you have cancer." The doctors told him he had advanced-stage throat cancer, and that he would need immediate surgery to remove the tumors coating his tonsils.
But when Montgomery went to see an oncologist at the MD Anderson Cancer Center in Houston (nearly six hours away) for a last-minute second opinion before his surgery, he was told that, for his type and stage of cancer, surgery would be pointless; his cancer had spread to most of his lymph nodes, and would continue to spread even if he had the tonsil tumors surgically removed. His oncologist at MD Anderson, Dr. Steven Frank, said he would be more inclined to recommend radiation than surgery, but with the devastating side effects that radiating the neck could bring, such as damage to the brain stem, tongue, jaw, and roof of the mouth, Montgomery faced the possibility of losing his voice and his ability to swallow, maybe for life. His safest option would be a different, more precise type of radiation, called proton beam therapy.
Read More
Proton Therapy Isn't a "New" Treatment, But It's Been Expanding
Proton beam therapy—a treatment that targets solid cancer tumors without harming nearby healthy tissue—has recently been expanding in its reach. In New York, a consortium of leading hospitals, including Memorial Sloan Kettering Cancer Center, Montefiore, and Mount Sinai, just pooled together their resources to build the first proton beam therapy facility in the state, the $300 million New York Proton Center, which began treating patients this month. And last month, the Mayo Clinic announced it would build a $233 million proton treatment facility on its Jacksonville, Florida campus.
The treatment is marketed as a safer, more precise alternative to traditional radiation therapy for many patients with cancer. And while the word "new" has been used to describe the treatment, it has actually been around for decades; it was 1946 when nuclear physicists first suggested using protons to treat cancer, and oncologists have been using it in the clinical setting since the 1970s. But it's taken a long time for proton beam therapy to gain a foothold in the cancer treatment landscape—the reason being that it presents exorbitant costs to both providers and patients.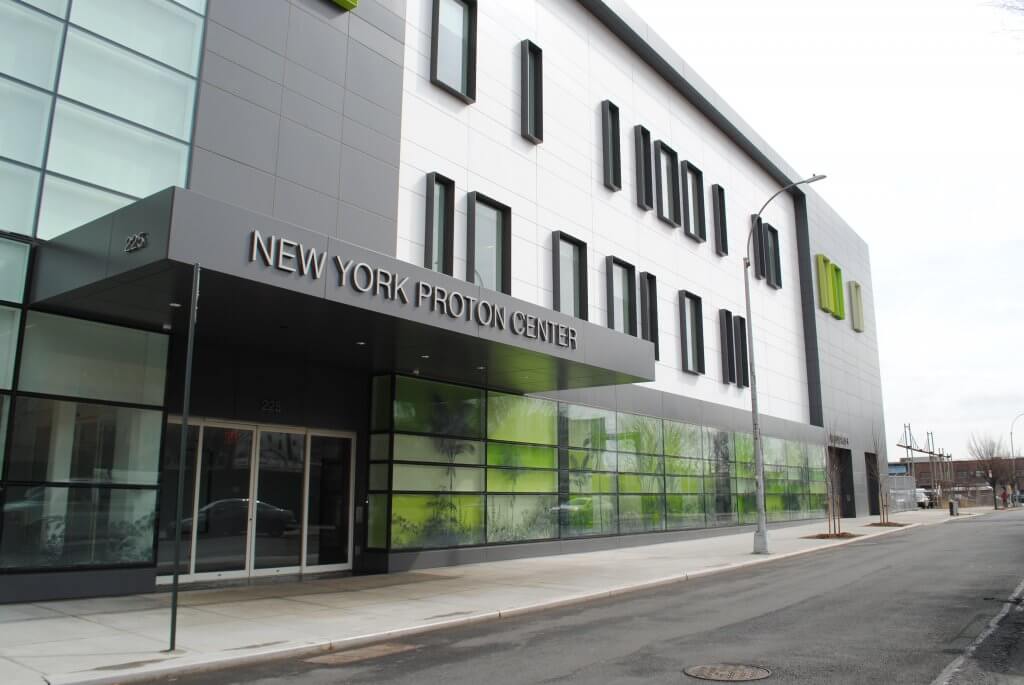 Proton Beam Therapy: What It Is and How It Works
A proton beam therapy machine has the power to eradicate even the smallest of cancer tumors, delivering one of the most precise doses of radiation available in modern oncology.
With their tubes, lights, bolts and buttons, these 300-ton machines somewhat resemble a fleet of space shuttles. Or maybe, if you're a patient like Randy Montgomery, lying stock-still on an elevated table beneath one of the machine's cylindrical, rotating openings, staring up at an arm-like nozzle as it shoots positively-charged proton particles in a precise path through your body at 125,000 miles-per-second to target a cluster of cancer cells, the more apt comparison might be that of a UFO staffed with benevolent robots.
RELATED: The Benefits of Proton Therapy
"Proton beam therapy can really be used to treat any solid-tumor cancer," Dr. Charles Simone, the Chief Medical Officer at the New York Proton Center, told SurvivorNet. "Meaning not leukemias, but any cancer where there's a singular focus of the disease, proton beam therapy can be directed to that area and treat the tumor directly without treating as many normal tissues."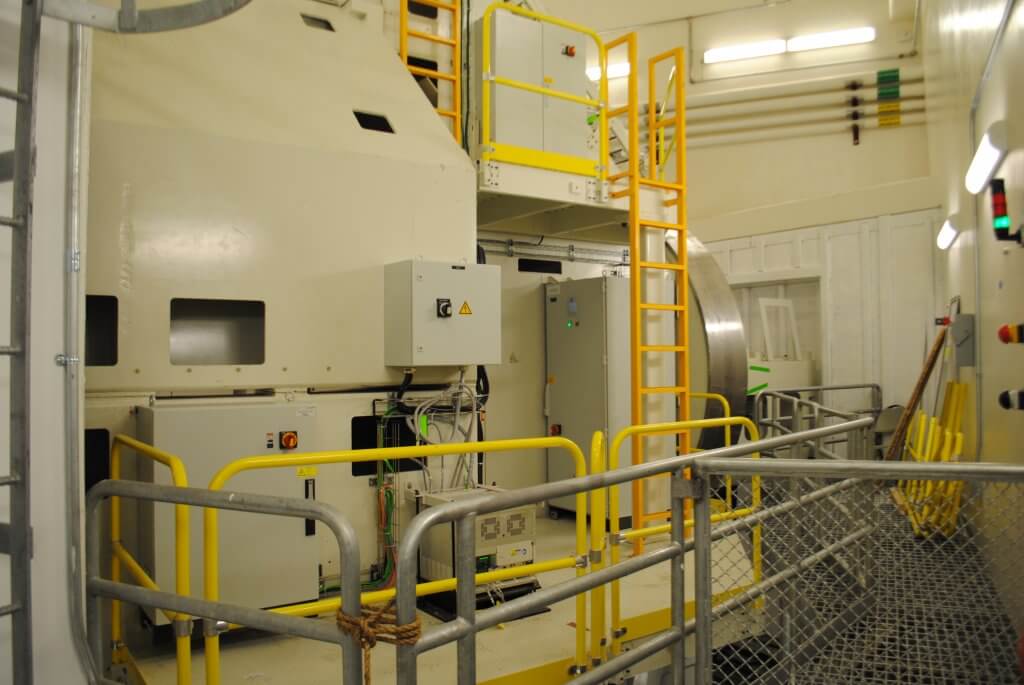 Here's how the technology works: at the back of the giant proton beam therapy machine, a particle accelerator called a cyclotron rotates rapidly, using magnetic fields to speed up atoms (in this case, the atoms from hydrogen gas, the machine's "fuel") until the atoms' protons separate from their nuclei. The stray protons then zip through a tube the length of a football field, called a beamline, and into the largest part of the machine, the 280-ton rotating structure, called a gantry. The gantry then uses a programmable magnetic field to guide the protons through the machine's arm-like nozzle and into the patient's body.
The beam of positively-charged protons that shoots out of the machine at two-thirds the speed of light is so precise that it can accomplish a feat few other cancer treatments can boast: sparing the healthy, non-cancerous tissue it must pass through on its way to hit the tumor.
The Difference Between Proton Beam Therapy and Standard Radiation
Every cancer is different, but the common root of the disease is a single cell or group of cells that develop a gene mutation that cause them to grow and divide uncontrollably. Once oncologists identify this uncontrollable divide somewhere in a patient's body, they face a critical challenge: how to get rid of the cancerous cells before they grow or metastasize to the point where vital organs can no longer function. Surgery, chemotherapy, and immunotherapy are options, but for cancers that produce physical masses of malignant cells (tumors), doctors often turn to radiation.
Dr. Keith Cengel of the University of Pennsylvania spoke with SurvivorNet about the difference between X-ray radiation and proton beam therapy
Non-proton, standard radiation typically uses gamma rays or X-rays. The rays are comprised of high-energy particles, which break up the DNA inside of cells to keep them from dividing and growing. Standard radiation has grown more precise in recent years, but even the best versions of the treatment, including image-guided radiation therapy, or IMRT, can still emit some residual cell-killing energy, which can be harmful to healthy tissue.
Dr. Andrew Chang, president of the Proton Doctors Professional Corporation and a radiation oncologist at California Protons, has been administering proton therapy for 18 years. When he describes the treatment to his patients, Dr. Chang usually draws a circle in the center of a blank piece of paper. He then asks his patients to imagine the circle is a target, and that they have been given two different weapons to hit it: a shotgun and a target rifle.
"When you use your shotgun, some bullets will hit inside that circle, but a lot of them are going to hit the paper around it," Dr. Chang tells his patients. "But if you use your target rifle, you can do a much better job of getting all those bullets inside the circle. You'll hit the circle both ways, but the difference is where else those bullets are placed."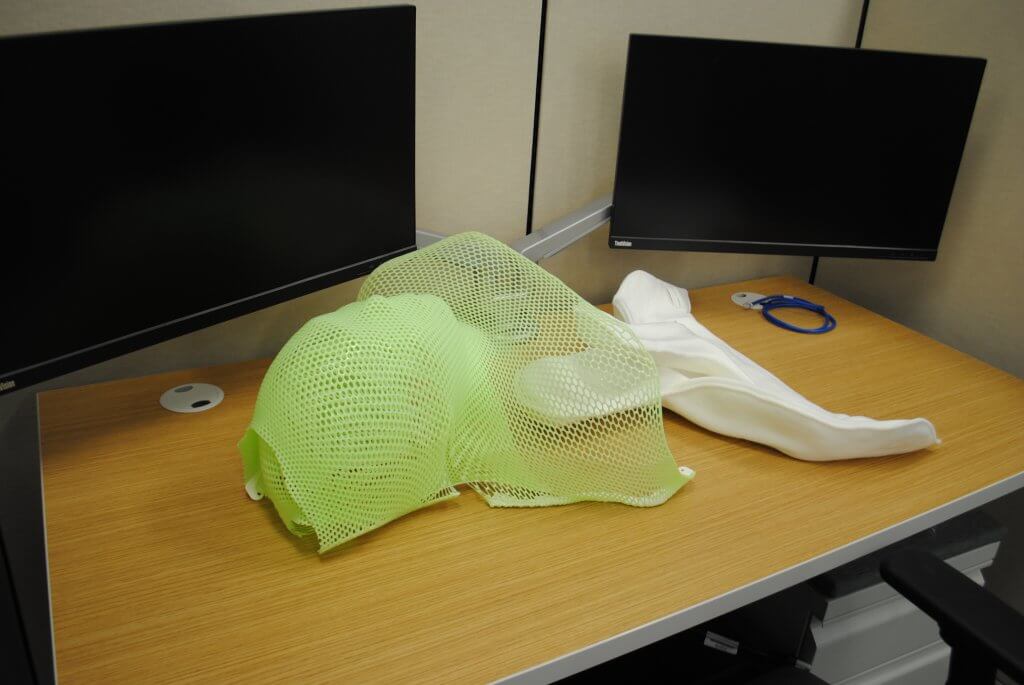 For tumors nestled in vital organs, such as the brain or heart, the possibility of radiating outside that circle can make some types of standard radiation undesirable, if not deadly. While radiation's acute side effects, such as hair loss, skin irritation, pain, and nausea, usually go away on their own, long-term side effects can be permanent: heart disease, tooth decay, infertility, difficulty swallowing, memory loss, and the potential to develop another type of cancer down the line. With its target-rifle precision, proton therapy can dramatically lower these risks.
To be sure, Dr. Simone told us there are some cancers for which the side effects of traditional radiation—especially IMRT, the most precise kind—are already very minimal.
"For some cancers, the traditional radiation outcomes are very, very good," Dr. Simone said. "But the tougher-to-treat cancers—the bigger, more invasive tumors—will probably disproportionately benefit  from proton therapy."
Dr. Simone explained that proton therapy is the preferred option for pediatric cancers as well as head and neck cancers, and that it's also a safer choice for patients who have received extensive radiation in the past. There is a limit to how much radiation a person can safely receive in a lifetime, he said, and with its more precise targeting mechanism, proton therapy can reduce the overall radiation the body receives.
Dr. Charles Simone of the New York Proton Center spoke with SurvivorNet about the benefits of proton therapy
Insurance, Cost, and Relative Benefit: With Proton Therapy, There Are Factors to Consider
When Randy Montgomery's doctor suggested proton beam therapy, he was careful to explain that Montgomery should prepare to face insurance trouble.
But with his cancer spreading rapidly, Montgomery didn't have time to consider "insurance trouble." He signed up for proton therapy right away, confident that his doctor's team would defend his need for the therapy should his insurance company, Blue Cross Blue Shield, deny his claim. "At that point, the question was either tear up all kinds of organs and tissue, or move forward with my doctor-recommended treatment and pay out of pocket," Montgomery said.
Though costs vary from center to center, proton beam therapy is, on average, far more expensive than traditional radiation. To minimize expenses, most private insurance companies refuse to cover the treatment, falling back on the argument that it is "not medically necessary."
Private insurers, which make up 67.2 percent of our country's health coverage, have a long history of denying proton therapy on these grounds. According to the Alliance for Proton Therapy Access, an advocacy group that calls for legislation requiring proton beam therapy coverage, 63 percent of patients between the age of 18 and 64 receive denials from their insurance companies when their doctors recommend the treatment. After appealing these denials with the help of their doctors—often in a cycle of appeals and denials that can last months after the treatment has ended—insurers uphold those denials roughly half the time.
Percentage of patients aged 18 to 64 who receive denials from their insurers when their doctors recommend proton therapy:
Source: Alliance for Proton Therapy Access
"For every hour I spend treating a patient, I spend three trying to fight their insurance company," Dr. Chang, of California Protons, said. "And I don't think that's uncommon."
Children with cancer, who were not factored into the Alliance's report, usually do receive coverage. Because most pediatric tumors occur in the brain or eye, surrounded by vital, still-developing tissue, insurers have recognized proton therapy to be "medically necessary" for children. But Dr. Chang said that insurers' decision to approve coverage for pediatric cancers is cost-driven, too. When children receive standard radiation, they are more likely to develop long-term side effects during their private insurance coverage years. When this happens, insurers end up responsible for covering medical care associated with those side effects, which might equal, if not exceed, the initial cost of proton therapy.
But when it comes to adult patients—particularly those in their 40s or 50s— he said insurers usually figure that by the time these expensive side effects develop, 10 to 15 years after standard radiation, patients are likely to be retired and no longer on private health plans. Once these patients reach 65, the financial responsibility shifts to the government.
Unlike private insurers, Medicare does cover proton beam therapy.
"Not Medically Necessary"
Despite the warnings he received about "insurance troubles," Randy Montgomery moved forward with the therapy. He wasn't surprised when Blue Cross Blue Shield stated that his treatment was "not medically necessary." He was not, however, prepared for the response he received after his doctor's team helped him appeal the claim with detailed documentation of his case. Blue Cross Blue Shield again denied his claim on the same grounds, and this time informed him that, should he appeal the claim a third time, the company would deny it again.
The cycle of denials and appeals continued for months. As Montgomery underwent his proton beam therapy, his cancer continued taking its toll on his energy and his ability to speak or swallow. Still, he would call Blue Cross Blue Shield daily, waiting on hold for hours, only to hear the identical message from the other end of the receiver: "Not medically necessary."
"It was like talking to a robot," Montgomery said. "I got the feeling they were just rubber-stamping denials without even considering my individual case."
Daniel Smith, the director of the Alliance for Proton Therapy Access, said that in many cases, the insurance reviewers know little about how proton therapy works. "It is our view that these reviewers aren't medically qualified to make these decisions," Smith said. "Whereas the doctors recommending the therapy are from places like MD Anderson or Memorial Sloan Kettering, the best cancer centers in the country." (Blue Cross Blue Shield of Texas did not respond to a request for comment on their proton therapy approvals process for this story.)
Six months and $100,000-worth of unpaid bills later, Montgomery received some welcome news: his cancer was contained, and he could expect to swallow normally again in a matter of weeks. Proton therapy had worked, but Montgomery's ongoing battle with Blue Cross Blue Shield made it difficult for him to celebrate. He still owed $100,000 he didn't have. He began considering his options: fundraising campaigns, mortgaging his house, selling valuables, or taking legal action. In the meantime, he decided to contact the Alliance for Proton Therapy Access to help him take his story public.
Within 48 hours of a local T.V. station running Montgomery's story and the Houston Chronicle publishing his op-ed titled, "My Cancer Lost, But My Insurer is Winning in Refusal to Pay for Treatment,"  Blue Cross Blue Shield finally agreed to pay. "The fact that they didn't budge after letters from my oncologist, but a little bad press got to them…" Montgomery trailed off, his voice cracking for a moment. "It's just… really, really sad."
Many patients in Montgomery's situation never see this approval. Many go bankrupt, and many more, unable to risk the debt, choose not to receive proton therapy at all.
Dr. Keith Cengel spoke with SurvivorNet about whether proton beam therapy is worth the high cost
So Is it Worth The Cost?
The question as to whether proton beam therapy is worth the high cost and potential insurance trouble is not an easy one to answer—and when SurvivorNet has posed the question to leading experts, we've received varying responses.
Dr. Keith Cengel of the University of Pennsylvania, for instance, told us that "it turns out X-rays are pretty gosh darn good," adding that "there are cases where [proton therapy] is very clearly worthwhile, and there are cases where it's a little more controversial."
The answer to the "worth-it" question, in part, depends on the type and stage of the cancer and the individual patient. As Dr. Simone explained, there are some cancers for which traditional radiation is very precise, and its side effects are limited. Most of the available research directly comparing proton beam therapy to traditional radiation, he said, has also been conducted in earlier versions of proton beam therapy machines. The technology has since improved, and today, the newest version of proton beam therapy—called "intensity-modulated proton therapy"—is only available in the newest centers (such as the New York Proton Center, where Dr. Simone works). To really assess the benefit, Dr. Simone said further research must directly compare the newest versions of proton beam therapy to the newest versions of standard radiation.
The cost difference between proton beam therapy and traditional radiation, he reminded us, also varies greatly from cancer center to cancer center.
"At some centers, it could be appreciably different," he said.
Dr. James Brooks of Stanford Medicine spoke with SurvivorNet about how effective proton therapy is for treating prostate cancer.
Proton Therapy and Prostate Cancer: Where the Debate Gets Most Heated
For common cancers, such as prostate cancer, for which proton beam therapy can save patients the effects of damaging tissue around the prostate gland, insurance appeals can be all but impossible to win. Before 2014, Dr. Chang, of California Protons, said, insurers would occasionally approve coverage for patients with prostate cancer, but now these instances are rare. "The insurers pulled back because they could," he explained. "A couple major companies did and then the rest followed suit. They just said, 'We're not gonna pay for it.'"
The refusals were likely bolstered by the results of several early-phase clinical studies that year, which suggested that proton beam therapy was no more effective in treating prostate cancer than standard radiation. At the same time, traditional radiation—IMRT—was getting better at minimizing side effects.
Within the medical community, prostate cancer remains the most controversial use of the treatment.
The Future of Proton Beam Therapy
Going forward, it's possible that private insurers could come around to proton beam therapy as more patients like Randy Montgomery take their insurance denial stories public. Legislation may pass requiring coverage, and new research may shed new light on the treatment's benefits. Someday, doctors might consider proton therapy standard-of-care.
Dr. Chang is optimistic. "I think in 20 to 50 years, people will look back on standard radiation the way we look back on the radical surgeries doctors performed on cancer decades ago. We'll be like, 'Why did we used to do that?' But it won't happen overnight. It will take time to get there."
Learn more about SurvivorNet's rigorous medical review process.
---