Thriving As A Cancer Survivor
Actor Val Kilmer recently congratulated Top Gun: Maverick cinematographer Claudio Miranda on winning the Critics Choice award for Best Cinematography. His reprisal as Lieutenant Tom 'Iceman' Kazansky for the successful film meant a lot for the actor – especially given his health struggles as a throat cancer survivor.
Throat cancer is a type of head and neck cancer where cancerous cells begin in the throat, voice box or tonsils. It is an HPV-related cancer. To reduce the risk of your children developing HPV or an HPV-related cancer, make sure they get the HPV vaccine, particularly between ages 9 and 12.
A cancer diagnosis can change your life. But we've seen so many survivors thrive on the other side of treatment.
And if you're a cancer warrior in need of some inspiration, SurvivorNet has you covered. We've had the privilege of sharing many moving stories from survivors over the years, including those of chef Eduardo Garcia's incredible journey overcoming testicular cancer, pediatric cancer survivor and Girl Scout cookie sales record holder Lilly Bumpus and best-selling author and late-stage lymphoma survivor Alex Echols.
Val Kilmer, 63, reprised his role as Lieutenant Tom 'Iceman' Kazansky for
Top Gun: Maverick
. Now, the throat cancer survivor gets to join the rest of the film's crew in enjoying its success.
Top Gun: Maverick had its United States premier on May 27, 2022, and it immediately became a box-office hit. By the end of 2022, it was the highest-grossing film of the year with nearly $1.5 billion.
Read More
Most recently, the film was recognized for its cinematography when Chilean cinematographer Claudio Miranda won the Critics Choice award for Best Cinematography.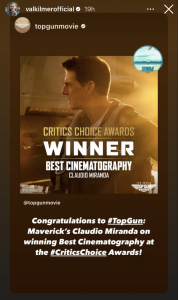 "Congratulations to #TopGun: Maverick's Claudio Miranda on winning Best Cinematography at the #CriticsChoice Awards!" Kilmer wrote on his Instagram story.
Regardless of whether the film became a success, it's likely Top Gun: Maverick would have held a special place in Kilmer's heart because of his reunion with actor Tom Cruise, 60. Cruise played the movie's titular character, Lieutenant Pete 'Maverick' Mitchell.
"Forget the fact that thirty years had passed since I'd seen the ghost of Iceman's dad. I remembered it like it was yesterday," Kilmer wrote in his memoir, I'm Your Huckleberry. "The producers went for it. Cruise went for it. Cruise couldn't have been cooler. And the next thing I knew I was back, as the Beatles said, where I 'once belonged.'
"Tom and I took up where we left off. The reunion felt great."
Still, there were challenges for Kilmer to overcome with his role. Since Kilmer has used a voice box to speak ever since his throat cancer battle, he had almost no verbal dialogue in the film.
His character was ill in the movie, so he often typed his responses out on a computer screen when speaking to Cruise's character. Despite sharing few words, however, Kilmer did an excellent job conveying the deep emotional bond shared by the old foes turned friends.
Val Kilmer's Throat Cancer Battle
Kilmer was diagnosed with throat cancer in 2015 but didn't speak publicly about the disease until 2017.
He wasn't considering conventional treatment at first, thinking his Christian Science faith would heal the tumors, but he eventually agreed to undergo chemotherapy for the sake of his children – Mercedes, 31, and Jack, 27, whom he had with his ex-wife, English actress Joanne Whalley, 61.
Kilmer also underwent a tracheotomy – a surgical procedure that connects the windpipe to a hole in the front of the neck – which greatly impacted his speaking voice.
RELATED: A Woman's Throat Cancer Mistaken For Tonsillitis For A Year– How To Push Your Doctor For Answers That Matter
And though he originally kept his cancer battle out of the public eye, Kilmer eventually shared more about his journey through interviews, his memoir, I'm Your Huckleberry, and his documentary, Val, which is currently streaming on Amazon Prime.
"I have been healed of cancer for over four years now, and there has never been any recurrence," he wrote in I'm Your Huckleberry. "I am so grateful."
Understanding Throat Cancer
Throat cancer is a type of head and neck cancer where cancerous cells begin in the throat, voice box or tonsils. Some of the main risk factors for this disease include smoking, drinking alcohol, a diet lacking in fruits or vegetables, acid reflux disease and the human papillomavirus (HPV). So, one way to decrease the chances of developing the disease is to get the HPV vaccine.
RELATED: A Woman Who Started Smoking at Age 11 Went on to Fight Three Throat Cancer Battles; Understanding Smoking and its Affect on Cancer Risk
Adding His Voice to the Chorus – Artist and Throat Cancer Survivor Michael Rees Gets Behind HPV Vaccine Awareness
The American Cancer Society recommends that boys and girls get the HPV vaccine between ages 9 and 12. The organization also stresses that teens and young adults through age 26 who are not already vaccinated should get the HPV vaccine as soon as possible.
Dr. Jessica Geiger, a medical oncologist at Cleveland Clinic Cancer Center, explained the link between throat cancer and HPV in a previous interview with SurvivorNet.
Get the Facts: What Do We Know about HPV-Linked Throat Cancer?
"There are no screening guidelines to screen for throat cancer, unlike cervical cancer with pap smears. And there are no standard tests to determine if you harbor the (HPV) virus," she said. "However, there is no concern that you're going to spread this cancer to your partner or to anyone else, because at this point your partner has already been exposed to the virus and likely cleared it."
There's no annual screening for throat cancer, so doctors usually discover the disease when a patient sees them with symptoms that may point to it. Some symptoms include:
A cough
Changes in your voice
Difficulty swallowing
Ear pain
A lump or sore that doesn't heal
A sore throat
Weight loss
It's important to note, however, that these symptoms are not exclusive to throat cancer. Still, you should always see a doctor if you have any changes to your health.
Thriving after a Cancer Battle
A cancer diagnosis will change your life. But we've seen so many survivors – including Val Kilmer – thrive on the other side of their cancer journey.
Take Marecya Burton, for example. She was diagnosed with ovarian cancer at just 20 years old. Burton was a college student-athlete looking forward to graduation at the time, but all that had to change when she was forced to move home to start treatment.
Former College Cheerleader Reinvents Herself After Surviving Ovarian Cancer
"That was definitely challenging for me," Burton said in a previous interview with SurvivorNet. "I was looking forward to graduating."
She also had planned on pursuing a law degree after graduation – another dream she had to give up.
"I really had to, in a sense, put my life on hold," she said. "Sometimes I look at where I am, and I can't help but wonder, would I be further had I not had my diagnosis?"
But instead of law school, Burton found a new passion: teaching. She became a high school teacher in Baltimore, Maryland, and she's since made peace with her new direction in life.
"I wouldn't change my career for the world," she says. "It's so fulfilling."
More Inspiration for Cancer Warriors
Sometimes, hearing stories like those of Val Kilmer and Marecya Burton can help people faced with seemingly insurmountable challenges like cancer move forward with bravery and strength.
And if inspiration is what you need, SurvivorNet has you covered. Time and time again, we get to get to share stories of resilience because there's no shortage of brave cancer warriors holding onto hope in the face of adversity and achieving amazing things.
Charged – The Eduardo Garcia Story is an award-winning SurvivorNetTV documentary following chef Eduardo Garcia's incredible journey overcoming testicular cancer.
SurvivorNetTV Presents: 'Charged' — Setbacks Help Chef Discover Meaning and Connection
Garcia was on a hunting and fishing trip through the Montana backcountry in 2011 when he stumbled upon what he thought were the remains of a bear in a tin can that ended up being an old electrical junction box. When he attempted to remove its claw with his knife, he received an extremely severe electrical shock of 2400 volts. He lost an arm and nearly his life.
But his health struggles didn't stop there. At the hospital, doctors also found that Garcia had testicular cancer. He needed to start chemotherapy immediately before beginning reconstructive surgeries.
Thankfully, Garcia beat the disease and has since returned to cooking up some delectable eats using a prosthetic arm. He's a true warrior at heart who's happy to be in remission and grateful for the people who helped to get him there.
"Everyone that has encouraged me, and supported me, and forgiven me, and held me accountable has brought me to today and how I make my life moving forward," he said.
Another inspiring cancer warrior SurvivorNet has gotten to know is Lilly Bumpus. She's a pediatric cancer survivor who was born with Ewing sarcoma, a rare type of bone cancer that is often found in children and young adults.
One Tough Cookie: Resilient 8-Year-Old Who Overcame Ewing Sarcoma Sells More Than 32,000 Boxes of Girl Scout Cookies To Break Record
All before she turned one, Bumpus underwent intense rounds of chemotherapy and had some of her bones removed from her chest wall. Thankfully, those efforts were successful, and she's still in remission today, though chemotherapy has left her with lasting side effects like bone deformation.
As if kicking cancer's butt wasn't enough, she's also beaten the Girl Scout cookie sales record for most boxes sold in a single season. She sold more than 32,000 boxes of cookies this year despite operating in a world ensnared by the COVID-19 pandemic.
"My favorite thing about Lilly is that she never gives up," her mother, Trish, previously told SurvivorNet. "So, Lillybug got to 10,000 boxes one week into Girl Scout cookie season. Never, ever has that happened. So we went from there. I then approached Girl Scouts and said, 'What happens now if she sells 20,000 boxes?' And they said, '20,000 boxes, yeah, okay.' So we said, 'Game on.' So then we sold on and sold on, and she got into 20,000 boxes."
"And then we went to 32,000," added Lilly.
And last, but certainly not least, best-selling author Alex Echols is yet another cancer warrior whose story has enthralled and moved us. He is a late-stage lymphoma survivor who, as humble as can be, credits his resilience to his upbringing in a violence-ridden neighborhood he's since left.
How a Tough Childhood Helped One Young Man Face His Greatest Obstacle: Late-Stage Lymphoma
His treatment included high-dose chemotherapy followed by a bone marrow transplant, also known as a stem cell transplant – not an easy journey by any means. But through it all, Echols remained optimistic as ever.
"Even during some of the most challenging days and nights, when I didn't have any energy, I looked for things to be grateful for," he said. "I've always felt like I've been an optimist my entire life, and I've always seen things as the glass half full."
Now, he's on the other side of his cancer journey and sharing what he's learned with the world through his work. He's an emotional intelligence leadership-based trainer and the bestselling co-author of The Two-Week Notice: How to Discover Your Passion, Quit Your Job + Impact Our World.
"Honestly, I've just gotten back into such a rich and beautiful life for myself," he said.
Learn more about SurvivorNet's rigorous medical review process.