Forgo Fads & Protect Your Skin
A TikTok beauty trend involves neglecting to fully sunscreen parts of your face so you can create the illusion of cheekbones.
Skin cancer is the most common type of cancer diagnosed in the U.S.; it's critical to fully protect your skin to the extent you're able.
Lower your skin cancer risk by wearing sunscreen daily, avoiding tanning beds and avoiding the sun during peak hours.
A new beauty trend is sweeping the nation via TikTok and it could have dangerous repercussions for your health; the trend suggests avoiding putting sunscreen on parts of your face in order to add contouring – or, definition to your cheekbones – sans makeup.
Related: Rihanna's Stance On Sunscreen in Winter Is Spot On, But Misses an Important Message About the Risk of Skin Cancer
Read More
The trend first hit TikTok last summer when Eli Withrow, 24, an LA model, shared this so-called beauty hack on TikTok.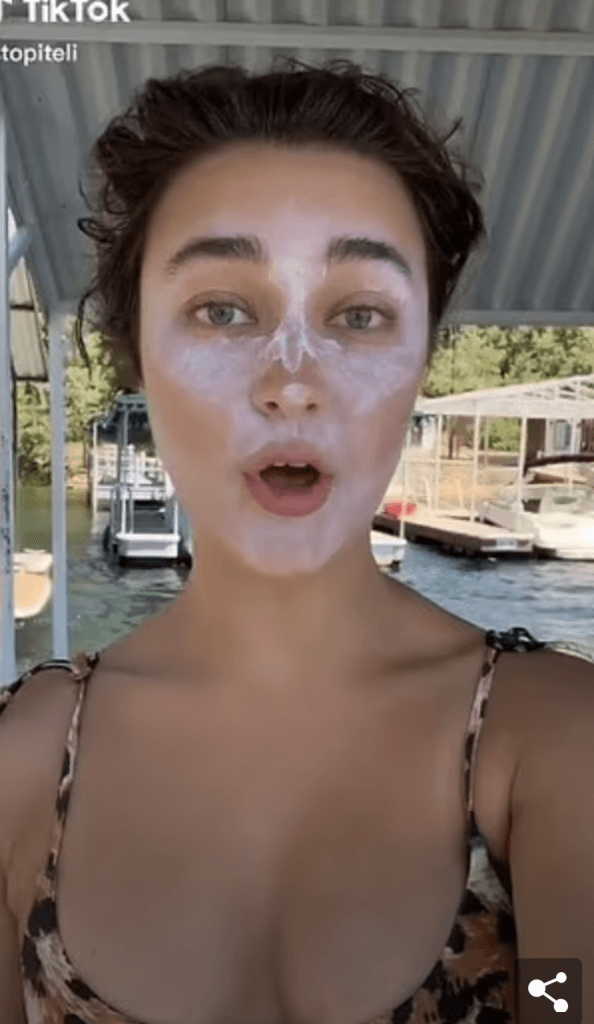 This is not an advisable way to achieve Heidi-Klum-grade high, sharp cheekbones that turn heads because it leaves parts of your skin vulnerable to sun damage. Sticking with makeup (following the application of your daily SPF, of course) is the best and safest route to protect the skin you're in. Skin cancer risks aside, for those most concerned with the vanity aspect, think of this: Forgoing proper sunscreening expedites the development of wrinkles. And while stars like Helen Mirren give wrinkles a good, gorgeous, glamourous name, we appreciate that premature wrinkles may not be everyone's aspiration.
So, be smart this summer, and stick to a full SPF palette!
Understanding Melanoma
Melanoma is a serious type of skin cancer. According to the American Cancer Society (ACS), skin cancer is the most common among all types of cancers, and melanoma accounts for only about 1% of skin cancers, however, melanoma causes the majority of skin cancer deaths.
This deadly cancer can be caused by unprotected exposure to the sun, the kind which is being advised in these TikTok videos promoting contouring. In an earlier interview, Dr. Anna Pavlick, an oncologist at NYU Perlmutter Cancer Center, explains the process for removing a stage 1 melanoma. She says, "For patients who have stage 1 melanoma, the excision is done by the dermatologist. It's a local procedure."
"You don't need to be hospitalized for it," says Dr. Pavlick. "The first thing that we do always is to clean off the skin. Clean off the area with some betadine or a cleanser that will sterilize that area and get rid of the bacteria. We will then inject lidocaine or a local anesthetic that will numb up that area."
"The dermatologist will then take a scalpel," she says, "and cut an ellipse or a circle around that area, making sure that they get enough skin around it, as well as underneath that lesion, and then put in some sutures or some stitches."
How to Protect Your Skin
Protecting your skin from skin cancer is easy to do with a few simple steps. Dermatologist Dr. Dendy Engelman outlines in an earlier interview five easy steps for protecting yourself from skin cancer.
Dr. Engelman says:
Avoid sun during peak hours – This means from 10 a.m. to 2 p.m. It doesn't mean you should never go outside during the middle of the day, but make sure you're protected when you do venture outdoors.
Cover your skin and eyes – A wide brim hat and sunglasses will protect your face, the top of your head, your ears, and the delicate skin around your eyes.
Wear an SPF of 30 or higher – This is easy enough. Plenty of facial moisturizers have SPF built into them. Dr. Engelman also recommends reapplying every few hours, or after excessive sweating or swimming.
Get an annual skin check – You can check your own skin for anything that looks out of the ordinary, but you should still get a yearly check to make sure you didn't miss anything. If you do happen to notice anything out of the ordinary in between checks, schedule an appointment to talk to your doctor about it ASAP — it is always worth it to make sure.
Avoid tanning beds – This one is obvious … but just a reminder, tanning beds can significantly increase your risk of developing melanoma. If you feel like you're just too pale, Dr. Engelman recommends a sunless tanner. "There's absolutely no benefit to going to a tanning bed," Dr. Engelman says.
Top 5 Ways to Protect Your Skin From Skin Cancer
Learn more about SurvivorNet's rigorous medical review process.