The COVID-19 pandemic put a lot of plans on hold. Yet in the midst of the emptying of calendars of social activities, business trips and family adventures, came for some, a chance to explore things previously denied.
For award-winning broadcast journalist and Today show host Craig Melvin, that "thing" turned into his new book, Pops: Learning to be a Son and a Father, out June 15, appropriately in time for Father's Day. Pops explores fatherhood through the inspiring fathers he met while reporting his Today show series "Dads Got This!," his complex relationship with his own father and his personal experiences as a dad.
Read More
When considering pre-pandemic the possibility of tackling a book covering all those bases,  Melvin's decision was pretty clear.  "Yeah, that sounds like a bit much for me to do with two small children and a pretty demanding full time job."
RELATED: Colon Cancer Has a PR Problem: 'Today' Anchor Craig Melvin Urges Black Americans to Learn Their Family History, Talk About It
Fast forward to 2020. "Then all of a sudden the pandemic hits and 'Oh, I've got time,'" says Melvin, whose job has him juggling duties as the news anchor on NBC's Today, a co-host of the third hour of Today, an anchor on MSNBC Live, and a host of Dateline.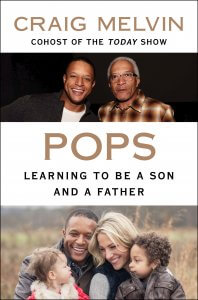 Like this unusual opportunity of a nearly empty calendar, "second chances," says Melvin, is also the overarching theme of the book.
"This book is a testament to the power of  someone's ability to change regardless of their age or status in this world — whether it's my grandmother who gave birth in prison who comes out of prison and restarts her life…. Sometimes it takes a few months, sometimes it takes a few years, sometimes it takes 45 years which it did for my dad. People are capable of changing. Second chances should be given."  Melvin's grandmother was in Alderson Federal Prison Camp for running illegal liquor; his father born while she was there, struggled with alcoholism throughout Melvin's childhood.
Checking the Facts
Melvin, who over time grew to acknowledge the "Dads Got This Series!" was larger than just that, also knew that writing the personal piece of the book would bring up some heavy feelings, especially surrounding the loss of his 3-year-old niece, Jasmine Melvin, to pediatric cancer. What he didn't anticipate was what else lay ahead. "My older brother Lawrence [Meadows] he'd been sick for a number of years [colorectal cancer] and he started to take a turn at the beginning of last year when I started the book," says Melvin, 42.  "His condition continued to deteriorate."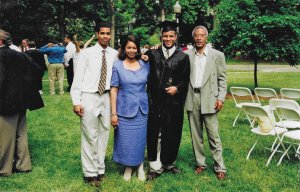 It was important to Melvin that his brother — a Baptist minister, entrepreneur, husband and father of two — have a chance to "fact check" their shared childhood experiences that would be part of the book [Chapter 6].  "At that point, Lawrence was bedridden and not able to communicate a great deal beyond a few words other than yes or no," recalls Melvin, who went to Spartanburg, South Carolina to read these stories to his brother.
"It takes me forever because I keep stopping. I'm sobbing and restarting. It's just a disaster and he's consoling me. 'It's Ok, it's Ok.' I got to the end and he said 'Oh man, you remember a lot.' I said to him, 'Does that mean it's accurate?' He says 'Yeah it's good.' That was important to me that he approved."
When Meadows was diagnosed with stage IV colorectal cancer in 2017 at the age of 39, Melvin became a national advocate and ally for the Colorectal Cancer Alliance. He's acted as a spokesperson for awareness campaigns, highlighting stories about young-onset colorectal cancer, bringing to the forefront the disparities communities of color face when being treated or diagnosed, and emceeing the Alliance's annual Blue Hope Bash gala since 2017.
Honoring A Legacy
After Meadows' death in December, Melvin knew it was time to step up his commitment to honor his brother's legacy. He did this in March by joining the Alliance's Board of Directors. "We all have an opportunity throughout our lives to do some good, some more than others perhaps, but the fact that God has blessed me with an opportunity to literally, literally save lives is not lost on me."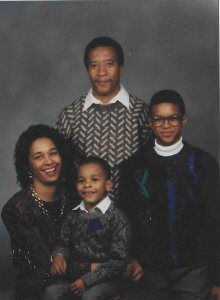 Melvin didn't waste any time in convincing his younger brother Ryan to let him feature his 'story' on the Today show. "[Ryan] created a bunch of excuses to put off his colonoscopy, two years to be precise — he's in his mid 30s, but Lawrence wasn't that much older when he got diagnosed with stage IV colorectal  cancer [Meadows' doctor urged them both at the time of his diagnosis to get the procedure, which Melvin promptly did]."
RELATED: TODAY's Craig Melvin Shares a Message For The SurvivorNet Family: Colon Cancer Does Affect Younger Adults
On the day of Meadows' funeral, Melvin got insistent with his younger brother.  "I said to him, 'You really got to get — I won't use the language I used with him — your butt checked.' I thought this might be an opportunity to raise awareness, to encourage other folks to get checked. He decided to let us film it and he sat down for an interview and we used it as a teachable moment. There's rarely a three day period that goes by where I don't hear someone who says 'I went and got it checked because I saw your younger brother.'"
A Father's Day Dream
In his own life, Melvin takes the family history of cancer— which also includes his Aunt Carrie Mae Entzminger's  fatal breast cancer and his Grandmother Rene's colon cancer —  seriously which means taking care of his body with the knowledge we have about the disease.
With recent studies linking processed meat to colorectal cancer; the reported higher incidence of younger people being diagnosed with colorectal cancer and remembering "Lawrence's affinity for processed meats," Melvin changed his diet. "I don't do processed meats. I don't do deli meats. I stopped a couple years ago."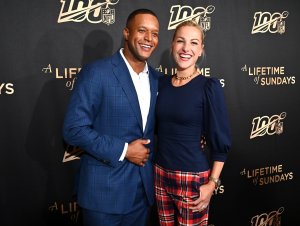 He also makes sure to exercise. "I jog. I ran the New York city marathon a couple years ago to raise money and awareness for at that point pediatric cancer. I try to stay in shape. Now if they ever discover a correlation between bourbon and colorectal cancer I'm in trouble."
It's bourbon on Melvin's dream Father's Day agenda, along with golf, a cigar and a nap. In reality, as a dad,  Melvin  knows that like the rest of the 364 days a year, it's not about him.  "It's about the kids. If the kids [son Delano, 7, and daughter Sybil, 5 with wife, Lindsay Czarniak, a Fox NFL and NASCAR broadcast reporter] decide they want to make breakfast or lunch or dinner or they want to take me to their favorite movie, I'm along for the ride."
Melvin attributes his positive perspective and resilience in spite of his personal losses to meeting the "truly remarkable people who have overcome unthinkable odds to do extraordinary things" over the course of his career, especially for his "Dads Got This!" series.  "I have done enough stories to know when terrible things happen; when awful things happen, when tragedy has happened in my life, good can come from that."
TODAY's Craig Melvin Shares a Message for the SurvivorNet Family: Colon Cancer Does Affect Younger Adults — Learn About it & Screen For it
Learn more about SurvivorNet's rigorous medical review process.
---