'Leave it to Beaver' Star Battling Cancer
Leave it to Beaver star Tony Dow, 77, was diagnosed with an unspecified type of cancer. He played Wally Cleaver on the iconic 1950s show.
Using a social worker during the cancer journey can help the process go more smoothly.
Having a positive outlook amid cancer treatments can help prognosis, one expert tells us.
Leave it to Beaver 
star Tony Dow, 77, has been diagnosed with cancer. He shared the news yesterday, and did not specify what type of cancer he has.
The Los Angeles native was propelled to fame as a young person starring on the hit show as the character of Wally Cleaver in all 234 episodes of the show from 1957 to 1963. Dow's co-stars included Jerry Mathers, Hugh Beaumont, Barbara Billingsley, and Ken Osmond.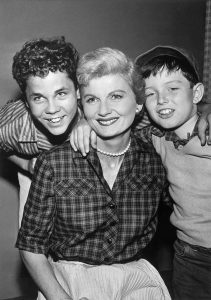 Read More
Tony Dow wasn't just a child star, though. He acted in a wide range of hit TV shows, including
Lassie
,
Adam-12
,
Mod Squad
,
Knight Rider
,
Charles in Charg
e, and
Murder, She Wrote
.
There are no further details available yet about Dow's cancer diagnosis, and we are wishing him a speedy recovery and an effective treatment path.
Dow is married to his wife Lauren, and they have been married for 41 years. The Daily Mail reports that the pair are "heartbroken over the diagnosis…and were thankful of prayers from fans."
Tony Dow's Diagnosis & Using a Social Worker to Cope with a Cancer Diagnosis
While we don't know many details about Tony Dow's diagnosis and his treatment path, we do know that there are some resources available to people newly diagnosed with cancer that may be helpful.
For instance, oncological social workers are a fantastic resource to help you sort out the financial aspects of cancer treatment, as well as other cancer-related issues. Skilled psychologists and counselors can be accessed to help you maintain good mental health through your child's cancer journey, to the best of your ability.
Sarah Stapleton, Licensed Clinical Social Worker at Montefiore Medical Center says in an earlier interview with SurvivorNet, "I think it's super important to see a social worker. "I think there's a networking that they can assist you with. And they really have the strongest knowledge of the resources available to get you through the process."
"I think social work– one of the primary roles is advocacy," explains Stapleton. "It's meeting the patient and understanding the patient's needs and understanding what it is you need in this very moment, whether that be financial resources, whether it be related to your insurance, transportation, or ultimately, the emotional process of getting through cancer treatment."
"So if there's any barrier that you're finding, financial, transportation, or otherwise, a social worker's going to help advocate for you to try to do the best we can to eliminate that and to make sure that you get your treatment," she says.
The Value of Using a Social Worker During Treatment
Staying Positive Through Cancer Battle
Having a positive attitude through a cancer battle can positively impact prognosis, an expert tells us in an earlier interview. The Cedars-Sinai colorectal surgeon says, "A positive attitude is really important."
He continues, "My patients who thrive, even with stage 4 cancer, from the time that they, about a month after they're diagnosed, I kind of am pretty good at seeing who is going to be OK. Now doesn't that mean I'm good at saying that the cancer won't grow. But I'm pretty good at telling what kind of patient are going to still have this attitude and probably going to live the longest, even with bad, bad disease.
He says that patients who do the best are "those are patients who have gratitude in life."
"My mother, who passed away about a month before I graduated med school, from breast cancer, she lived 10 years, at a time when people weren't, with mets to her bones and her brain. One of her most amazing characteristics was her attitude."
Learn more about SurvivorNet's rigorous medical review process.