Maria Bartiromo And Her Role As A Caregiver
Fox Business anchor Maria Bartiromo talks to SurvivorNet about her decision to move her aging mom from an assisted care facility into the home Bartiromo shares with her husband
Bartiromo says the decision was motivated by a strong desire to improve her mother's quality of life and more effectively manage issues around aging, memory, and medication.
Like many caregivers, for Bartiromo, taking the primary role of managing health and well-being for a loved one has been an act of love and commitment with enormous gratification and challenges for her personal and professional life.
Caregiver burnout can lead to physical and emotional issues. Experts say it is crucial to recognize burnout, seek help, and take care of your own health.
"I hope, when it's my time, someone is there to take care of me." When you're getting older, or you get sick, most of us can identify with that sentiment.  And when you hear Maria Bartiromo talk about what she's doing for her mother, you sort of wish everyone had a daughter like that.
Maria Bartiromo, 55, has been a fixture in financial news world for the past 25 years. We did not know that she has also recently taken in her mother, and is now managing a daily live TV program, her marriage, and all that comes with caring for an elderly parent in need of help. A lot of people in the SurvivorNet community can relate  to the later part of this particular juggling act.
Read More
Josephine Bartiromo turns 90 this month.
While Maria is extremely appreciative for the care provided by workers at the facility where her mom was living, she tells SurvivorNet she ultimately decided to move her mother into the home she shares with her husband to improve her mom's quality of life and change aspects of her care, such as medication, which Bartiromo says just didn't feel right. Josephine had also begun to have issues around memory.
"She may not remember everything, but guess what? I remember her," says Bartiromo. "I know who she is and I care about her. And that's the only thing that matters here. I know who she is and I know what she is and who she is, and I care about her and I'm going be there for her," Bartiromo told us. "I don't care if she doesn't remember every name of every person she runs into, fine. That happens. But I'm not going to allow that to dictate how I care for my mother."
There is a fierceness in the way Maria talks about her caregiving decision. Even in an interview, it's formidable to witness. And, maybe, unfortunately, for so many of us, exactly what it takes to get the best for a loved one who is struggling.
"My mother has always been my best friend. I mean, for years and years, I've always looked at my mother as really my best friend and I'm so grateful for that," said Maria.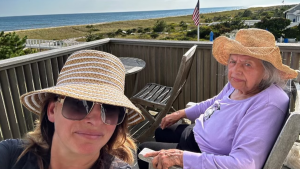 Maria's Caregiver Journey
Vincent and Josephine, Maria's parents, moved into an assisted living facility for her father Vincent's ailments for roughly a year. However, after her father passed away at the age of 89, in January of 2022 that is when it all changed. Maria would visit her mother, who according to Maria has been dealing with some memory loss, as often as she could, but began to see the troubling impact being alone and around strangers had on her.
"I would try to go once a week and I would go drive the two hours and then sit there with her for two hours and then get in the car and come back for two hours— six hours on the road. And it was just really hard for me," said Maria. "And every time I would leave, my heart would break because I'm leaving her in this apartment where she's alone. All strangers around her. And I knew that she was stronger than that. And then I also saw that they were giving her heavy drugs."
While still in the assisted living facility, Vincent and Josephine tested positive for COVID-19 in January 2021, at which point Maria says her mother was put on heavy medications to keep her calm. But Maria says nothing was done to reevaluate her dosage after she had recovered from COVID-19 and her concern grew.
"When I was a girl, she always used to tell me, 'Maria, whenever the time comes, please don't put me in any facility, please. I want to be with family.' And when she was first in that facility with my dad, she said to me, she's so smart. She said to me, 'Maria, I just want you to know whatever they're giving me, it's weakening me. It's really weakening me.'"
When Maria recognized the facility wasn't stopping her mother's course of treatment she stepped in and found a new doctor. Her mother is now on new medications and Maria says "she's calm, she's with family, she's doing really well. She's got her mobility back."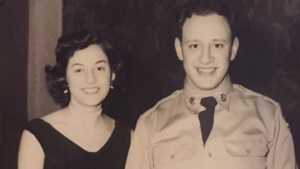 On Fourth of July weekend, Maria says, she picked her mother up from the facility and "I said to her, 'Are you gonna come to my house and you'll spend the long July 4th week with me?' and as I walked out of that room, I thought to myself, 'I don't know if I'm ever going take her back here. I just can't do this anymore.'" Her mother is also a lung and breast cancer survivor.
"She's very strong and she didn't have to lose her mobility. She shouldn't have been on all those drugs. So I feel just such satisfaction that I was able to change my mother's life and I really did," said Maria.
Maria's Advice On Being A Caregiver
"I think this is a huge thing to take in a parent. It's very expensive and it requires a game plan," says Maria. "I took it on because I knew my mother needed me and I was figuring it out as it was going along because I couldn't bear to watch her in this place. But it's true, it's not for everyone. It's very hard. And you need to understand what you're taking on."
Maria says she started out with her mother in her home and doing all of the work herself. She soon found out that was just not sustainable.
"I had trust that it would all fall into place because this was really hard. It was new to me. I didn't really know the first thing about being a caretaker. And when I first took my mom in, I was doing everything myself from helping her shower, helping her in the toilet, I mean everything," says Maria. "I was taking off my jacket from the show and, and my jewelry and becoming a nurse for as long as it took. And then I realized that was not sustainable. I couldn't do it."
 

View this post on Instagram

 
Maria is the anchor of Mornings with Maria on Fox Business Network (FBN). She also anchors Sunday Morning Futures, on FOX News Channel and FBN's weekly primetime investing program Maria Bartiromo's Wall Street. She says her company has given her the ability to have a studio in her home so she can do a hybrid schedule and take the time she needs to care of her mother.
"That's really been a godsend for me because I need it. I need to be there for my mother right now," said Maria.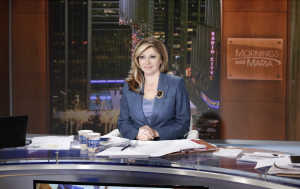 And Bartiromo readily acknowledges the strain that caregiving can place on finances, relationships, and health.
The job of a caregiver is not easy, says Amy Brown, nurse manager of Gynecologic/Oncology at Johns Hopkins Hospital in Baltimore, Maryland, told SurvivorNet.
Caregiving can suck up every moment of your free time and realize you may need to ask for help. "I learned this the hard way myself," Brown says. "I have been the caregiver to my dad for 12 years. And I'm a nurse and I'm designed and equipped to handle that, and I tried to do it myself and failed miserably."
Caregiving Isn't Easy; Recognize That You May Need Help
Deciding What Is Best For Your Family
After the realization that she couldn't be her mother's full-time caregiver Bartiromo reached out to a network of health professionals. She luckily found someone who provides aid and comes to her home Monday- Thursday.
"It is hard knowing that you've got someone downstairs who you don't know, they're a stranger, but they're there with your mother. But I had to accept the fact that I couldn't do this alone and that I needed help. There was no way I could. I'm always juggling everything, whatever it is, I take it on and I do it," says Maria.
"Once I had the realization that I needed help, and once I found a network of healthcare professionals, it became clear that it was doable and it was the right thing to do. And I've changed my mother's life."
While a home health professional was right for the Bartiromo family, it might not be exactly right for you and that's okay. Maria advises "what is important for every family is to make sure you know what's going on in that facility" and what may not have been right for her mother, could be right for your loved one.
"Healthcare professionals are so incredible and I give them all the credit in the world that they deserve because I think sometimes you don't realize how important proper and good healthcare and healthcare professionals are until you're in the very vulnerable position of actually needing them, needing them really badly," said Maria.
Bartiromo Suggests Taking Time For You
Maria says her husband has been wonderful throughout the entire experience of moving her mother into their home. And while he may have been uncomfortable initially, he realized how important it was for Maria's mother to be in a loving home.
"He recognizes what we've done and he recognizes that we saved my mom's life. And he is grateful for that. And he recognizes that this is a bigger calling," she said.
Maria said one thing she and her husband did after getting the health professionals is take a trip to Italy at the end of the summer, which she says is the first time in awhile that they took time for themselves.
"We actually got a break and you know we rekindled, and recognize that what we're doing, we're doing together and we're going to get through it together, and so I would advise anybody don't think just because right now you can't see beyond the next couple days, the next couple weeks, the next couple of months, stop. Take a break, take yourself out of it," she said.
"Go on a trip with your partner and celebrate the fact that you're together and you're able to do this. Because it really was very helpful for us to get away and then come back."
Another important part of being a caregiver is taking time for yourself and giving yourself a break.
"Caregiving is the most important job in the universe, because you are there through the highs and lows," Julie Bulger, manager of patient and family-centered care at Vanderbilt-Ingram Cancer Center in Nashville, TN, told SurvivorNet. "You are there to support your loved one, to manage all of the daily tasks as everything is changing in your life."
Caregivers Can't Provide Optimal Care for Their Loved Ones with Cancer If They Don't Care for Themselves
Caregiver burnout – the stress, anger, fatigue, and illness that can come from putting another person's needs ahead of your own – is real. It can sneak up on you if you don't take care of yourself.
Learn more about SurvivorNet's rigorous medical review process.
---