An Update on Val Kilmer
Actor Val Kilmer's children attended the premiere of his film, Val, in his place due to "grueling" cancer recovery
His children are excited for the public to see "the truth of who he is for the first time" and his "lust for life"
Throat cancer treatment includes surgery, chemotherapy and radiation therapy, among other targeted drug therapies.
Actor and throat cancer survivor Val Kilmer did not attend the premiere of his new documentary this week in Hollywood, but his children, Mercedes, 29, and Jack, 25, hit the red carpet in his place and provided an update on the actor's health.
"The recovery process is just as grueling as the actual disease," Mercedes said. Kilmer had surgery in 2014, in addition to chemotherapy and radiation therapy, to treat his cancer.
Read More
Jack notes, "Everyone has been so supportive; it makes me emotional. It's really beautiful to see people come together."
The actor, known for his roles in The Doors, Tombstone, and Top Gun, put together a personal documentary featuring more than 1,000 hours of video footage about his life, art, and career.
After undergoing a tracheostomy, a surgical procedure that creates an opening to the windpipe, Kilmer's ability to speak has been impeded. However, he did not let his health challenges impact his motivation to tell his story. His children are co-producers on the documentary with Jack also serving as Kilmer's narrator.
Mercedes and Jack are excited that people will be able to see their father's creativity and "lust for life" in the new documentary.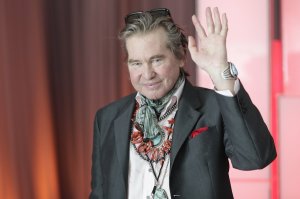 Mercedes adds, "It is really incredible to see the audience recognizing the truth of who he is kind of for the first time, none of this has been public, for us too it is very exciting for us. I think we are still — at least I am still trying to — figure it out to see his life narrated in such a way and I am only just really processing like how great of a legacy his body of work has."
"It's very emotional for him to watch it and we wish he could be here but, you know, he's here in spirit and he's just so proud of this and that people get to see a side of him that has never been seen before," Jack says.
Val is in theaters now and will be available on Amazon Prime Video on August 6.
Throat Cancer Treatment
Throat cancer can affect the pharynx, which is a tube in the neck that food and air pass through to reach the lungs or the esophagus, or the larynx, which contains the vocal cords that help produce the voice.
Surgery is commonly used as a first-line treatment for early-stage throat cancers. For advanced-stage or recurrent throat cancer, a combination of radiation, chemotherapy, and surgery may be used. In addition, there have been targeted drug therapies that recognize EGFR, a protein that is overexpressed on laryngeal and hypopharyngeal cancers. In addition, there are some immunotherapies that target metastasized head and neck squamous cell carcinomas.
Although it is unknown what specifically caused Kilmer's throat cancer, as with any cancer, experts say it's important to stay educated on the risk factors.
Throat cancer can sometimes be caused by tobacco and alcohol use, and also by the human papilloma virus, or HPV, which can also be a cause of cervical cancer in women.
Related: Having Oral Sex With Multiple Partners Can Increase Risk for Throat Cancer, Says New Study
Dr. Jessica Geiger of the Cleveland Clinic Cancer Center tells SurvivorNet that both men and women can get cancer from HPV.
"The strains of HPV that cause cervical cancer are the same strains of HPV that cause throat cancer," she explains. "The average patient with HPV-related throat cancer tends to be males in their 40s or 50s, who were never a smoker, or just a very light tobacco user."
Get the Facts HPV Can Cause Cancer in Men Too
The important thing to know about HPV is that there are many different strains, and only a couple of them tend to cause cancer.
"The vast majority of humans in the US, both men and woman, will eventually get infected with human papillomavirus," Dr. Allen Ho from Cedars-Sinai Medical Center tells SurvivorNet. "Probably less than 1% of the population who get infected happen to have the cancer-causing virus that, somehow, their immune system fails to clear."
HPV and Cancer Risk The Basics
Learn more about SurvivorNet's rigorous medical review process.
---