"You have to find a way to reach out into the community; to get people to listen; to find a way to make people aware of health care that's available to them. That's the first step," says actress Vanessa Bell Calloway, 64, of the work needed to tackle the longstanding health disparities in Black and Brown communities, which ultimately contribute to more sickness and earlier death in their populations.
"Then you've got to get rid of some of the fear factors and [build] the trust that we're lacking in the minority community based on the history of what Black/Brown people have gone through as guinea pigs," explains Calloway, who stars in the Amazon Prime original series Saints & Sinners.
Calloway And Her Successful "Dine-In"
Read More
This is Calloway's motivation for hosting a
"Dine In for Health Justice
" event,  which raises funds and awareness for City of Hope, a non-profit working to ensure
health equity and justice
in medical research, clinical trials and precision medicine. The "Dine In" campaign encourages friends and family to organize virtual dinner parties where participants are asked to make a contribution equal to or greater than what they would spend dining out.
"I got my two daughters together and we got all of our friends," says Calloway. "We did a brunch and we asked everyone to join us and if they couldn't join us we asked them if they could make a donation. We talked and laughed. There were friends we hadn't seen in a while. I had people in New York join us… Atlanta… I was back in L.A. at the time. We were also able to share with them a short presentation to let them see where the money [goes]."
Healthcare Equality: 'You've Got to Address Solutions'
For the Ohio native, the cause is personal. "I'm an advocate of women's health, of minority people's health and poor people's health because I [have] fit into all of those boxes," she explains. A 12-year survivor of breast cancer, Calloway, acknowledges that other Black women are not as fortunate. Statistics show that Black women are less likely to get breast cancer, but if they do get the disease, they are 42% more likely to die from it.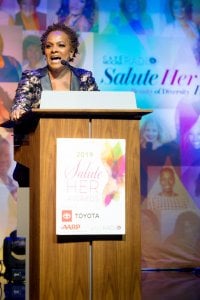 While there are many factors — biology, social, economic and behavioral — that account for this alarming disparity, Black women are more likely than white women to have inadequate health insurance or access to health care facilities, which may affect screening, follow-up care, and completion of therapy. Studies show that Black, Hispanic, and Native American women on average get breast cancer diagnoses at later stages than white and Asian American women. The later the diagnosis, the fewer treatment options, the more death.
"You've got to address solutions," says Calloway, who recognizes that her ability to tap into top notch cancer care is in stark comparison for many of her skin color. "It could be as simple as taking trucks into neighborhoods for mammograms, for blood pressure, for vaccinations. …Can you imagine if you had to pay for [COVID-19] vaccinations? It would be a mess, it would be worse than it is now."
Don't Delay Screenings
Even someone like Calloway, with access and means, can sometimes let her busy life get in the way of routine screenings.
In 2009, after doing her usual "show up" and "get fit in" for her annual mammogram at a local imaging center and discovering it closed, a busy work schedule delayed her reschedule. It was not until a few months later when she bolted up in the middle of the night with a "not feeling right" moment that she finally scheduled her postponed mammogram. That led to her diagnosis of stage zero breast cancer, also known as ductal carcinoma in situ (DCIS), a cancer that's confined to the breast milk duct. She was 52.
​​"It was a horrible moment," recalls Calloway. "Your first thought is 'Why me?' But quickly my mind changed to 'Why did you think you wouldn't get it? I'm not that special. Why would I be exempt?' I had to adjust my thinking [to] 'I have cancer, it's not going to have me.'"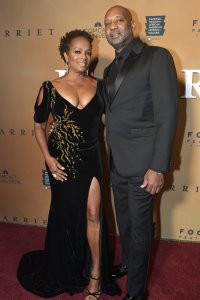 From there it was all "survival" mode for Calloway, who began her career as a dancer and was in the original Broadway production of Dreamgirls.  Being married to a doctor, acknowledges Calloway, gave her another leg up. Her husband/anesthesiologist,  Dr. Anthony Calloway led the way in gathering a list of doctors for her to meet with to decide her plan of action. This is a step she highly recommends. "I interviewed a couple of [oncologists] and they were both good [but] I went to the one I felt more connected to."
A lumpectomy, then an eventual right breast mastectomy [after seeing margins were still not clear] followed by drug therapy for five years was her treatment. "I didn't need radiation or chemotherapy," she says gratefully. "I needed to get rid of the bad tissue. Nothing had fallen out into my lymph nodes or into my milk ducts."
Even though Calloway calls herself "blessed" that her cancer was contained, it was still a lot to tackle.
"I had a flap  [lap flap breast reconstruction, in which skin from the soft tissue of one's waistline is used to make a breast.] It was a 12 hour surgery. It was no easy journey just because it was stage zero. I didn't get to skate free," she emphasizes. "It was very difficult but had I not listened to my body and gotten myself checked it's no telling stage zero could have moved to stage 4. [Since] Black women get breast cancer earlier and more aggressively than our white counterparts, there's no telling what would happen to me."
Calloway's Mission To No More Future Delays
She's committed now to making sure there are no future delays when it comes to her preventative health. Her strategy: Every August she sets up what she calls a "parade of doctors" in which she schedules a mammogram, her two oncologist appointments, her gynecologist, her general practitioner, her dentist and eye doctor.
 

View this post on Instagram

 
"I always start with my mammogram because everyone wants my mammogram first, they want to see the results of that. I just go to every doctor until I get everything done. I don't play around with my pap smears either," she explains. "That's what I would suggest to people: Find a month that works for you, some people do it around their birthday."
With a 94-year-old mother-in-law who was diagnosed with breast cancer in her 50s, and a healthy 84-year-old mother as role models, Calloway feels optimistic about her longevity. "I'm good to go," she says enthusiastically about her future.
Now, she wants to ensure everyone has the same opportunity by encouraging others to host their own virtual dinner — or brunch  — to support City of Hope's  "Dine In for Health Justice" campaign.
"One of the things that COVID has taught us is all of the things that we can do across the country together at the same time,"  says Calloway of the success of the virtual Dine Ins. "We can tune in at the same time; we don't have to fly; we don't have to get dressed; we can have fun and see people we haven't seen in a while and [at the same time] we can still raise money and awareness. There are always blessings when there are challenges, that is one of the blessings that COVID taught us."
Learn more about SurvivorNet's rigorous medical review process.
---