Black Women Have Poorest Breast Cancer Outcomes
Black women are less likely to get breast cancer than white women, but more likely to die from it.
Women of any racial or ethnic minority tend to get later diagnoses than white women.
Black women may start breast cancer treatment later on average than white women do.
Black women are less likely to get breast cancer than white women. But, if they do get the disease, they are 42% more likely to die from it. In fact,
breast cancer
is more likely to kill Black women than American women of any other racial or ethnic background. There's no single reason for these staggering
racial disparities in breast cancer
death rates.
Biology and genetics
play a part. These factors interact with socioeconomic issues, systemic bias, and other barriers to care to put Black women at risk for the worst outcomes in breast cancer.
Dr. Anita Johnson talks racial disparities in breast cancer outcomes and how to close the gap.
Read More
Socioeconomic factors, bias and other access to care challenges play a part in breast cancer outcomes. Below we asked some experts to break it down for us.
Minorities Diagnosed at Later Stages
It's true for most cancers and breast cancer is no exception: The earlier doctors detect it, the easier it is to treat and possibly cure. Studies show that Black, Hispanic, and Native American women on average get breast cancer diagnoses at later stages than white and Asian American women.
"This is the biggest factor," Oluchi Oke, MD, tells SurvivorNet. "With later stage breast cancer, stage 4, we have no cure for that. So, if patients are known to have later stages, compared to other populations, they are going to be more likely to die." Oluchi is a breast medical oncologist at MD Anderson Cancer Center in Houston, TX.
Related: Genetics & Biologic Differences are Partially to Blame for Higher Breast Cancer Death Rates Among African American Women
More Mammograms = Better Results
The most recent statistics show that white, Black, Hispanic and Asian women get mammograms at pretty much the same rates. Three out of four women ages 50 to 74, of any of these racial or ethnic backgrounds, have had a mammogram in the last two years.
Related: Minorities Are Missing Out on Lifesaving Cancer Care and Clinical Trials: 4 Ways to Fix That
But that wasn't always the case. In the past, Black women were less likely to get mammograms than white women. Education campaigns and better access to screenings through the Affordable Care Act have helped close the gap in preventive screenings between racial and ethnic groups.
"This is a screen-detected cancer," Oke says. "So, if one population is getting fewer mammograms than another, then of course we are going to find cancer in that population at a later stage, maybe after they are already symptomatic."
Dr. Senayet Agonafer explains that mammograms are still the best way to detect breast cancer.
Lack of health insurance prevents many women from getting screened. Research shows that white women are more likely to have health insurance at the time of a breast cancer diagnosis than women of color, including Black, Hispanics and Asians. This explains, in part, the later diagnoses among women of color.
Related: There's a Mysterious Relationship Between Vitamin D & Prostate Cancer in African American Men
Though the racial and ethnic gaps in mammogram rates seem to be closed now, later diagnoses in the past could help explain the higher death rates that continue today. What's more, some data suggest that after an abnormal mammogram, white women go for follow-up to confirm the diagnosis sooner than women of any other racial group. This, too, could drive more advanced-stage diagnoses.
"Sometimes that's the disconnect," says Melissa B. Davis, PhD, Scientific Director of the International Center for the Study of Breast Cancer Subtypes, Weill Cornell Medical College. "Women go for their mammography and somebody calls them from the clinic, but they don't call back, or it takes them a while, or they don't what the doctor tells them to do. So, follow up all the way through."
Quick Care = Better Outcomes
Just as it's better to find cancer sooner, it's also best to treat it as soon as possible. White women start their treatment on average about 30 days after diagnosis and Black women may start care more than 60 days later. Though it's rare to wait 90 days or more to start treatment, women who do are more likely to be Black.
Related: In Some States, Obamacare Helped Close Racial Gaps in Who Gets Cancer Care Within 30 Days
"Even in areas where all women have the same access to care, we do see studies that show that African American women don't necessarily get care as quickly as white women do," Oke says.
Some people speculate that because people of color are more likely to have a lower socioeconomic status, they face barriers to getting care related to insurance or other financial challenges. But, data doesn't necessarily support that theory.
A recent study that examined delays and interruptions in care among white and Black women found this: Poor white women were more likely to have delays and interruptions in care than wealthier white women. But, Black women of all socioeconomic levels saw delays and interruptions in their care.
Related: Advances in Metastatic Breast Cancer Treatments Over the Last Year Offer New Hope for Those Fighting
"Certain doctors treat white women differently than African American women," Oke says. "In general, African American women just may not get the same care."
While no one can change their genetic predisposition, women can try to stay ahead of it.
"Be vigilant about your own health," Davis says. "Be aware of any changes. Know your family history of breast cancer – even if you have to do some digging. Get screened, and follow up all the way through."
Close The Gap
Disparities in treatment and survival rates for Black cancer patients are a grim fact of life in the U.S. However, over the past two years, SurvivorNet has focused on raising awareness around this persistent racial gap.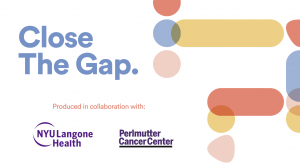 The "Close the Gap" initiative is working to improve survival rates for all people diagnosed with cancer – regardless of race. We are pleased to have NYU Langone and The Perlmutter Cancer Center as partners in this effort, as the fight for equality carries on.
Learn more about SurvivorNet's rigorous medical review process.