Did you know that having Von Hippel-Lindau syndrome (VHL) can increase your risk of getting kidney cancer and clear cell carcinoma by 25-60%? In this article, we're going to cover all the information you need to know about Von Hippel-Lindau kidney cancer, signs and symptoms, diagnostic procedures, and treatment options.
What You Need to Know About Von Hippel-Lindau Syndrome
Von Hippel-Lindau syndrome is a rare genetic condition that happens as a result of VHL gene impairment (either gene deletion or mutation) and can cause several types of tumors to grow in different areas of the body. These tumors can be benign or malignant. If you have VHL disease, there's no way to predict where you'll get these tumors and whether or not they'll be cancerous or non-cancerous. Thus, if you get a diagnosis of this disease, it's pivotal that you perform regular checkups on yourself to stay ahead of any new tumors that may grow.
Read More
According to the
National Organization for Rare Disorders
, anyone can get VHL, and even though the risk is higher for people who have close relatives with the disease accounting for 80%, evidently, 20% of people develop VHL with no family history of the disease a process named as de novo mutation. To get a conclusive diagnosis of Von Hippel-Lindau, you need to perform a
genetic test
that determines your VHL gene and either confirms or denies the presence of the disease.
Von Hippel-Lindau Associated Tumors
According to the
American Society of Clinical Oncology
VHL has been linked to the onset of many types of benign and malignant tumors and they include the following:
Table 1. VHL-Associated tumors and their risk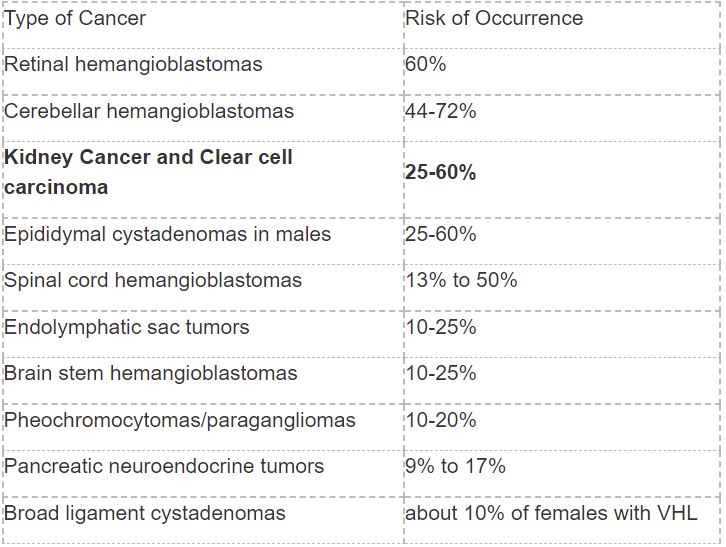 Von Hippel-Lindau Kidney Cancer
Impairment of the VHL gene lead to 25-60% cases of kidney cancers in Von Hippel-Lindau patients, this is because the VHL gene is a tumor suppressor gene that works on inhibiting abnormal cell growth, so that when it's altered or mutated it loses its protective ability and different tumors can form including that which cause kidney cancer.
Types of Kidney Cancer
Renal cell carcinoma is considered the most common type of all kidney cancer accounting for 80% of other kidney cancers.
Renal cell carcinoma can be categorized into several other subtypes upon their examination in the laboratory including the following:
Clear cell renal carcinoma (ccRCC)
Non-clear cell renal carcinoma
Unclassified renal carcinoma
However, clear cell renal carcinoma is the most common type of renal cell carcinomas.
Other types of kidney cancers include the following:
Transitional cell carcinoma or urothelial carcinomas
Wilms tumors (nephroblastoma)
Renal sarcoma
Benign Tumors in the Kidney
These are not considered cancers but benign kidney tumors. Nevertheless, they can still cause damage and need to be removed as early as possible. These tumors include the following:
People with VHL often develop clear renal cell carcinoma (ccRCC), particularly when they're young. Whether these tumors are benign or malignant, there needs to be a treatment plan for removing them or inhibiting their growth. You need to consult your doctor on the best treatment plan for you and continue doing checkups regularly to screen for any new tumors or tumor changes — early detection is key when it comes to VHL.
Kidney Cancer Symptoms
Early on in the disease, symptoms aren't always noticeable, but this also varies from patient to patient according to the type, size, and location of the tumors. Here are some possible side effects that may be experienced by patients with kidney cancer:
Hematuria — blood in the urine
Lower back pain on one side
Tiredness and fatigue
Weight loss
Reduced appetite
Lumps or growths on the lower back or the side
High temperature and fever that doesn't seem to go away
Anemia — low counts of red blood cells
Kidney Cancer Diagnosis
There are many tests available to find out whether you have kidney cancer or not, but your doctor will choose the best approach after considering the following parameters:
Underlying medical conditions or hereditary diseases
The signs and symptoms you're presenting with
Your age
Your overall health condition
Other prior medical tests results
The type of cancer they suspect you have
Below are the tests and procedures that are applied for a kidney cancer diagnosis:
Physical Examination (to check your body for lumps or pain, especially on the sides or lower back)
Blood tests (to check your red blood cell count and look for other abnormalities)
Urine tests (to check your urine for blood, cancer cells, or bacteria)
Biopsy (a procedure where your doctor will take a sample or a small amount of your tumor and examine it under the microscope to identify its properties)
Imaging tests (using X-ray, CT, and MRI scans)
It's important to note that you will not undergo all these tests, these are just your available options. Your doctor will decide the best diagnostic approach for you. Moreover, they can also perform additional tests in case your cancer has progressed into an advanced stage (metastasis) and spread to other parts of the body.
If you do have kidney cancer, your doctor will identify which stage your cancer is and initiate your treatment depending on the details of your case.
Kidney Cancer Treatment
There is no universal treatment for VHL-associated kidney cancer, and even though there have been many recent advances in this area, the goal remains to find these tumors as early as possible and eliminate them before they cause any irreparable damage. It doesn't matter if you found out you have kidney cancer or have been treated for kidney cancer. Careful monitoring is the most important thing to do if you have VHL.
Your kidney cancer treatment strategy will depend on many criteria, and they include the following:
Type of kidney cancer
Location of kidney tumor
Previous treatment
Previous cancers or tumors
Your overall health
Your age
Your treatment response
Your medical history
Surgery. This is the main treatment option for kidney tumors, this treatment aims to remove the tumor completely. But this option is only available when the size of the tumor is appropriate and it's in the first stages where it hasn't spread (metastasized) into other organs in the body. There are many types of surgeries for kidney cancer removal, and these are:
Radical nephrectomy
Partial nephrectomy
Cytoreductive nephrectomy
Laparoscopic and robotic surgery
Mastectomy
Radiofrequency ablation. This treatment involves a needle inserted into the tumor where the tumor is subjected to electric currents and radiofrequency waves to destroy it.
Cryoablation. This treatment uses very cold probes into the tumor and eliminates the cancer cells by freezing them.
Chemotherapy. This treatment uses medications that are toxic to cancer cells that inhibit their growth or destroy them. There are many types of chemotherapeutic drugs available for kidney cancer.
Radiation therapy. This treatment uses high-energy particles to destroy cancer cells. The two main types of radiation therapy are external beam radiation and internal beam radiation.
Immunotherapy. This treatment harnesses the power of the immune system to kill cancerous cells by stimulating the immune system to better recognize and stop them. There are many types of immunotherapies like immune checkpoint inhibitors.
Targeted therapy. This treatment targets specific proteins or genes in the cancerous cells to inhibit their growth, prevent their nutritional supply or destroy them completely. One recent example of targeted therapy that was approved by the FDA in August 2021, is belzutifan (Welireg) which unlike the previous treatment options is specific for VHL patients with associated kidney cancers.
Belzutifan works by targeting a protein known as hypoxia-inducible factor-2 alpha (HIF2a) which acts as a nutritious blood supply for cancer cells, so when this pathway is disrupted by belzutifan, the cancer cells shrink down.
Keep in mind that your doctor may prescribe combined therapy which will include pairing up two or more of the aforementioned treatments together.
These treatment options are not without their disadvantages, they also present side effects that can affect patients' lives. Thus, you need to talk with your doctor about the precautions and side effects associated with these treatment options and discuss with them what's best for you.
Questions to ask your doctor
How can I best deal with my VHL disease?
What kind of treatment options do I have?
Which treatment is best for me?
What are the side effects and precautions with the treatment you're recommending for me?
How might treatment affect my daily life and activities?
Do I need to change anything I'm doing while being on treatment?
What can I do to improve my chances of recovery?
If I need help with costs and insurance coverage, who can I talk to?
Remember that these aren't the only questions to ask, these are just some examples. You need to share your questions and concerns with your doctor when you have the chance. So whatever inquiry or complaint you might have about your condition, write it down and ask your doctor on your next visit.
Also, you can ask about your eligibility and whether or not you qualify to enroll in a clinical trial for kidney cancer treatment.
The Bottom Line
It's not easy living with Von Hippel-Lindau disease knowing there's a great risk associated with kidney cancer development. However, your outlook will depend significantly on your overall health, the type, size, and location of your tumor, your treatment response, and most importantly the time these tumors were detected.
Since kidney cancer symptoms generally go unnoticeable, you need to be extra careful and maintain routine assessments and take screening tests to increase your chances of detecting these tumors early and improve the treatment outcomes. More tips and resources are available through a wonderful organization called VHL Alliance.
Learn more about SurvivorNet's rigorous medical review process.