By Gayle Jo Carter
Even though it's been more than a decade since Skylar Astin's mom was diagnosed and treated for breast cancer, the Zoey's Extraordinary Playlist actor still finds himself ruminating on his actions during those "tough few years."
Read More
With his career blossoming on the West Coast, Astin's mom, Meryl Lipstein, insisted that her son stick to his auditions and acting opportunities while she underwent treatment back home in New York.
"I went to a couple of oncology appointments with her. I was there for some of her post-op stuff, but there were times I was working like crazy and she really wanted me to do my thing," he recalls.
Astin — at 15 his agent had him take his middle name as his last for his stage name — took comfort knowing that his mom had plenty of in-person support, including from his two brothers, sister and their father. "She had three operations. I was there virtually, but it's something weird when you reflect on it," says Astin, who just in the last few years found himself asking his mom: "Was I there enough?"
Maybe it's only now that Astin's career has reached as much stability as an actor can have, with a second season of his TV series wrapped and airing that he can take a breath and reflect — new episodes of  Zoey's Extraordinary Playlist are on NBC; the already aired second season episodes and all of the first season are streaming on Peacock.
Lipstein, who possessed a no matter what survivor attitude long before she became a cancer survivor,  reassured her son that she was the one who encouraged him to focus on his burgeoning Hollywood life.
"You don't remember? I was telling you not to leave the set," Astin remembers her saying. "I was telling you that you can't not do a movie; you can't not do a pilot because I have everyone, I'm fine. God forbid anything happens, you can always get on a plane. Everything's going to be ok."
In fact, it was Lipstein who traveled to see Astin during her ongoing treatment. "She flew to Seattle when I was filming a movie and then she flew to Baton Rouge when I was filming the first Pitch Perfect. She actually had a wig on, that was the first time I saw her going through chemo. In hindsight,  I am like:  'Should she have been flying?  Was I a bad son to allow it?'"
View this post on Instagram
The Never a Victim Attitude
All throughout this time period, even on her sickest days, "She never felt like she wasn't going to beat it," Astin, now 33, recalls.  It was this "never a victim" attitude that carried the family through this difficult period.
"She was a mother through and through. It's really such a testament to her will and strength. It just wasn't even a question. In a way it was comforting to me but looking back it almost didn't feel real," shares Astin, who continues to talk with her about these newly cropped up feelings years beyond the challenging ordeal. "It's a really weird thing to go through and to be part of it, to be an extension and a family member. You have different chapters with it. It's all happening when it's happening, you're going through it. You hear someone else going through it later in life and wonder 'Did I do something right or did I do it wrong? It's very interesting'."
Just this past week when Survivornet spoke to Astin, he was eagerly waiting for his vaccinated parents to arrive for a visit. "It has been a long time since I've seen my family and I can not wait. I've been cleaning, organizing and just making space for them,"  says Astin, who's looking forward to having their company after spending much of quarantine making friends with his backyard squirrels, even naming one of the more precocious of them Maxine after his Playlist character, Max.
When it's finally Astin's turn to be vaccinated, he'll definitely be posting a vaccine selfie on his social media accounts. "Not only just a selfie but encouraging people to get vaccinated," he says. "In a similar way of how I was really encouraging people to vote this past election time. I feel like this is also very important and integral to defeating this thing once and for all. It should be really strongly encouraged."
During this year of sickness and death, Astin can't help but draw parallels between COVID-19 and cancer.
"Cancer really takes no prisoners and it comes on fast and strong," he says.
His mom didn't smoke or drink and Astin wants us to know — regardless of relevance — "she also never cursed." It was a hard pill to swallow that sometimes cancer just happens. "Now we see with COVID-19 that there's often no method to it. Cancer is the same way," he now realizes. "How the heck is this thing happening to her of all people?"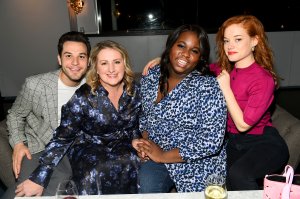 Post-Pandemic Plans
In addition to seeing his family, the musical theater veteran — who was in the cast of the original production of Broadway's Spring Awakening — is looking forward to getting back to live performances.
"I am hopeful for its return. I want to be part of its return. Whether that be in the audience or on stage or a combination of both because that is my absolute first love," he says. His previous TV series gig was even a musical, playing the love interest for Rachel Bloom's character in the final season of The CW's Crazy Ex-Girlfriend.
Looking out even further in the post-Pandemic future, Astin — who traded much of his teenage sports ambitions for acting after a game-changing role in a production of Godspell — wouldn't object to resurrecting his breakout star turn in the smash-hit films Pitch Perfect and Pitch Perfect 2.
"If they ever wanted to return back to the initial plotline and get the boys back, I know we'd be interested.  Maybe a reunion type of storyline… If they call me next month, or the next decade, they know exactly where to find me," he says.
In the meantime, he's got his own projects to pitch, including The Chanukah Guy, a movie he wrote about a Jewish mystical Santa Claus and an album.
"I've got  seven or eight songs in various stages of mixing and mastering. I'm trying to figure out a way to distribute it. I might just record a fun DIY music video and just release a few tracks on Spotify every couple weeks just to get it out there before the summer. It's fun top 40 kind of stuff," he explains.
To honor his mother, who "gave everything for her kids and instilled such unconditional love,"  Astin plans to continue to take time to support the work of the Stand Up to Cancer. He posted this recently on his Instagram account:
This #MothersDay, I Stand Up for my mom @queenmerrie and all the other moms out there who have been affected by cancer. My mom is an exemplary mother in EVERY way! She is my favorite person, and my number one inspiration! *SWIPE* to see her from her days with me in the recording studio (I was in her belly, and this '1980s Studio Session' was a birthday gift from my dad @barrylipstein to her 😭) to her ultimate mama days (jet black hair and all), and even some with the other important ladies and survivors in my life (my aunts, my grandmas, and my sister) Love them all infinitely so! 💙✨💘💫 Learn what @SU2C is doing in the fight against cancer at StandUpToCancer.org.
"Anytime there's a telethon or social messaging [request] they'll just reach out to me. It's such a great organization," Astin says, acknowledging how they're making sure there's COVID-19 resources for cancer patients and their caregivers;  how they're promoting and supporting screenings and working to increase diversity in clinical trials. "They cover a lot, so anytime they call I answer."
Just like he plans to do for his mother. Anytime.
Learn more about SurvivorNet's rigorous medical review process.