Wife, Mom And Survivor of Non-Hodgkin Lymphoma, Nicole Bullock, 52, Hosts Blood Drives As A 'Way Of Paying It Forward'
Wife, mom of two, and cancer survivor from Chicago, Nicole Bullock, 52, is giving back after beating non-Hodgkin Lymphoma.
She launched a foundation, 'Nicole Cares', and hosts blood drives as a 'way of paying it forward'
In 2016, doctors discovered a mass the size of an eggplant in her chest that was tested and diagnosed as Stage 2b non-Hodgkin lymphoma.
There are more than 40 different types of the disease, but Hodgkin lymphoma and non-Hodgkin lymphoma are the main two sub-categories, with the latter being more common.
As a wife, mom and cancer survivor from Chicago, Nicole Bullock, 52, has a full life. But after beating non-Hodgkin Lymphoma, she has decided to mark her blood cancer recovery by giving back.
"Hosting blood drives is our way of paying it forward, ensuring others have blood available when needed," Bullock said in an interview with "Essence" magazine. "For me personally, I share my journey to give God the glory for healing my body and give others hope."
Read More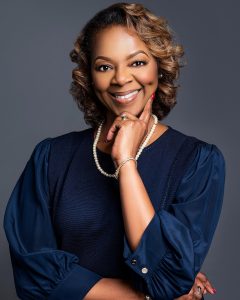 Bullock says she first noticed symptoms of extreme fatigue and throat pain in the summer of 2016 when she was 46 years old.
But she says she wasn't initially alarmed until she could no longer ignore her body.
"The fatigue intensified and I began quickly losing a significant amount of weight although I could no longer work out," she says. "But it was the uncomfortable feeling in my throat that prompted me to contact my doctor."
Doctors initially thought Bullock had acid reflux and put her on medication to deal with it.
A second opinion came to the same conclusion for the mother of two.
Bullock finally saw her primary care physician in September 2016, who ordered a CT scan after Bullock's throat pain turned into difficulty breathing and sleeping.
Doctors discovered a mass the size of an eggplant in her chest that was tested and diagnosed as Stage 2b non-Hodgkin lymphoma.
"I went from acid reflux to blood cancer," said Bullock. "It took three doctors and me advocating for myself to get the correct diagnosis."
Bullock underwent chemotherapy treatments for a year, including eight rounds intravenously, a series of blood transfusions and 17 rounds of radiation to get to NED status — No Evidence of Disease.
"Most people get chemo for a few hours and go home. However, because the cancer was so aggressive doctors treated it as such, which left my body depleted of red blood cells and platelets," she said.
When Bullock finally learned there was no presence of the disease in her body after her intense treatment, she created a foundation — Nicole Cares, and holds an annual community blood drive in Chicago.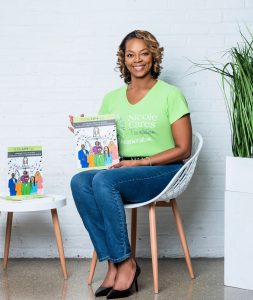 The foundation helps bring awareness and support for those suffering from the disease of non Hodgkins Lymphoma, especially in the Black community.
Understanding Hodgkin Lymphoma
Lymphoma, in general, is a cancer of the immune system that begins in the white blood cells called lymphocytes.
The disease begins when lymphocytes develop a genetic mutation that makes them multiply much faster than normal. This mutation also forces older cells that would normally die to stay alive.
From there, the quickly multiplying lymphocytes collect and build up in your lymph nodes, the small glands in your neck, armpits, and other parts of your body.
There are more than 40 different types of the disease, but Hodgkin lymphoma and non-Hodgkin lymphoma are the main two sub-categories, with the latter being more common.
The type of white blood cells linked to the disease determines the distinction. If doctors are unable to detect the Reed-Sternberg cell – a giant cell derived from B lymphocytes – then it is categorized as Non-Hodgkin lymphoma.
In a previous interview, Dr. Elise Chong, a medical oncologist at Penn Medicine, explained that Hodgkin lymphoma was most often seen in younger adults. And although less common, it is generally easier to cure than non-Hodgkin lymphoma.
What Kind of Lymphoma Do You Have? Why Your Type Matters
Dr. Chong also said lymphoma symptoms can be difficult to detect.
"The symptoms of lymphoma, especially if you have a low-grade lymphoma, often are no symptoms," Dr. Chong explained. "People say, but I feel completely fine, and that's very normal."
Lymphoma treatment, in general, depends greatly on the nature of your specific diagnosis.
For non-Hodgkin lymphoma patients, their cancer is more likely to spread in a random fashion and be found in different groups of lymph nodes in the body.
Hodgkin lymphoma cancers, on the other hand, are more likely to grow in a uniform way from one group of lymph nodes directly to another.
Some lymphomas, called indolent lymphomas, might not even need to be treated right away because they're slow-growing.
In this case, careful monitoring – including imaging scans such as PET/CT – is used to track the progress of your cancer and gauge whether it needs treatment yet.
"Where I use PET/CT in my practice quite a bit is if I'm observing a patient … and there is some new symptom or situation which makes me concerned that the patient may be changing from an indolent lymphoma to a more aggressive lymphoma," Dr. Jakub Svoboda, medical oncologist at Penn Medicine, previously told SurvivorNet.
"We refer to it as transformation."
Caring for Lymphoma Patients
According to the Leukemia & Lymphoma Society, about 90,390 people in the United States are expected to be diagnosed with lymphoma in 2021 – 8,830 cases of Hodgkin lymphoma and 81,560 cases of Non-Hodgkin lymphoma.
"Care for people diagnosed with lymphoma does not end when active treatment has finished," says researchers with The American Society of Clinical Oncologists. "Your health care team will continue to check that the cancer has not come back, manage any side effects and late effects of treatment, and monitor your overall health. This is called follow-up care."
Follow-up care generally means talking with your doctor, doing a physical examination, having blood tests done, and sometimes even doing scans.
"At most cancer centers, follow-up visits are scheduled every 3 to 4 months for the first 1 to 2 years after treatment is completed, which is when the risk of recurrence is highest," the ASCO website states. "After that, the time between visits increases over time. Later visits may only be 2 to 3 times per year until 5 years have passed. After 4 to 5 years, patients should discuss options for long-term surveillance with the health care team."
Sneaky Lymphoma Symptoms Often Lead to a Late Diagnosis
Long-term surveillance, which is likely the phase that Hall is at right now, can include going to a survivorship clinic in a cancer center, receiving ongoing care from your cancer care team, or transferring to a long-term plan with a primary care provider.
Quality of life is also important to consider when it comes to follow-up care. According to ASCO, Hodgkin lymphoma survivors, in particular, are encouraged to look out for symptoms of depression and to talk with their doctor immediately if they notice any signs. Always remember, your emotional health is just as important as your physical health.
Overall, every person's cancer journey looks different. Your long-term care can differ greatly from someone with the same disease, but it's important to talk with your doctor about what your individual plan should look like.
Learn more about SurvivorNet's rigorous medical review process.
---