A Chihuahua's Help
Tess Robinson, 41, says that her Chihuahua Lola jumped on her stomach which revealed a lump in her stomach. She was later diagnosed with stage 3 ovarian cancer.
Symptoms of ovarian cancer can be hard to spot, but most commonly they include bloating, abdominal pain, nausea and quickly feeling full after eating.
Studies have shown that certain breeds of dogs can detect signs of cancer, but due to factors that may distract them, they won't be replacing standard screening methods anytime soon.
The concept that
dogs
are a (wo)man's best friend has been taken up a level thanks to a Chihuahua making sure her owner is happy and healthy. Hairdresser
Tess Robinson
, 41, says that her dog Lola jumped on her stomach which revealed a lump in her stomach which she didn't know was there. She was later diagnosed with
ovarian cancer
.
Robinson knew something was wrong with her health when she started suddenly experiencing severe back pain and bloating . She initially believed it was due to a food intolerance that she had developed, and didn't think much of it. It wasn't until her Chihuahua Lola jumped on her stomach one day, and Robinson noticed a large lump on her stomach. She decided to visit her doctor to check it out, and it ended up being a large tumor and Robinson was diagnosed with stage 3 ovarian cancer.
Read More
Related: Can Cancer Data From Dogs Help Humans? The FDA Has a Major New Program For Interspecies Learning
"For weeks, [Lola] had been just sat there staring at me," Robinson said. "I know dogs can be intuitive and it was freaking me out a bit. Then one day when I was suffering from particularly bad bowel pain, she jumped heavily onto my stomach. The pain was like something else and a big lump came up and so I went to get checked out. I was devastated by the diagnosis, but most importantly I was able to get the treatment I needed. If I'd left it any longer it would have been too late. I honestly believe Lola saved my life."
After receiving the diagnosis, Robinson immediately started treatment and went through six rounds of chemotherapy and a full hysterectomy. While Robinson has completed treatment, she will hear the prognosis in a few weeks to determine if she needs to continue treatment or if she's been declared in remission. She says the whole experience made her not only appreciate life even more, but also her precious pup Lola. "I feel quite positive for the future. I am feeling well in myself, and so much better now the treatments over," Robinson said. "I can't describe how grateful I am to Lola. Without her I might not be here."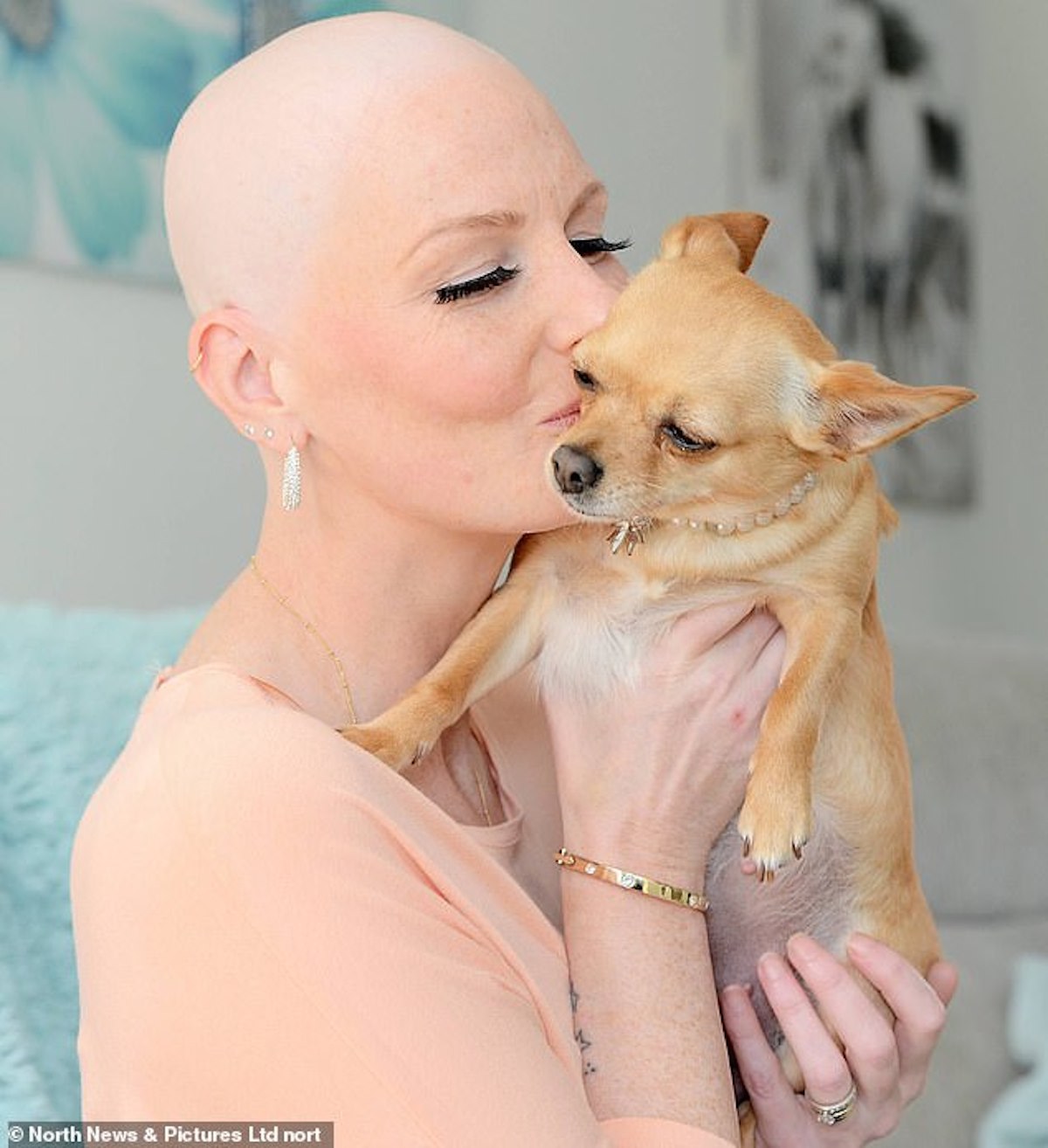 Symptoms of Ovarian Cancer
One of the best ways to catch a diagnosis early is to know and recognize symptoms associated with different cancers. While some symptoms are more obvious (such as a blemish on the skin or lump in the breast), other cancers have symptoms that are tricky to see. This is the case for ovarian cancer, which is often detected in later stages due to symptoms being subtle and developing when the disease has advanced.
"Ovarian cancer has also been called the sleeping lion," Dr. Kimberly Resnick, division director of gynecologic oncology at MetroHealth in Cleveland, previously told SurvivorNet. "It's hard, because 75% of women that actually walk in our office with ovarian cancer, unfortunately, are going to walk in with advanced stage disease. It's very rare that we diagnose ovarian cancer in the early stages, because many of the symptoms that women can have can actually mimic symptoms that we may have in everyday life or, at least, that's what we used to think."
Related: "You Are Your Own Best Advocate" – Recognizing the Subtle Symptoms of Ovarian Cancer
It's important to be on the lookout for some of the most common symptoms of the disease which can include bloating, abdominal pain, nausea, and quickly feeling full after eating. Very early signs of ovarian cancer may also include gaining weight in their abdomen (even though they are losing weight in their face and neck), extremely swollen legs, pain and possibly changes in bathroom habits. While exhibiting these symptoms may not point to an ovarian cancer diagnosis, it's important you visit your doctor as soon as possible to rule it out.
Dr. Kimberly Resnick breaks down symptoms of ovarian cancer
Can Dogs Detect Cancer?
There's been numerous stories of people claiming their dogs helped them detect signs of cancer, which resulted in them getting treatment early enough for it to be successful. However, there's been a debate between experts as to whether there's actual scientific evidence to back this up. In June 2019, a study found that evidence does show that certain dogs can detect cancer, but there are a few caveats. The study, titled "Accuracy of Canine Scent Detection of Non-Small Cell Blood Cancer in Blood Serum," revealed that, after eight months of training, three beagles (a breed of particularly skilled smellers) were able to distinguish blood samples with lung cancer with 97 percent accuracy.
Related: Could Dogs Be Used to Protect Cancer Patients From Coronavirus?
While this is great news for beagle owners, it's important to note that this isn't necessarily the case with every breed of dog. Additionally, this doesn't mean dogs will be replacing technology screening methods anytime soon. While the dogs' abilities to detect lung cancer was certainly impressive, one big problem that faces pooches is that they can be distracted by factors such as other unfamiliar smells or food. So, while your canines probably have your best interest at heart, it's important to keep sticking with scientifically-backed screening methods.
Dr. Brendon Stiles urges people to take advantage of lung cancer screenings
Learn more about SurvivorNet's rigorous medical review process.