Actor and singer Hugh Jackman sent singer, actress and fellow Aussie Olivia Newton-John, 70, a message of love and support as she battles stage four breast cancer.
In front of 15,000 people at his The Man, The Music, The Show night at Sydney's Qudos Bank Arena, Jackson recorded himself talking to Newton-John, whose was launched to celebrity after starring as Sandy in the 1978 film Greece.
Read More
RELATED: "We All Have Our Cancers. Mine is My Battle With Addiction" — Olivia Newton-John's Daughter Chloe Faces Her Own Demons So She Can Support Her Mom During Cancer
"Hi Olivia, it's Hugh, with 15,000 of your closest friends and family," he said in the recording. As he twirled around to show Olivia the crowd, he asked the crowd if they had seen her most recent interview on the Australian show 60 Minutes, which she did with her daughter Chloe Lattanzi, 33.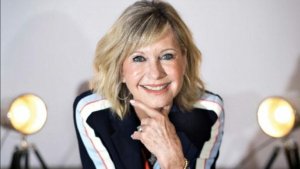 After the crowd roared with love for the Greece star, Jackman turned to the camera to address Newton-John again. "Listen, you are the most amazing person, the most amazing mum, the most amazing ambassador, singer and dancer," he said. "We just love you."
RELATED: Fighting Breast Cancer for the Third Time, Olivia Newton-John Looks Fabulous as She Launches an Exhibition of Her Famous Wardrobe
Hugh Jackman and Olivia Newton-John's history
Hugh Jackman's love of Olivia Newton-John has been well documented.
During a 2016 G'Day USA Los Angeles Gala, Hugh Jackman closed the festivities with two songs and a little bit about his childhood dreams. "I remember when I was a kid growing up in Australia, all I wanted to do was be able to travel," he said. "I didn't have posters of footie stars or rock stars up on my wall. I had a map of the world literally next to my bed, and I used to lie in bed and dream of all of the places that I would go to when I was older."
"That's not exactly true," Jackman pivoted during the speech. "I did have a poster of Olivia Newton-John up on my wall, which I literally kissed maybe even practiced tongue-kissing on. I'm not sure!" he added, before eventually bursting into a rendition of "Feels like Home."
RELATED: "I'm Doing Great!" Olivia Newton-John Optimistically Says Her Incurable Cancer is "Not a Death Sentence"
Olivia Newton-John's most recent interview about her current cancer battle
For Newton-John, three battles with cancer have made her realize just how lucky she is to still be here every day. "I'm so lucky that I've been through this three times and I'm still here. I'm living with it. So it just reinforced my gratitude."
She says that she knows she isn't alone. "Because we all know we're going to die, unfortunately being humans we have that knowledge. We don't know when it is."
"When you're given a cancer diagnosis or a scary illness diagnosis, you are suddenly given a possibility of a time limit," she told the outlet. "The truth is you could get hit by a truck tomorrow, you know you don't know, so every day is a gift, now. Particularly now."
Olivia Newton-John's history with cancer
Olivia Newton-John was first diagnosed with breast cancer 27 years ago. After she beat the illness, cancer reappeared in 2013. In May 2017, she was told the cancer had spread to her bones.
When Newton-John was first diagnosed with breast cancer, she was treated with nine months of chemotherapy and a breast removal surgery, called a mastectomy. It was a lot to go through, and at the time, she was married to her now-ex husband, the actor and dancer Matt Lattanzi and was caring for their then-six-year-old daughter, Chloe Rose Lattanzi. And while Newton-John was able to overcome her first bout with cancer, the treatment wasn't the only aspect of her life challenging her: she and Lattanzi divorced three years after the initial breast cancer diagnosis.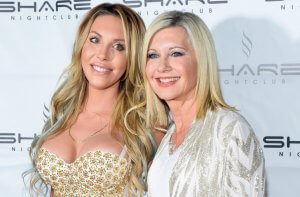 Then, Newton-John's cancer returned in 2013, after she had gone through the traumatic disappearance of Patrick McDermott, the cameraman boyfriend she dated off and on after her divorce. McDermott, then 48, had gone on a fishing trip off the coast of California in 2005, and never returned.
Again, Newton-John overcame her cancer while going through these difficult personal struggles.
Perhaps that's why, when her cancer returned yet again in 2017, this time having spread to her tailbone, it meant so much that Newton-John was in a happy, supportive marriage with her husband John Easterling.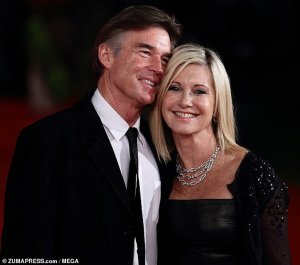 Newton-John's medical marijuana during cancer treatment
Easterling is an entrepreneur who founded Amazon Herb Company, which sells, among other natural supplements, marijuana products. It comes as no surprise, then, that Easterling has supported Newton-John using legally-grown medical marijuana and other cannabis products to help ease the pain and stress associated with her advanced breast cancer.
Importantly, Newton-John has been public about the fact that her marijuana use hasn't replaced conventional treatment for her breast cancer.
Newton-John has still been receiving treatment from licensed oncologists while also using marijuana as a complementary therapy–a combination of treatment types that doctors call "integrative medicine."
Information about metastatic breast cancer
Sometimes breast cancers can spread to the bones. Breast cancer that has spread to the bone is often hormone receptor-positive. Women may think when this happens they need aggressive chemotherapy. However, SurvivorNet's medical advisor Dr. Elizabeth Comen, Medical Oncologist at Memorial Sloan Kettering Cancer Center, tells us that in most instances of hormone receptor-positive metastatic breast cancer to the bone, the first line of attack is hormone therapies.
Dr Elizabeth Comen, Medical Oncologist at Memorial Sloan Kettering Cancer Center, talks about what happens when breast cancer spreads to the bones
Hormone therapies are often combined with other medications to improve their efficacy. For example, CD4/CD6 inhibitors are a type of oral medications that are sometimes combined with hormonal therapies to help shrink breast cancers.
Traditionally, there's a lot of stigmas that if cancer spreads at all, it can be very detrimental. However, it's important to remember that there are multiple lines of defense in managing breast cancer that has spread to the bones, including participation in a clinical trial. Remember that everyday aches and pains are common, particularly if you're dealing with such a negative life-hurdle. However, if you have a pain that is getting worse and persists, it is important to see your oncologist to rule out anything more serious.
Newton-John on internet statistics
For Newton-John, reading about how long she'll live is something she tries to stay away from. "If you believe the statistics, you're going to make them happen. If somebody tells you, 'you have six months to live', very possibly you will – because you believe that."
And she doesn't want to compare herself to anyone else with her disease. "So for me, psychologically, it's better not to have any ideas of what they expect or what the last person that had what you have lived – so I don't tune in, it's just better for me."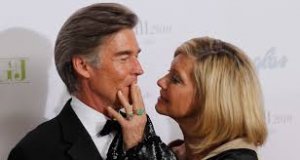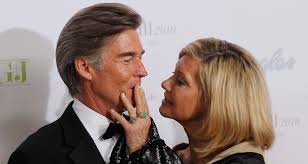 No matter what, Newton-John chooses how she wants to live every day of the process. "It's something that I'm living with but I don't see it that way," she said. "It's a choice. Everything's a choice."
And she views her cancer as something her body is working to expel all the time. "I see it as something in my body that I'm getting rid of. I don't talk about a battle or a war. I let it go and tell it to leave and talk to my body and tell it to heal itself."
Learn more about SurvivorNet's rigorous medical review process.