In a recent interview with Australian show 60 Minutes, Olivia Newton-John's daughter Chloe Lattanzi, 33, is fighting to beat addiction and depression so that she can be strong for her mom during Newton-John's third battle with breast cancer at age 70.
"We all have our cancers. Mine is my battle with addiction — I have to keep myself sober for the rest of my life. And it's a fight and it takes work," Chloe said about her ongoing struggle.
Read More
Lattanzi said through tears that her mom's struggle with cancer has helped her battle her own demons. "Her illness helped me heal my illness. I knew I needed to be —  I wanted to be bright and happy and available and around for my mom when she was struggling with this. I thought I was okay but I wasn't. I was still struggling with severe depression and whatever, and I faced it, head on."
Newton-John on her perspective toward cancer
For Newton-John, three battles with cancer have made her realize just how lucky she is to still be here every day. "I'm so lucky that I've been through this three times and I'm still here. I'm living with it. So it just reinforced my gratitude."
RELATED: Fighting Breast Cancer for the Third Time, Olivia Newton-John Looks Fabulous as She Launches an Exhibition of Her Famous Wardrobe
She says that she knows she isn't alone. "Because we all know we're going to die, unfortunately being humans we have that knowledge. We don't know when it is."
"When you're given a cancer diagnosis or a scary illness diagnosis, you are suddenly given a possibility of a time limit," she told the outlet.
RELATED: "I'm Doing Great!" Olivia Newton-John Optimistically Says Her Incurable Cancer is "Not a Death Sentence"
"The truth is you could get hit by a truck tomorrow, you know you don't know, so every day is a gift, now. Particularly now."
Olivia Newton-John's history with cancer
Olivia Newton-John was first diagnosed with breast cancer 27 years ago. After she beat the illness, cancer reappeared in 2013. In May 2017, she was told the cancer had spread to her bones.
When Newton-John was first diagnosed with breast cancer nearly three decades ago, she was treated with nine months of chemotherapy and a breast removal surgery, called a mastectomy. It was a lot to go through, and at the time, she was married to her now-ex husband, the actor and dancer Matt Lattanzi and was caring for their then-six-year-old daughter, Chloe Rose Lattanzi. And while Newton-John was able to overcome her first bout with cancer, the treatment wasn't the only aspect of her life challenging her: she and Lattanzi divorced three years after the initial breast cancer diagnosis.
Then, Newton-John's cancer returned in 2013, after she had gone through the traumatic disappearance of Patrick McDermott, the cameraman boyfriend she dated off and on after her divorce. McDermott, then 48, had gone on a fishing trip off the coast of California in 2005, and never returned.
Again, Newton-John overcame her cancer while going through these difficult personal struggles.
Perhaps that's why, when her cancer returned yet again in 2017, this time having spread to her tailbone, it meant so much that Newton-John was in a happy, supportive relationship with her husband John Easterling.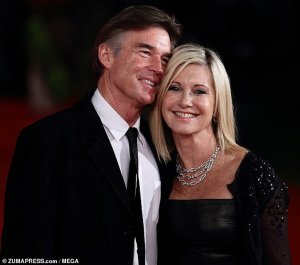 Newton-John's Medical Marijuana Use
Easterling is an entrepreneur who founded Amazon Herb Company, a company that sells, among other natural supplements, marijuana products. It comes as no surprise, then, that Easterling has supported Newton-John using legally-grown medical marijuana and other cannabis products to help ease the pain and stress associated with her advanced breast cancer.
Importantly, Newton-John has been public about the fact that her marijuana use hasn't replaced conventional treatment for her breast cancer.
Newton-John has still been receiving treatment from licensed oncologists while also using marijuana as a complementary therapy–a combination of treatment types that doctors call "integrative medicine."
Newton John on not believing internet statistics about cancer
For Newton-John, reading about how long she'll live is something she tries to stay away from. "If you believe the statistics, you're going to make them happen. If somebody tells you, 'you have six months to live', very possibly you will – because you believe that."
And she doesn't want to compare herself to anyone else with her disease. "So for me, psychologically, it's better not to have any ideas of what they expect or what the last person that had what you have lived – so I don't tune in, it's just better for me."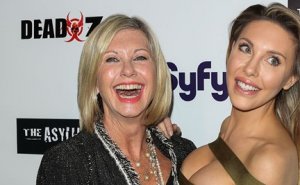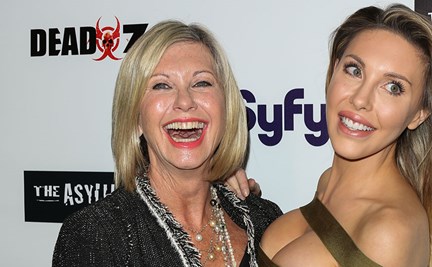 No matter what, Newton-John chooses how she wants to live every day of the process. "It's something that I'm living with but I don't see it that way," she said. "It's a choice. Everything's a choice."
And views her cancer as something her body is working to expel all the time. "I see it as something in my body that I'm getting rid of. I don't talk about a battle or a war. I let it go and tell it to leave and talk to my body and tell it to heal itself."
RELATED: Love Conquers All: How Olivia Newton-John's Second Marriage Gives Her Strength On Her Cancer Journey
Newton-John and her relationship with her daughter Chloe
Newton-John said it's harder to talk to her daughter about her illness than it is to talk to interviewers and the public, because they are so close, and because her daughter is "a part of her." "I know that she gets affected but she's very strong and she doesn't really show me that," she said.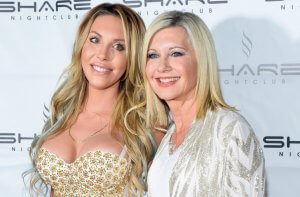 Olivia Newton-John's daughter chloe on her own struggle to be their for her mom
It's no secret that Newton-John's daughter Chloe has struggled with drug addiction and anorexia, and she talked about the similarities between those battles and her mom's cancer battle.
She explained that understanding someone else's struggle has been a comfort to her, and is something she wants to give her mom. "I'm not trying to make her struggle sound small, I think it makes it easier when you say 'oh yeah, everyone has a cancer."
She said when she found out her mom was sick, and she had to get confrontational about her own struggles. "It was like, can't run anymore. This is a really finite black and white thing that you're looking at."
Through her mom's illness, Chloe says she's healing herself, and likes who she is more and more. "There's no more running away anymore from your pain. Deal with it. She needs you. You know? And I feel like I've just become a much better person."
Information about dealing with fear during cancer
For a lot of people, connecting to someone else with cancer can help with some of the difficult emotions that that can come with the diagnosis. For example, anxiety and fear are totally normal reactions to the news of cancer, and acknowledging these emotions can be therapeutic and important to the healing process.
"I think the most important advice I would give to someone who has just received a cancer diagnosis is to find people whom they find as a source of support. To allow themselves to go through all of the different emotional reactions to that news," said Dr. Susan Parsons, Director of the Center for Health Solutions/Center on Child and Family Outcomes at Tufts Medical Center, in a prior interview with SurvivorNet. Dr. Parsons did not comment on this case specifically.
"The anger, the frustration, the fear. The disappointment. Whatever those emotions are, figure out what's important to you and find those people that can help you realize that."
In times of frustration, it can be useful to a little bit of direction on specific ways to deal with it. A few of the most common ways to deal with fear and anxiety after a cancer diagnosis, that have helped people in the SurvivorNet community in the past, include:
1. Let your family and close friends know – and let them help. So many cancer survivors tell us they want and need support but are often too preoccupied to make specific requests. Urge those close to you to jump in with whatever practical help they can offer.
2. Keep a journal. It can be extremely cathartic to let those feelings loose on paper. Grab a pen and a nice journal and chronicle your different thoughts throughout the day.
3. Join a cancer support group. There are groups in nearly every community offering opportunities to connect with others going through a similar journey. You'll learn incredibly helpful insight from others who can tell you about what to expect and how to stay strong on tough days.
4. Consider seeing a therapist. Ask your doctor to refer you to a therapist so you can discuss your fears and concerns in a safe space. Often, vocalizing your thoughts and feelings rather than internalizing them can provide relief.
Learn more about SurvivorNet's rigorous medical review process.