On Monday, July 22nd, Olivia Newton-John, the 70-year-old iconic "Grease" actress who has been dealing with a challenging breast cancer journey, attended an exhibit at the Newbridge Silverware Museum of Style Icons in County Kildare, Ireland. The reason for her visit? The museum—which is home to fashion collections that once belonged to some of the most influential figures of modern times (Audrey Hepburn, Marilyn Monroe, Princess Grace, Princess Diana, and the Beatles, to name a few)—has added a temporary exhibition of over 50 of Newton-John's items (including the famous leather pants she wore in "Grease") to its collection. The items will be on display until November, at which time they will be auctioned off to the highest bidders.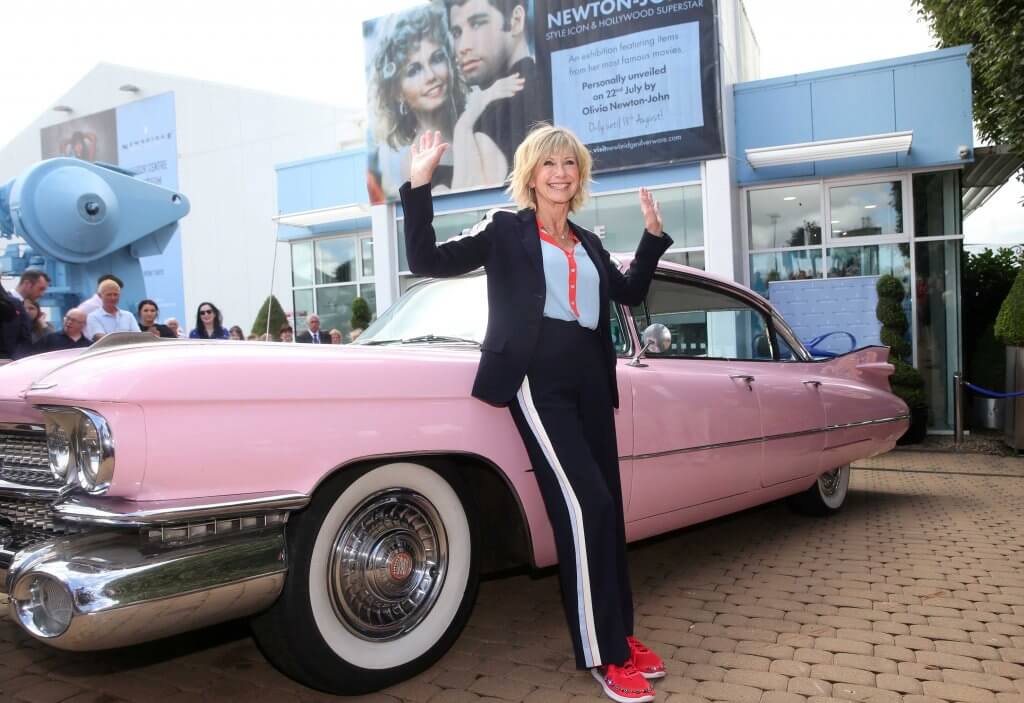 The proceeds from Newton-John's auctioned-off items—which will no doubt sell for six-digit price tags—will benefit the Olivia Newton-John Cancer Wellness & Research Centre in Melbourne, Australia. The choice to sell these items also ties into Newton-John's efforts to simplify her life as she focuses on her breast cancer treatment and wellbeing. Several months ago, the star and her husband, John Easterling, decided to sell two of their properties—their Australian ranch and their beautiful home in Santa Ynez, California.
Read More
RELATED: "Keeping It Simple"– Olivia Newton John's Australian Farm House and Cali Home Hit The Market After Her Third Cancer Diagnosis
But as Newton-John has been keeping it simple, she hasn't been removing herself from the public sphere. The star released a memoir, titled "Don't Stop Believin'" this past spring, and has been speaking with the media during the months since. All along, she has remained positive and upbeat about her health—and has shared that she is "doing great" despite her difficult diagnosis: metastatic breast cancer.
RELATED: "I'm Doing Great!" Olivia Newton-John Optimistically Says Her Incurable Cancer is "Not a Death Sentence"
Newton-John's demeanor during her visit to the Museum of Style Icons was no exception to this consistent upbeat attitude. Sitting down for a short interview with Irish actress Amy Huberman at the museum, Newton-John spoke about her cancer and the treatment she's been receiving—all while keeping a huge smile on her face.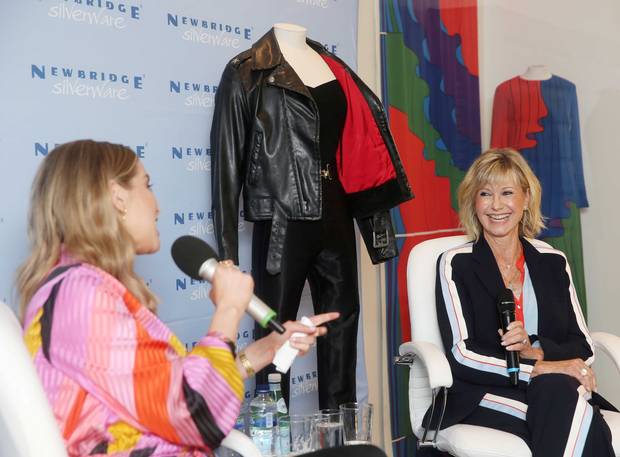 "I've had three bouts with cancer and I'm living well with it," Newton-John said in the interview. "You have to believe you'll still be here." The star went on to say that she chooses to ignore cancer statistics, relying instead on her own steadfast belief that she'll keep on living. "Because what you think is what you create, and that's reality."
RELATED: Love Conquers All: How Olivia Newton-John's Second Marriage Gives Her Strength On Her Cancer Journey
In referring to her "three bouts with cancer" the star reminded fans that her breast cancer journey has been ongoing since she was first diagnosed in 1992. At the time, Newton-John was treated with surgery and chemotherapy, then went into a long remission only to see her cancer return in 2013. Again, the star was treated and went into remission—that is, until her cancer returned for a third time in 2017, at which point it had metastasized to her sacrum, a bone at the bottom of the spine.

Since 2017, Newton-John has had her ups and downs with her cancer journey, but she has consistently credited a big part of her wellbeing to her choice to combine traditional cancer treatment and homeopathic and herbal medicine (including medical cannabis, which eases her cancer-related pain and stress).
RELATED: More Cancer Patients Are Using Medical Marijuana For Pain: How Can You Benefit During Your Treatment?
When Newton-John's breast cancer recurred, having spread to her sacrum (and causing the bone to break), the star shared that the intense pain led her to take pain medications. In this recent interview, a part of her message was urging others not to be afraid of pain management—when approached correctly. She credited the medical marijuana for helping her taper off the heavy drugs.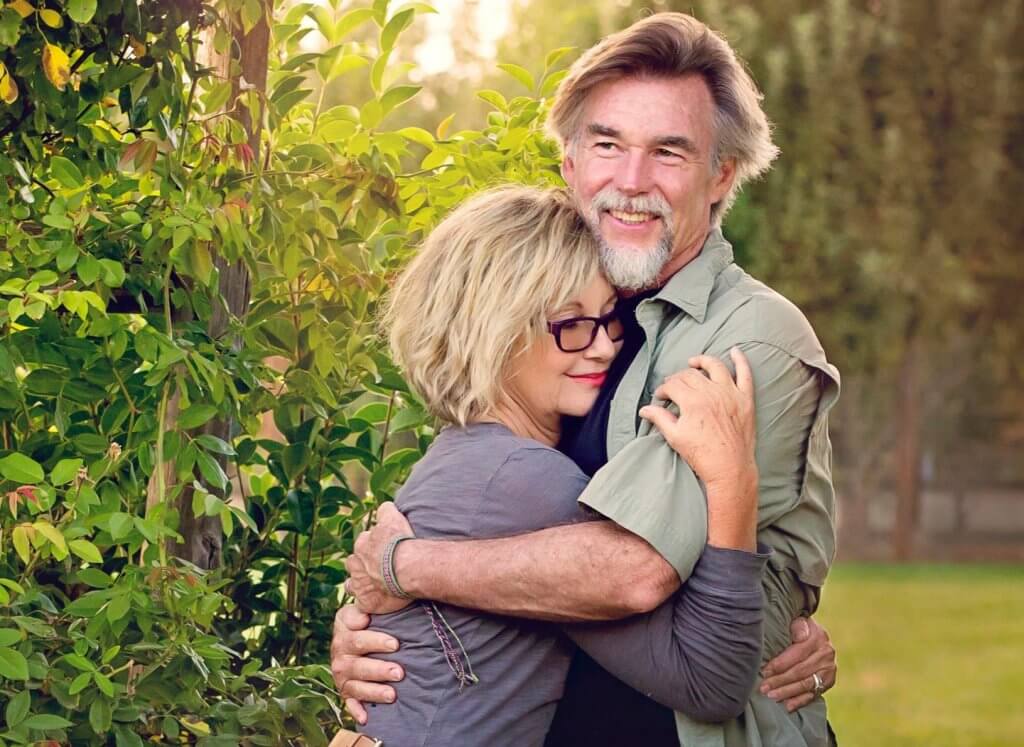 "I just want people to know that this is possible and it's not going to kill you," Newton-John says.
Combining conventional cancer treatment and complementary cancer treatments is an approach that doctors call "integrative medicine." Many professionals believe strongly in this approach—and in treating the whole person with mindfulness and lifestyle changes.
RELATED: The Difference Between Integrative Medicine and "Alternative Medicine"
The vast majority of doctors, however, believe that these treatments should never be given in place of conventional medicine, and this view is backed by a study published in JAMA Oncology last year, which found that people who choose alternative medicine in the place of conventional treatment are twice as likely to die from their cancers.
RELATED: People Who Choose Complementary Medicine Over Traditional Cancer Treatment are More Likely to Die, Yale Study Finds
As Newton-John focuses on her health and continues to receive both conventional and complementary treatments, she is also focusing on her gratitude—expressing appreciation for her loving husband, her daughter, Chloe Rose Lattanzi, and for the phenomenal career she's had.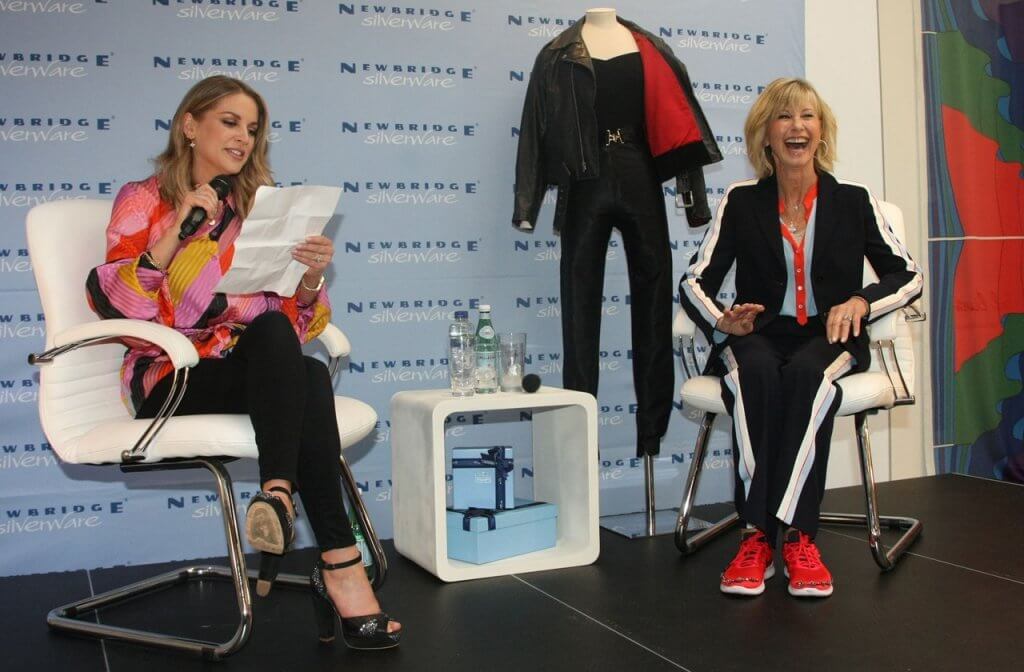 "It's really amazing to sit here and look at this and imagine that I actually wore this," Newton-John said, referring to her wardrobe items from "Grease." "It has brought me such an incredible life, this movie, and the journey of the movie and the things that I've done."
Learn more about SurvivorNet's rigorous medical review process.
---