Recognizing the Signs of Brain Cancer
An Oklahoma college student got in a serious car accident, and the trip to the doctor led to a shocking brain cancer diagnosis.
Brain cancer or brain tumors can be cancerous (malignant) or benign (noncancerous) and can affect both children and adults.
Brain tumors do not always cause symptoms, but they can impact a person's brain function and overall health depending on the size, type and location within the brain.
Symptoms can include difficulty walking, headaches, confusion, personality changes, vision changes, memory loss and more.
Glioblastoma, also called GBM, is the most common and aggressive brain tumor in adults. It is incurable, but it can be managed with treatment.
There is hope for GBM cancer survivors through new clinical trials, including one using the modified poliovirus.
A 20-year-old Oklahoma college student was only seeing a doctor because she had just been in a serious car accident. But it was then that she got a diagnosis she really wasn't expecting: brain cancer. Desite the shocking news at such a young age, Saphirah Hoffman is battling the disease with the whole town's support behind her.
Hoffman, now 21, is a student at the University of Central Oklahoma in Edmond, Oklahoma. One day last fall, she was involved in a major car wreck that led to a life-changing revelation.
Read More
"I ended up crashing into a deer at 80 mph and that totaled my car," Hoffman
told
KOCO. As she was getting treatment for the car crash, doctors discovered the young college student had brain cancer, which shocked the young woman, a feeling so many people know too well after receiving a diagnosis. "I remember the doctor coming in and telling me I have cancer. I was incredibly shocked. I'm like, 'I have cancer? I'm 20,'" Hoffman said.
And if you're wondering: yes, Hoffman didn't have a car after this surprising diagnosis. Because of the accident, she biked or walked to her doctor appointments and school. But her loving community didn't let that go on for too long. (More on that below!)
Coping With a Cancer Diagnosis
For cancer warriors just beginning their journeys like Hoffman, a new cancer diagnosis can be shocking. Dr. Heather Yeo recommends learning more about the disease and asking lots of questions to help ease the anxiety. She even suggests seeking a second opinion for cancer warriors to better cope with a diagnosis.
"I think it's really important to be able to hear it multiple times and take notes," Dr. Yeo, colorectal surgeon at Weill Cornell Medicine told SurvivorNet.
A doctor may diagnose a cancerous brain tumor by conducting a neurological exam which tests balance, coordination and checking your reflexes to determine how well your central nervous system is functioning. Imaging scans and tissue samples are also methods used to diagnose brain cancer.
What Is Brain Cancer?
Brain cancer is the result of brain tumors that can be either cancerous (malignant) or benign (noncancerous) and can affect both children and adults, according to the Cleveland Clinic. To understand brain cancer, learning about brain tumors is an important part of the journey.
According to the American Society of Clinical Oncology, brain tumors account for 85% to 90% of all primary central nervous system tumors. The central nervous system includes the brain and spinal cord and acts as the main processing center for the nervous system as a whole according to the American Cancer Society. The central nervous system's normal functioning, which involves messages sent from the brain to other parts of the body, become disrupted if tumors are present.
Some types of brain and spinal cord tumors are more likely to spread than others.
Signs and Symptoms of Brain Cancer
Brain tumors do not always cause symptoms but they can still impact a person's brain function and overall health, depending on their size, type and location within the brain. Tumors that grow big enough and disrupt normal central nervous system functioning can press on nearby nerves, blood vessels or other tissues. The disrupted central nervous system can present in a variety of ways, potentially making it difficult to walk or maintain your balance.
Other symptoms brain tumors can also cause include:
Headaches
Difficulty speaking or thinking
Weakness
Behavioral changes
Vision changes
Seizures
Loss of hearing
Confusion
Memory loss
Types of Brain Cancer
While Hoffman did not say what type of brain cancer she has, there are more than 150 different types of brain tumors, according to the Cleveland Clinic.
Primary tumors are "glial" or "non-glial". Glial tumors are composed of glial cells inside the brain while non-glial tumors develop on or in the structures of the brain including nerves, blood vessels and glands.
Benign or noncancerous tumors. These kinds of tumors include:
Chordomas
Craniopharyngiomas
Gangliocytomas
Glomus jugulare
Meningiomas
Pineocytomas
Pituitary adenomas
Schwannomas
Acoustic neuromas
Malignant or Cancerous tumors. These kinds of tumors include:
Gliomas, which make up 78% of cancerous primary brain tumors.
Astrocytoma
Ependymomas
Glioblastoma
Oligodendroglioma
Medulloblastoma
Glioblastoma Brain Cancer
Glioblastoma (GBM) is a type of glioma and is the most common form of brain cancer. The glioma is a growth of cells that look like glial cells. It grows rapidly and is located in the brain, the most protected part of the body. This means surgery should be performed swiftly and there are few drugs that can reach the tumor because of the blood/brain barrier. While targeting the cancer cells, doctors must target each one individually to slow the tumor growth because the cells are not all similar or heterogeneous.
Surgery often cannot remove all of the cancer because of the way the tumor burrows into the brain. That means the tumor may start to grow again soon after surgery.
In the case of glioblastoma, "the tumor's cells are abnormal, and the tumor creates new blood vessels as it grows," Dr. Jon Weingart explained.
Dr. Weimgart told SurvivorNet that glioblastoma is a "grade 4 glioma brain tumor."
The grade refers to how likely the tumor is to grow and spread, with grade 4 being reserved for only the most aggressive tumors.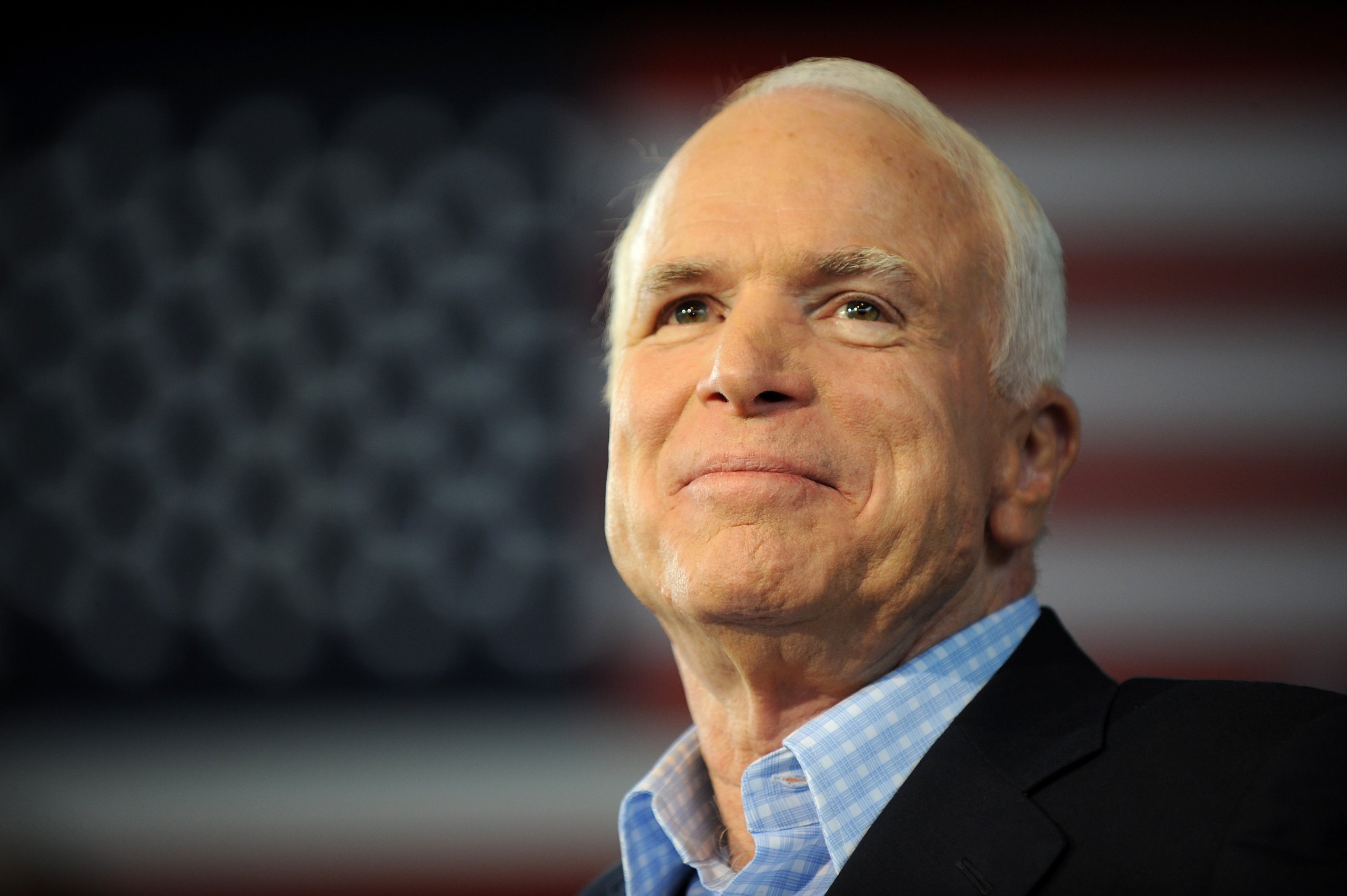 Former U.S. Sens. John McCain and Ted Kennedy, and son of President Joe Biden, Beau Biden. were all diagnosed with glioblastoma. And the father of singer Tim McGraw, MLB pitcher Tug McGraw, had glioblastoma too.
Although the average survival rate is 15 months with treatment, according to the National Cancer Institute, doctors are optimistic with advances in research.
"You are not dead just because you've been diagnosed with glioblastoma," Dr. Henry Friedman, a neuro-oncologist at Duke University Medical Center told SurvivorNet.
Dr. Friedman points to a new kind of therapy that combines modified poliovirus and immunotherapy to make pembrolizumab which is commercially branded as Keytruda. The drug acts as a checkpoint inhibitor and checkpoint inhibitors are designed to target proteins found either on immune or cancer cells to prevent them from binding together.
"The modified poliovirus is used to treat this tumor, by injecting it directly into the tumor, through a catheter. It is designed to lyse the tumor and cause the tumor cells to basically break up," Dr. Friedman said.
"I think that the modified poliovirus is going to be a game-changer in glioblastoma."
Another option available to GBM cancer warriors is Optune, a wearable, portable FDA-approved treatment for people 22 and older.
"There's been the very exciting development of tumor treating fields, which are electrical fields that have been applied to the brain," Dr. Suriya Jeyapalan, a neurologist at Tufts Medical Center, told SurvivorNet.
"They're basically these adhesive pads, front and back, right and left. They're connected to a device that now weighs about 2 and 1/2 pounds. It generates this alternating electric current that has been shown in a major randomized controlled trial to add on another 50% of survival at two years."
Brain Cancer Treatment Options
Hoffman told KOCO she is still in the early stages of her brain cancer journey. While she battles brain cancer, her trips to doctor appointments are now easier than they used to be. After her car wreck, the brain cancer warrior biked or walked to school and the doctor, until an Oklahoma nonprofit gifted her a new car to help her get to her cancer treatments.
Treatment options for brain cancer depends on a variety of factors, including the size and type of the tumor as well as the grade of the tumor.
Surgery, radiation, and chemotherapy are options doctors use to treat brain tumors. Cancer warriors are encouraged to talk to their doctor to learn their specific situation and what options are best suited for treatment.
The prognosis for brain cancer, or how likely it is to be cured, depends on a few things:
The type of brain tumor
How fast the brain tumor is growing
The tumor's location
If there are DNA changes in the cells of the brain tumor
If the entire tumor can be removed with surgery
Your overall health
Your doctor will be able to help you understand your specific and unique circumstances and how they relate to your prognosis.
Learn more about SurvivorNet's rigorous medical review process.
---