Cameron Scott is an adorable little boy from Memphis who is now officially cancer-free after a battle with a type of stage four brain cancer. And, he tells the Today Show, he now feels like he's faced it all, and is stronger for it. "I feel amazing now. I feel like I've been through everything."
After back pain following a fall down the stairs last year led him to get an MRI, Cameron was diagnosed with medulloblastoma, a tumor at the base of his brain that had spread to his spine. His cancer was considered very high-risk, and he had to have a major, four-hour surgery to remove the tumors. But like his favorite superhero Batmanwhom he loves because, in Cameron's words, he "uses his brain"he was able to battle the enemy, with the help of St. Jude Children's Research Hospital. The doctors there were able to help Cameron fight the disease with six months of chemotherapy and radiation.
Read More
Cameron was celebrated at Legoland in November, which meant a lot to his family, as his father told
Today
. According to the family's
GoFundMe page
, which is now titled, "I Beat Brain Cancer!!" the family is still trying to raise funds to help Cameron's mother get back to work and get their household back to
normal
.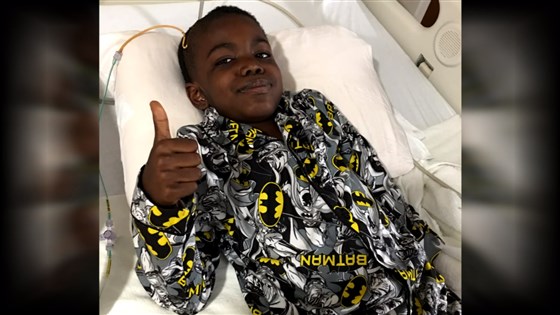 There are a number of types of malignant (cancerous) brain tumors, and some, like the kind Cameron had, are
more likely to occur in children than in adults
. With about 4,000 new cases each year, brain and spinal tumors are the
second most common kind of cancer
in children and have no specific known cause.
Medulloblastoma originates in the part of the brain that controls balance, movement and coordination, called the cerebellum, and then often spreads to other areas of the brain and spinal cord. According to St. Jude, medulloblastoma is the most common type of pediatric brain cancer, with anywhere between 250 and 500 cases in children per year. This specific tumor accounts for 20% of all childhood brain cancers. The survival rate in cases where the cancer has not spread is as high as 70% to 80%; however, in cases like Cameron's where the tumors have spread, it's closer to 60%.
Learn more about SurvivorNet's rigorous medical review process.
---