(Editor's Note: Original reporting about overlooked topics in cancer is a big part of SuvivorNet's mission. Let us know what you think.)
An estimated 300,000 people exposed to toxic air after 9/11 are at serious risk for developing cancer and not getting the medical screening and attention they need, a top doctor at NYU Langone Health tells SurvivorNet.
Read More
The Centers for Disease Control and Prevention has long maintained that around 400,000 people in lower Manhattan were exposed to a dangerous mix of substances such as asbestos, lead, and benzene on the day of the attacks and in the weeks and months afterward. The "
NYC disaster area
" that was likely exposed to this polluted air includes any area in Manhattan south of Houston St., and any block in Brooklyn that is within a 1.5 mile radius of the former World Trade Center site.
The World Trade Center Health Program was set up by the federal government to help people with health problems related to the attacks and to pay for the cost of their care. While around 80,000 people have registered with the program for screening and care, Dr. Gaetane Michaud, who is the Chief of Interventional Pulmonology at NYU Perlmutter Cancer Center, says a huge number of people are not getting the care they need and may not even know about the health risk they face.
"I feel heartbroken to know that if at the lowest number, we're saying there's about 400,000 people that should be benefiting from the World Trade resources, and about 80,000 are actually benefiting from them, that's a real big discrepancy. There's a lot of people out there that really need help and really need to be vigilant. It's not just lung cancers. It's lung cancers, breast cancers, esophageal cancers, thyroid cancers. These patients, these people should be screened and be watched. Even if you think even just beyond cancers, there's all kinds of other World Trade related lung diseases."
What we're seeing in the Fire Department population, who are very well-screened and very well-watched, is that those peoples' lung functions drop. They lose about 12 years off of their lung age from their exposures, from working at Ground Zero. You think about that, what about all those other people who have lost all this lung function that we're not even caring for?"
Many people have already died of 9/11-linked disease, but some cancers take many years to develop.
"When we think about 9/11 exposure, it's not just the day of," Dr. Michaud tells SurvivorNet. "It's actually the weeks and months thereafter. Where that ends, whether that's four months or six months, we don't actually know. The air quality was really poor and there was a lot of debris. There were a lot of gases. So people who didn't even realize they were exposed were exposed."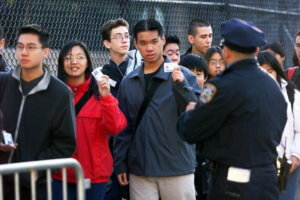 Traditionally we think of first responders as being the ones that have been exposed to Ground Zero and to 9/11 toxins, but we now are starting to realize [that] there are a lot of people that were sort of the silent victims," Dr. Michaud says. "The people that we didn't understand were exposed … school children, college kids that were going to Pace University, people that went through that area, transited through that area on their way to work, tourists that were living and staying down in that area. People believed that the air quality was OK so they didn't really stay evacuated."
Amit Friedlander, who was the senior class president at Stuyvesant High School, located about four blocks from the World Trade Center, developed cancer during college. He says that he's not sure if his disease was linked to the attacks, but it would certainly make sense. "We were told that things were back to normal enough and it shouldn't be an issue," Amit says. "When I was in college, I got sick a lot, and then I found out that I had cancer. Did I think there was a connection or did I think I just got dealt a bad hand? Maybe both?"
Students, workers, and residents all believed the air was safe because the Environmental Protection Agency (EPA) said it was. A week after the attacks, Christine Todd Whitman, the EPA Administrator at the time, assured New Yorkers that even though the destruction of the buildings had released harmful substances such as asbestos into the air, there was no public health hazard. Most of the first responders working the recovery effort did not wear protective masks.
A 2003 report from the EPA deemed Whitman's claims misleading, claiming there was no way to know just how toxic the air in the weeks and months after 9/11 was.
In 2016, Whitman finally admitted that her safety claims were unfounded. "Every time it comes around to the anniversary I cringe, because I know people will bring up my name, they blame me, they say that I lied and that people died because I lied, [they say] people have died because I made a mistake," Whitman told the Guardian.
People certainly went right back to work and school because of the EPA's recommendation.
"We went back within ten days, I think," said June Duffy, who worked in downtown Manhattan for many years, including on Sept. 11. "Because they lied about the quality of the air, both the feds and the city … I worked with someone who wore a gas mask, because not everyone believed them."
It's worth noting that the 400,000 figure is an estimate – a best guess based on several studies and statistics. While Dr. Machaud calls it a conservative estimate, others believe putting a number on the exposure rate is impossible. Dr. Steven Stellman, Professor of Epidemiology at Columbia Mailman School of Public Health, said the estimate is likely derived from a 2007 article on the matter that was published in Statistics in Medicine. Dr. Stellman, who has published extensively on 9/11 health effects, noted that the 400,000 figure encompasses several distinct groups, including rescue and recovery workers, residents living south of Canal street, employees in buildings south of Chambers St. on 9/11, students, school staff, and tourists and passersby.
"No one really knows how many people were 'exposed' to 9/11, because exposure came in many different forms and ranged from low to extraordinarily intense," said Dr. Stellman. "Most exposure estimates after [the attacks] have been based largely on people's experiences (when did workers arrive at Ground Zero, how long did they work there, how far away were area residents' homes, how much and what type of dust permeated their homes, etc.)."
Another important question for those exposed is how great is their risk for cancer? Stellman says two studies concluded that for those people not engaged in rescue work, there is an 8% increased risk for cancer. However for some specific cancers the increased risk is much higher:
54% for melanoma
34% for female breast
27% for prostate cancer
49% for non-Hodgkin's lymphoma
Surprisingly the risk for lung cancer among those not engaged in rescue work was significantly lower. "The real question on everyone's mind is obviously whether these statistical increases were "caused" by exposure to 9/11," Stellman says. Unfortunately he says, these kinds of studies can't answer that question.
Common 9/11-linked illnesses include chronic cough, asthma, sinus congestion, certain cancers, stress-related disorders, and many other diseases, according to the WTC Health Program.
"A lot of people that were near Ground Zero at the time, and even lived down there then moved away, have no idea what resources are available or that they should even be screened or worried," Dr. Machaud said.
What To Do If You Are Worried About Exposure From 9/11
If you believe you may be at risk from exposure after the Sept. 11 attacks, you can go to CDC.gov/WTC to apply for free screening. Dr. Michaud strongly urges people to tell their physicians if they believe they may be at risk, or were in lower Manhattan at the time.
Learn more about SurvivorNet's rigorous medical review process.