Following cancer surgery, some patients may feel ashamed and embarrassed of scars caused by treatment. Well, colon cancer survivor Sarah Mills is erasing that stigma by posing as famous figures in an incredible photo shoot that proudly shows off her stoma bag.
Mills, 36, survived stage 3 colon cancer and underwent stoma surgery during treatment. A stoma bag, also known as a colostomy bag, is a small pouch that fits over the stoma and collects urine and feces in order to divert the flow from the bowel or bladder. Instead of being ashamed of the surgery, Mills decided to embrace it fully. In a photo shoot shared by The Daily Mail, Mills posed as iconic figures such as Miley Cyrus, Marilyn Monroe, Ariel from The Little Mermaid, Venus from Sandro Botticelli's famous painting The Birth Of Venus, and more as a way to spotlight her stoma bag instead of hide it.
Read More
Related: What is a Colostomy?
"I want to show other people who might be facing this treatment that it's going to be all right," Mills told The Daily Mail. "There's nothing to be embarrassed about. Yes, it will change your body but it's not anything that you can't overcome."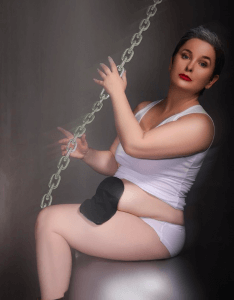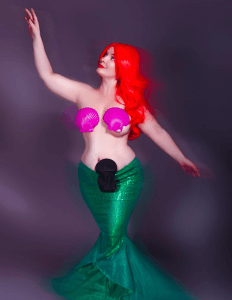 What Is A Colostomy (Stoma)?
While undergoing colon cancer surgery, many patients will often hear the word "ostomy" during treatment. This refers to part of your intestines being hooked up through the front of your belly, where you'll to the bathroom through a bag that attaches to your skin. According to Dr. Daniel Labow, the Chief of the Surgical Oncology Division at Mount Sinai Health System, this procedure is much less common now than it used to be. However, for patients who do need an ostomy, there are many resources and supplies available that make them very discreet. A plastic bag covers the ostomy so it doesn't smell, and if it gets full, you can just go to the bathroom and empty it. You'll get in a routine so it doesn't feel like a big deal at all.
Related: Why It's Crucial to Know Your Family Health History — Today's Craig Melvin Shares a Personal Colon Cancer Awareness Message
Dr. Daniel Labow explains what patients should expect if faced with an ostomy
"Once you get over sort of the psychosocial effects, you can lead a totally normal life," Dr. Labow tells SurvivorNet. "It's not painful. It's just getting used to a different way."
Colon Cancer Survivors Embracing Stoma Bags
Life after stoma surgery can certainly take some adjusting, but like Mills, other cancer survivors have spoken to SurvivorNet about how they have embraced their stoma bags despite being apprehensive at first. Francine Susco, who was diagnosed with colorectal cancer in 2016, spoke to SurvivorNet about adjusting to life with a stoma bag.
Related: 6 Months After Colon Cancer Surgery, Super Model Pat Cleveland, 69, Walks The Runway Again
Colon cancer survivor Francine Susco talks to SurvivorNet about embracing her colostomy bag.
"I started to embrace her and rub her," Susco says about about stoma bag. "And I used to talk to her when she wasn't behaving, when she was squirting too much. And I would say, come on baby girl, come on. We'll try again. Let's try again. And I'd clean her up and she'd behave…The fact that I was able to handle it, and dress with it, and cover it. I began to embrace it."
Learn more about SurvivorNet's rigorous medical review process.