In 2017, the American TV host Larry King did something simple that saved his life: he went in for his annual chest x-ray.
It was because of this routine screening that King, now 85 years old, found his lung cancer at stage I, before it had spread to other parts of his body. The early-stage diagnosis meant that King's lung cancer was very treatable.
Read More
RELATED: Managing Pain After Lung Cancer Surgery
In 2017, he told People that the surgery he had to remove his lung cancer was effective. "They went in through my ribs with a tiny camera and snipped it out," he said. "I only had a little pain and some shortness of breath but once my speech is back full—and that took about a week—I went right back to work."
RELATED: Understanding the Lung Cancer Staging Process
King, who is known for his long-time stints hosting the "Larry King Show" on the radio and "Larry King Live" and "Larry King Now" on TV, fell into the category of people who doctors encourage to get these screenings. He used to be a heavy smoker (although he quit cold turkey after surviving a major heart attack in 1987), and he's over 55 years old. Even so, he told People that he never thought lung cancer would "happen to him."
RELATED: Steps to Take After Lung Cancer Diagnosis
"I never thought it would happen to me. I saw all the warnings but I never paid attention," King said. "I loved smoking but when I had the heart attack that February of 1987 I stopped that day and never reached for one again."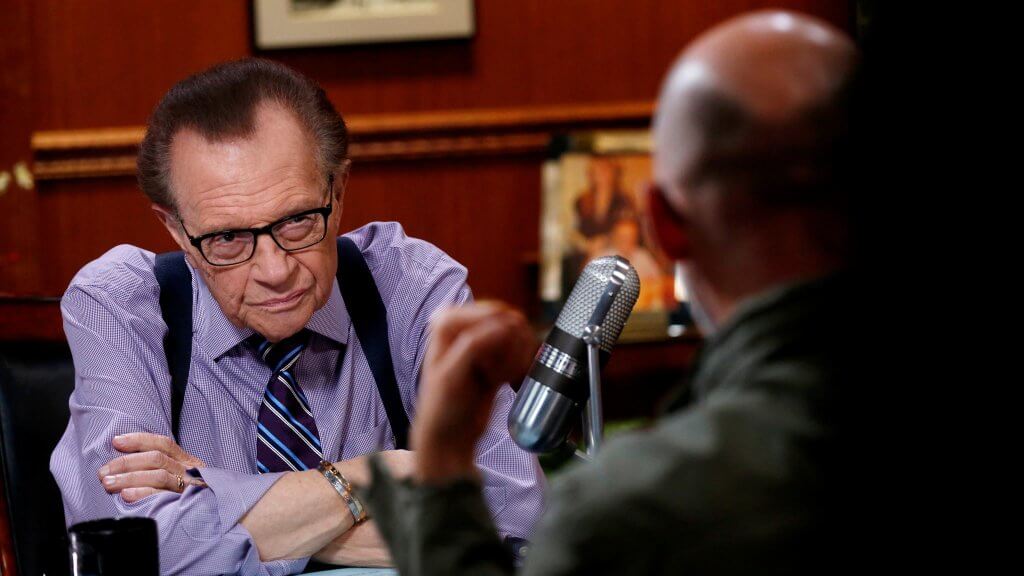 X-Rays, CT Scans, and "LDCT" Tests: The Different Types of Lung Cancer Screenings
After King's chest x-ray revealed what he described to People as "a little cloud," his doctors ordered another, more detailed imaging test on King's lungs called a CT scan, which confirmed that he would need surgery to remove the tumor while it was still small.
RELATED: The Anatomy of a Lung Cancer
A CT scan (or a "CAT" scan) is kind of like an x-ray (to get one, you lie on your back for about 30 seconds beneath a donut-shaped scanner), but instead of just one picture, it takes a lot of pictures from a lot of different angles and then combines them into one to show a much more complete, 360-degree image of your lungs. CT Scans can show organs, blood vessels, and soft tissue in ways that x-rays cannot, but they're also much more expensive, which is why they're often recommended after a doctor sees something questionable, like Larry King's "little cloud," to give doctors more information.
"Low-dose CT scans" (LDCTs)—which is a CT scan that minimizes the amount of radiation someone receives during the screening—have recently been lauded by doctors as more effective than chest x-rays in catching lung cancer (and safe enough, radiation-amount-wise, to get regularly).
RELATED: If You've Been a Smoker, You Need to Get Screened for Lung Cancer: New Research Says This Specific Screening Test Could Save Your Life
Data from the National Lung Cancer Screening Trial showed that people who received the LDCT screenings had a 15-to-20 percent lower risk of dying from lung cancer than people who received chest x-rays alone did. (Because the tests are more expensive, though, it's important to know that some private insurance companies still only cover the x-rays for the routine annual screenings unless the person has a very high risk of developing lung cancer—though this may change in the future with updated guidelines and further data).
After their doctor finds something on a chest x-ray or CT scan, some people go on to have surgical biopsies or liquid biopsies to confirm whether the tumor is cancerous. Some people will then have their lymph nodes biopsied, too, so see if their cancer has spread. MRI and PET imaging tests can also give doctors more information about where a lung cancer has spread, or metastasized.
Dr. Joseph Friedberg of the University of Maryland School of Medicine spoke with SurvivorNet about diagnosing lung cancer when there are no symptoms.
Don't Wait For Symptoms—Early-stage Lung Cancer Often Doesn't Cause Them
When Larry King went in for his annual chest x-ray that caught his "little cloud" and saved his life, he told People he had been feeling fine. The symptoms that people associate with lung cancer— coughing, chest pain, bloody mucous, and trouble breathing or swallowing—often don't show up when the lung cancer is still small and very treatable. Waiting to get screened until you have these symptoms can mean catching your lung cancer at a later (and more life-threatening) stage.
RELATED: In Diagnosing Lung Cancer, The Symptoms Often Come Late
"Lung cancer kills more patients than prostate, colon, breast, and pancreas combined," Dr. Joseph Friedberg, head of the Division of Thoracic Surgery at the University of Maryland School of Medicine, previously told SurvivorNet, explaining that, "The reason is, it's completely asymptomatic. It causes no issues until it has spread somewhere. So if it spreads to the bones, it may cause pain. If it spreads to the brain, it may cause something not subtle, like a seizure."
For this exact reason, annual lung cancer screenings—done routinely, even in the absence of symptoms—save thousands of lives per year. Larry King is one of those saved. "[The doctors] said I was lucky and smart to get annual chest x-rays because lung cancer doesn't give you any signs until it's in late stages," King said. "And by then it's too late."
Learn more about SurvivorNet's rigorous medical review process.
---