Jeopardy host Alex Trebek has been incredibly open with fans about the many challenges he faces as he battles Stage 4 pancreatic cancer. The much-beloved TV host, 78, announced his diagnosis in March — and his strength in the face of this struggle has been inspirational to his millions of fans. In an interview earlier this year, Trebek attributed much of that strength to the amazing support system he has at home — including his second wife of 29 years, Jean.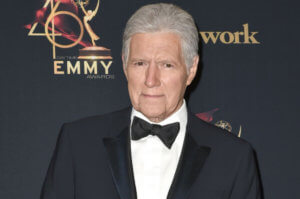 Pancreatic cancer, especially at such an advanced stage, can be extremely difficult to treat. However, Alex's treatment seems to be going well. He announced earlier this year that after several rounds of chemotherapy, his tumors had begun to shrink. He told People shortly thereafter that his wife, who sobbed tears of joy when she got the news about Alex's shrinking tumors, has been absolutely wonderful throughout all the ups and downs of the cancer journey.
Read More
RELATED: ALEX TREBEK'S WIFE, JEAN, LAUNCHES 'GOODNESS' WEBSITE
"My heart goes out to caregivers," he said. "Because they have to deal with their loved one suffering and they also don't always know how to help because there's not much they can do, except try to make you feel more comfortable, at ease and not worry about ordinary stuff."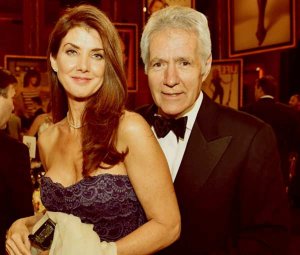 "They've also got to be strong and not allow their mate not to feel like they're downhearted too," he added.
There's certainly been no shortage of positivity coming from Jean's end. Mrs. Trebek actually recently launched a website called Insidewink.com that is devoted entirely to celebrating the good in life. In addition to sharing uplifting stories and mantras from contributing writers, Jean has also taken the time to praise her husband on the website. In a recent column celebrating the men in her life, Jean praised the Jeopardy host for his "ingeniousness" — pointing out that he is a man who becomes extremely determined once he has set his mind to a challenge.
Jean shared an anecdote about some recent household renovations Alex did as an example. "When redoing my bathroom, he could have easily hired a crew to do it all … but he didn't," Jean wrote. "He worked on my bathroom daily, facing many different problems that needed unique solutions. He solved them all and created a room exactly the way I wanted it. Watching Alex, reminds me that I am more capable than I think and that when there's a will there's a way."
The couple's two children, 28-year-old Matthew and 25-year-old Emily, are also in awe of their dad's strength. "They look at me as Mr. Strong. They think, if anybody's going to beat this, dad will. They're very positive, and until I demonstrate otherwise, they're going to continue in that vein," Alex told People.
Family support can make a world of difference when it comes to battling cancer. Countless survivors have told SurvivorNet that is was the positivity or the encouragement of their loved ones that gave them the strength to carry on. Dr. Susan Parsons, the Director of Survivorship Care at Tufts Medical Center, even told SurvivorNet in a past interview that getting that support system figured out is one of the first things she tells people to do after they are diagnosed with cancer.
"I think the most important advice I would give to someone who has just received a cancer diagnosis is to find people whom they find as a source of support, to allow themselves to go through all of the different emotional reactions," Dr. Parsons said.
Learn more about SurvivorNet's rigorous medical review process.
---