You're seventy years old, you've been living with cancer for 27 years, and you still have so much joy that your smile is infectious. That was Olivia Newton-John in Los Angeles as she accepted the Companion of the Order of Australia medal.
Olivia Newton-John, teared up as Australia's ambassador to the US, Joe Hockey, presented her with Australia's highest honor for her entertainment career as well as her work in the fight against cancer. Most notably, Newton-John opened the Olivia Newton-John Can­cer Wellness & Research Centre in her home town of Melbourne.
Read More
"Woohoo!'', she shouted, flashing a huge smile and throwing her hands in the air. "Thank you for this gorgeous medal, I'm so thrilled to be sharing this big honor with you, I'll continue to do the best for the country I love."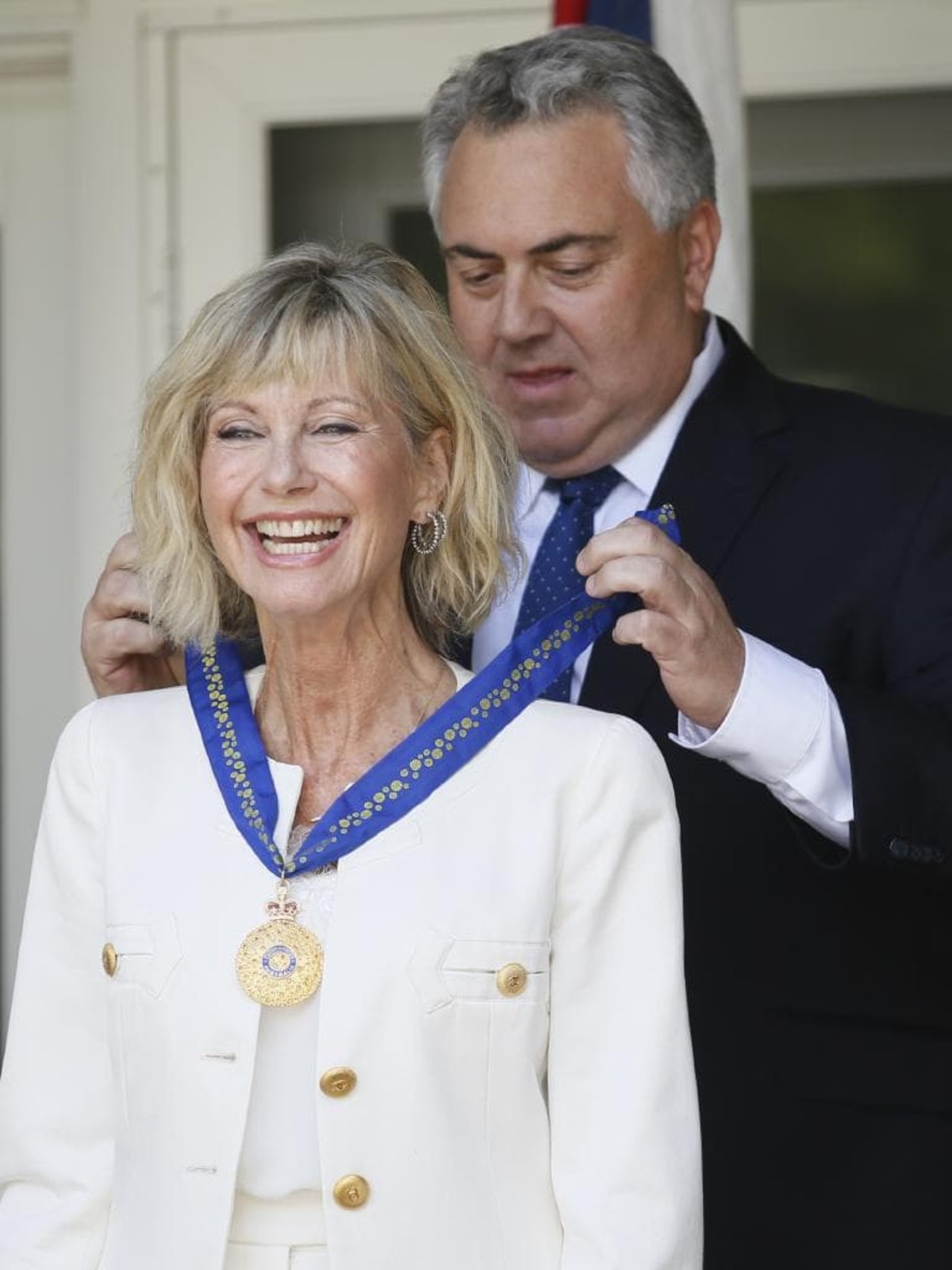 Olivia Newton-John has had breast cancer three times. First, she was diagnosed with breast cancer in 1992. At that time she underwent nine months of chemotherapy and a double mastectomy. In 2013, the cancer metastasized. In 2017, her doctors found a tumor at the bottom of her spine.
Now, she's battling Stage 4 metastatic breast cancer. While doctors consider this stage of breast cancer to be incurable, it can be managed indefinitely in some patients as a chronic condition. Newton John has said she's determined to beat back the disease with a combination of conventional treatments, diet, and using marijuana to alleviate cancer-related pain and depression.
Options for treatment during stage four breast cancer
While stage four breast cancer isn't exactly "curable," there are a lot of treatment options that can help people live longer, fuller lives with the disease. "So the first step with someone with stage four breast cancer is to try to figure out where is the metastatic breast cancer, meaning where did the breast cancer spread because that's what defines stage four breast cancer," Dr.  Elizabeth Comen, Medical Oncologist at Memorial Sloan Kettering Cancer Center, told SurvivorNet in a previous interview.
One of the primary concerns when treating stage four breast cancer is reducing severe pain. "Are you having any symptoms?" Dr. Comen asks. "If somebody comes in and they're in extraordinary pain from having cancer in their bones, we can immediately address that pain and make that better."
Dr. Elizabeth Comen on treatment options for stage four breast cancer.
And then in some cases, the next step is reducing the tumor. The most success that doctors have with stage four breast cancer is usually in patients whose cancer is related to hormones. "So, for example, if a woman has estrogen receptor positive breast cancer, meaning that they have breast cancer that needs estrogen to grow," says Dr. Comen. "The good news is the first step is almost never chemotherapy."
"Most of the time we're able to very successfully treat stage four breast cancer that is estrogen receptor positive with oral medications. These are medications that block the ability of cancer cells to use estrogen as a food supply to grow. And what's remarkable is that women can have dramatic responses to these medications and also dramatic reduction in their symptoms."
And then doctors try to identify other treatments that might be helpful in treating the disease. "The next step that we work on is really trying to reduce the cancer "burden," meaning give specific therapy that will decrease the cancer from growing and ideally shrink it and decrease those symptoms," says Dr. Comen.
Newton-John's big honor for years of philanthropic work
The Australian ambassador made clear to Newton-John and the 30 audience members of friends and family that Olivia Newton-John's generosity is a big part of her award. "You are being recognized by your nation not just because we are proud of you but because you have changed the world," he said.
And that while her career achievements are many, her commitment to philanthropy is what matters most. "It is not just because of your singing, songwriting, acting — that's the stuff that has lit up so many faces … but you are doing it now from a philanthropy perspective, simply by illustrating to the world you never give up. You never walk away from any challenge. You are the most optimistic person I have ever met."
Newton-John's 33 year old daughter, singer and actress Chloe Rose Lattanzi, was proud of her mom's honor, as said she though it was, "Beautiful because she was being honored for who she is as a human being, not just … a hit single. She was honored because she gives so much to other people and she is honored for her heart and her heart is the most beautiful thing about her.''
And Newton-John herself experienced jitters when thinking about the honor. "It's huge for me. I started getting nervous yesterday when I thought 'wow this is really happening,'" she told The Australian.
When asked about her health, she said you can pretty much tel from looking at her how she's doing. "It is as good as I look, I think. I hope that's a good thing."
Learn more about SurvivorNet's rigorous medical review process.