Dog the Bounty Hunter And Daughter Remember Beth Chapman
The former bond bailsman, 69, has 12 children and has been married six times; He lost his beloved wife Beth Chapman—with whom he rose to fame with their reality show—in 2019 to throat cancer.
Lyssa Chapman, 35, married her partner Leiana Evensen, also 35, in Hawaii, and said in an interview that her dad did not come, as it has been very hard to go back to Hawaii after losing Beth.
Coming together with family members to cry, share memories, or even get angry are important parts of the grieving process after losing a loved one.
The holiday season can be difficult for those who have lost a loved one to cancer. And it is no different for Dog the Bounty Hunter who lost his wife Beth Chapman to cancer.
Dog, whose real name is Duane Lee Chapman, has a total of 12 children and has been married six times. Beth was his third wife and she passed away from throat cancer in 2019. Family meant everything to Beth, who spent her final days with her family by her side at a Honolulu hospital, and passed away just a few days after being placed in a medically-induced coma.
Read More
In addition to her larger-than-life husband, she was survived by her four children – Dominic, Cecily, Bonnie Jo, and Garry – and 14 grandchildren. She was also the legal guardian of one of those grandchildren. Beth was first diagnosed with stage II throat cancer back in 2017 after she went to the doctor seeking treatment for her constant coughing fits. The cancer was detected early, and doctors were able to successfully remove a tumor later that same year. She was declared cancer-free shortly after that operation, but a year later learned the cancer had spread to her lungs. Seven months later she passed away.
Beth was born Alice Elizabeth Smith in Colorado. She was a competitive gymnast and figure skater in her youth, but later developed an affinity for bounty hunting. She even made a little bit of history when at the age of 29 she became the youngest bail bondsman in the state – male or female. It was a record that was eventually bested by her own stepdaughter, Lyssa Chapman.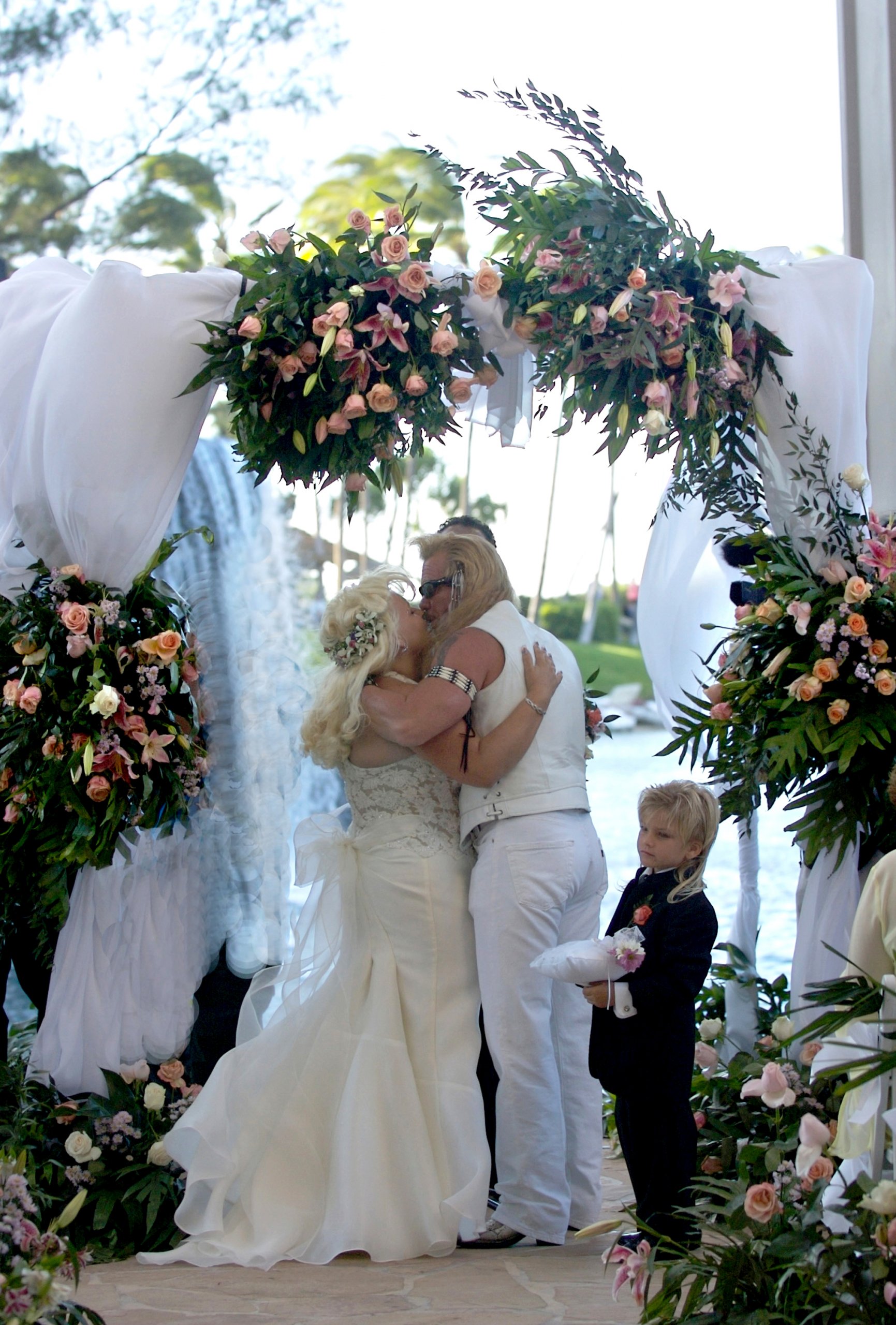 She was 19 when she met her future husband, who at 35 was 16 years her senior. That began a years-long, on-and-off relationship between the two. It was during one of those off periods that the two went on to marry other people and start their own families.
Those relationships fizzled out, however, and Beth joined forces with her husband in 1995, though the two would not marry for 11 years. Their 2006 wedding became a somber affair, taking place just two days after Chapman's 23-year-old daughter, Barbara, died in a car accident. The family decided at the time that the couple would proceed with the ceremony as a celebration of Barbara's life.
Beth was Chapman's fifth wife, and the couple had two children together – Bonnie and Garry. Chapman also adopted Beth's daughter Cecily and reunited her with her son Dominic, who had been taken from his mother's custody when she was 16 by the state of Colorado.
At the time of their wedding, the couple had already catapulted to fame, with the 2003 premiere of Dog the Bounty Hunter on A&E making them household names. The blended family of bounty hunters quickly tapped into the pop culture zeitgeist with their larger-than-life personalities. Chapman may have been the star but Beth was every bit his bleach-blond and thoroughly-tanned equal.
The show's popularity was also bolstered by the fact that the couple never used guns. That was not by choice though, and instead the result of his friend's first-degree murder conviction back in 1976, for which Chapman was sentenced to five years in prison for his role as an accessory to the crime. Chapman was in the car with a friend when the young man shot an alleged drug dealer while attempting to purchase marijuana. Chapman only served 18 months of that sentence, and it was while behind bars that he got the idea to become a bounty hunter.
Dog The Bounty Hunter ended in 2012, but Beth and her husband continued to star in spin-offs, starting with Dog and Beth: On the Hunt. That spin-off ended in 2015, and in early 2019 the couple started filming the program Dog's Most Wanted, just a few months after Beth learned the cancer was in her lungs.
The family took time to hear all the options before deciding together what treatment made the most sense for Beth. In the end, she took the advice of her doctors and began chemotherapy, despite some uncertainty as to how her body might respond to the treatment.
RELATED: Duane "Dog Chapman" Reveals How He Supported Beth Chapman In Her Final Days Fighting Lung Cancer
The painful side effects of the chemotherapy eventually became too much for Beth to bear, and she opted to stop. In an earlier interview with SurvivorNet, Chapman expressed his anger at those doctors in the wake of his wife's death. "We put people in [jail] for robbin' banks and robbin' grocery stores," said Chapman. "These doctors are robbin' more than that."
Family is Crucial
There's nothing more important than family, especially during your battle with cancer. Your loved ones can be a crucial source of emotional support and companionship in helping you navigate a difficult battle with cancer. Beth had great support through her cancer journey.
For many survivors, faith helps them stay positive in the face of daunting medical challenges and inspires them to fight on.
Beverly Reeves, an ovarian cancer survivor, told SurvivorNet that her family, along with support from friends and faith groups, helped her get through treatment. She tells people going through difficult cancer battles to stay connected to faith groups and the critical support they offer.
"If you're connected to a faith community, get your faith community, and get your family," she told SurvivorNet in a previous interview. "Let them know what's going on and let them help you.
'Faith, Family, and Friends' Helped Beverly Reeves Get Through Ovarian Cancer Treatment
Having a positive outlook and support system like Reeves benefits more than just the heart — it can actually help patients live longer. Dr. Murrell told SurvivorNet in a previous interview that he's "pretty good at telling what kind of patients are going to live the longest, even with bad, bad disease. And those are patients who have gratitude in life."
SurvivorNet has interviewed hundreds of survivors who've shared similar stories of how family has helped them persevere through their battles with cancer.
Whether it comes from faith, family, community, or another source, strength and positivity are key to overcoming cancer. SurvivorNet's medical experts urge those fighting cancer to talk to their doctors and loved ones to develop a support system for their battle.
Ovarian Cancer Survivor Nancy Iverson On the Important Role Family Played In Her Early Stages of Treatment
Coping with Loss
Losing a loved one to cancer can be devastating, and there's no one right way to heal. The Chapman's have been working their loss in their own way.
Sadness Is Not Always A Bad Thing — Coping After Losing A Parent To Cancer
Camila Legaspi lost her mother to breast cancer when she was in high school. Looking back, she now sees her loss as inspiration to express herself through writing.
"I learned that it's OK to be sad sometimes. It's OK to carry sadness with you … it's not always a bad thing," Legaspi told SurvivorNet. "It makes you who you are and it gives you a story to tell and it helps you teach other people to cope with their sadness."
RELATED: "Watchmen's" Yahya Abdul-Mateen II Reminds Us Losing a Parent to Cancer Affects Us Forever By Thanking "Daddy" in Emmy Speech
The pain that comes from losing a parent may never fully go away, but it can be used to help others. Scandal actor Scott Foley lost his mother to ovarian cancer when he was only 15, a loss which devastated him but has given him the resilience he's needed to push on through challenging times.
"Dealing with loss at a young age, and dealing with someone who's sick all the time, that really turned me into someone who built the resilience in me that I walk with today," Foley told SurvivorNet. "I know that just by dealing with what I dealt with as a teenager…there is nothing that anybody can throw at me; bring it on, 2020."
RELATED: 'Scandal's' Scott Foley Tells SuvivorNet That He's Not Sure His Family Ever "Fully Recovered" From Losing His Mom to Ovarian Cancer; He Was Just 15
Counseling and therapy can help those grieving a parent cope with the loss and build new attitudes that turn suffering into resilience. Losing a parent is one of the hardest things anyone can go through, so take advantage of trained mental healthcare professionals who know exactly how to help you adjust.
Learn more about SurvivorNet's rigorous medical review process.
---