Colon Cancer Impacting People at Younger Ages
Colon cancer, or colorectal cancer, is a type of cancer that affects your large intestine (colon) or the end of your intestine (rectum).
28-year old Estefania was recovering from a simple knee surgery when she learned she had colon cancer.
Though older people are at the greatest risk of developing colon cancer, more people younger than 55 years old that are being diagnosed with the disease, increasing "from 11% in 1995 to 20% in 2019," according to a recent report.
Estefania learned she has Lynch syndrome, an inherited condition that increases a person's risk for colorectal cancer over their lifetime. She stressed the importance of testing her son for this condition as well so she can help protect him.
A 28-year-old mom was simply recovering from a knew surgery when she received what was likely a shocking diagnosis. She not only found out she had colon cancer but learned she actually had a condition that made her more at risk of getting the disease.
A woman named Estefania, 28, was recovering from knee surgery when she started having stomach pains and lost "a considerable amount of weight." The Colorectal Cancer Alliance shared her story during Colorectal Cancer Awareness Month. Colorectal cancer begins in the colon or rectum.
Read More
While Estefania's symptoms are not always indicative of cancer, her doctors felt she should get a colonoscopy to investigate further. The procedure revealed she had stage 2 colon cancer, surprising doctors and undoubtedly Estafania herself because of her young age. Further tests revealed that Estefania also has a condition called Lynch syndrome, a hereditary condition that increases a person's risk of developing colorectal cancer and others,
according to the CDC
. "That diagnosis led to a total colectomy and chemo," the courageous mom said of the procedure that removed her colon.
Lynch Syndrome and Its Connection to Colon Cancer
Lynch syndrome is an inherited condition that increases a person's risk for colorectal cancer over their lifetime, according to the Colorectal Cancer Alliance. This condition is passed from parents to children. After learning details about Lynch syndrome, like any caring mother, Estefania wanted to make sure she takes preventative measures for her son.
"I know I need to get my son tested early," Estefania said.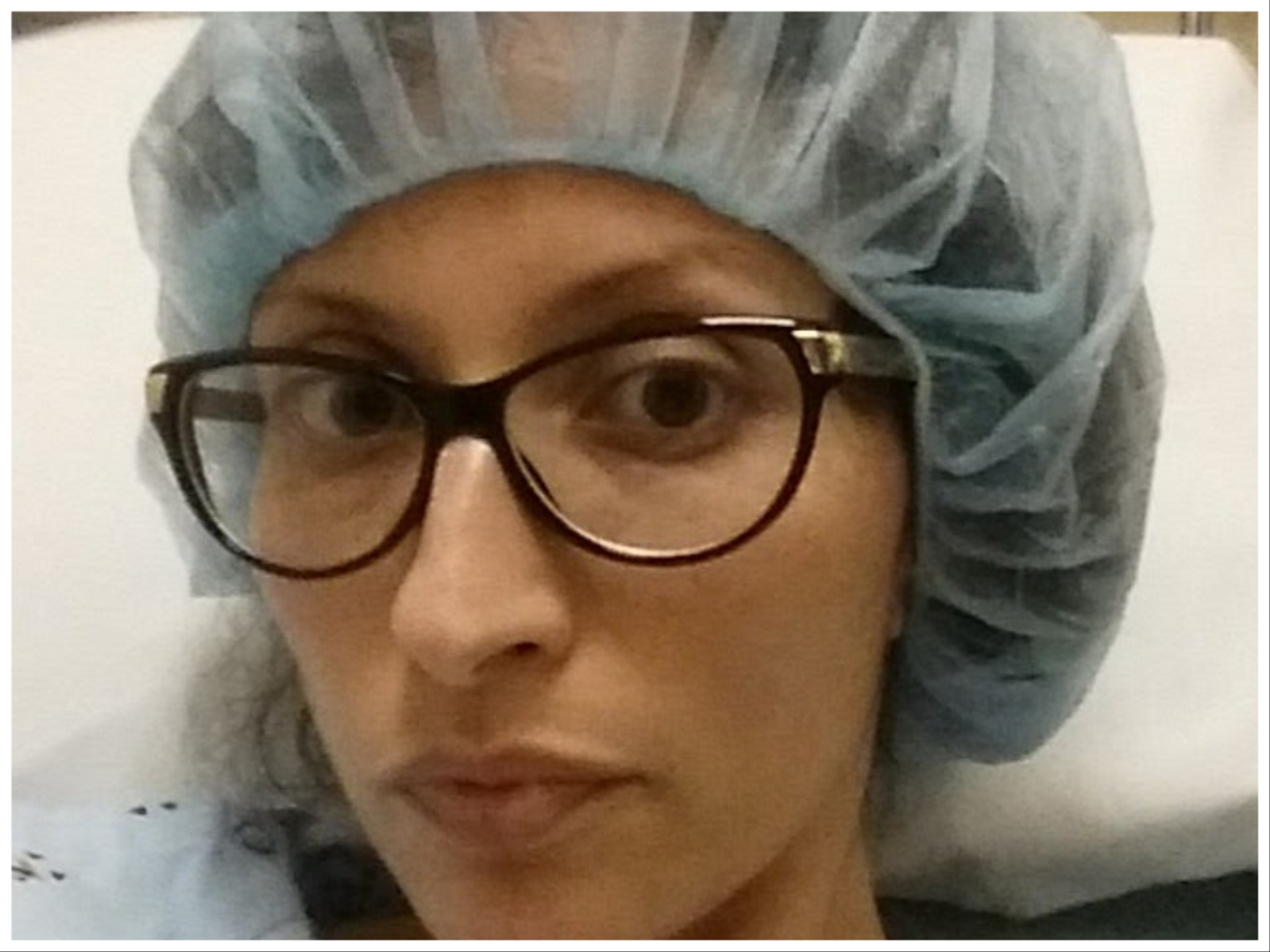 "Lynch syndrome used to be called hereditary nonpolyposis colorectal cancer (HNPCC), a term used to describe families with a strong history of colon cancer," according to the Mayo Clinic.
People with Lynch syndrome may experience colon cancer before age 50, a risk Estefania learned firsthand.
In addition to colon cancer, people with family history of Lynch syndrome can involve other types of cancer including: stomach cancer, ovarian cancer, pancreatic cancer, kidney cancer, bladder cancer, ureteral cancer, brain cancer, small intestine cancer, gallbladder cancer, bile duct cancer and skin cancer.
Colon Cancer Basics
Colon cancer, or colorectal cancer, is a type of cancer that affects your large intestine (colon) or the end of your intestine (rectum). It is the third-most common cancer in people of both genders in the United States, excluding skin cancers.
The cancer starts when abnormal lumps called polyps grow in the colon or rectum. If you don't have these polyps removed, they can sometimes change into cancer.  It takes up to 10 years for a colon polyp to become a full-blown cancer, according to SurvivorNet experts.
Colon Cancer Symptoms and Risk Factors
People older than 50-years-old still are at the greatest risk for colon cancer, with this age group making up about 90% of the cases.
Other risk factors of developing colon cancer include:
Having inflammatory bowel disease.
Having a family history of colon cancer.
Not exercising very often.
Eating a diet high in meat.
Being overweight or obese.
Using excessive alcohol and tobacco.
Colon cancer symptoms and warning signs include:
Change in bowel movement
Bloody stool
Diarrhea, constipation or feeling the bowel does not empty completely
Unexplained weight loss
Constant abdominal pain or cramps
If you notice concerning symptoms or changes to your body, it's important to discuss them with your doctor promptly.
Stages of Colon Cancer
Colon cancer staging takes into account the depth of the tumor in the colon, and whether the cancer has spread to the lymph nodes or to other organs, such as the liver or lungs.
A preliminary staging workup is done after diagnosis with imaging studies, such as a computed tomography (CT) scan, which can show whether the cancer has spread. If you have had surgery to remove your cancer, a pathologist will look at it under a microscope to determine your stage.
Stage 1 cancers are those in which the tumor has only penetrated the superficial layers of the colon, and haven't gotten into the deeper layers
Stage 2 cancers involve the deeper layers of the colon wall
Stage 3 cancers have spread to the lymph nodes around the colon
Stage 4 cancers have spread to other organs, such as the liver, lungs, or peritoneal cavity (the space in your abdomen that holds your intestines, stomach, and liver)
Colon Cancer Becoming More Common in Young People
The average age people are diagnosed with colon cancer is 68 for men and 72 for women, according to the American Cancer Society, but people much younger are increasingly being diagnosed, according to researchers.
"We know rates are increasing in young people, but it's alarming to see how rapidly the whole patient population is shifting younger, despite shrinking numbers in the overall population," cancer epidemiologist for the American Cancer Society Rebecca Siegel said.
The National Cancer Institute reports that since the 1990s colorectal cancer cases have been rising among adults younger than 50. Research published in CA: A Cancer Journal for Clinicians found the proportion of cases in people younger than 55 years old "increased from 11% in 1995 to 20% in 2019."
Researchers are still trying to determine why younger people are being diagnosed in greater numbers. Some experts point to risk factors which include obesity, physical inactivity and smoking as a possible explanation for the increase.
"Some of those [risk factors] have become more common over the last 45 years, along with this rise in early-onset cases," National Cancer Institute program director Phil Daschner said, according to the National Cancer Institute.
"We don't know for sure why we are seeing earlier onset and death from colon cancer,"  Dr. Heather Yeo, a surgical oncologist who specializes in colorectal cancers at Weill Cornell Medicine, told SurvivorNet. "It is likely a combination of factors, including diet and genetics as well as access to care and some environmental factors."
Colon Cancer Treatment and Screening
Just as Estefania will be having her son tested to learn of his cancer risks now that she knows he's more susceptible to getting cancer, she hopes others take heed to her motherly advice and experience as a cancer warrior.
Luckily, many cancer types have screening methods in place to help detect them early. For example, in the case of breast cancer, screenings are called mammograms, and for colon cancer, doctors perform colonoscopies.
WATCH: Colon Cancer Screening Options And Genetics Myth Busting
Most colon cancers can be prevented if people are regularly screened. The screening usually involves a colonoscopy, in which a long thin tube attached to a camera is used to examine the colon and rectum. The advantage to colonoscopy is that your doctor can remove any polyps found during the test. If no polyps are discovered, the next screening won't be needed for about 10 years.
Colonoscopy isn't the only colon cancer screening test. There are other options, including stool tests that detect blood or DNA, and flexible sigmoidoscopy, which checks only the lower third of your colon. Ask your doctor whether any of these tests would be good substitutes or additions to colonoscopy, based on your risks and/or personal preferences.
"We know that colon cancers can be prevented when polyps are found early," Dr. Yeo told SurvivorNet. "Lowering the screening age helps somewhat with this, but access to care is a real problem," Yeo added.
The American Gastrointestinal Association lowered the recommended initial age for a colorectal screening from 50 to 45.
Learn more about SurvivorNet's rigorous medical review process.
---