Jeff Bridges' Latest Update
Actor Jeff Bridges, 71, is currently battling lymphoma; he shared his diagnosis with the world in October, and has been keeping fans updated on his health with his online journal, to which he recently added a new drawing.
Lymphoma is a kind of cancer that affects the white blood cells; the two most common types of this disease are Hodgkin and Non-Hodgkin lymphoma.
Keeping a positive attitude through cancer, as Bridges has done, can make the cancer journey easier and, in some cases, the prognosis better, our experts tell SurvivorNet. 
As actor
Jeff Bridges
, 71, battles lymphoma, he shared an update on his
online journal
by way of a hand-drawn picture of him sitting atop Santa's lap, and saying, "The Dude wants peace and love!"
PHOTOS: See Photos of Stars Who Have Beat Cancer
Read More
The
colorful picture
on his website says it all, and it brightens these cold winter days with a sense of joy and hope that the drawing exudes. As the year draws to a close, we are thankful that Bridges is infusing the world with these doses of lightheartedness during a very rough year of living through the COVID-19 pandemic.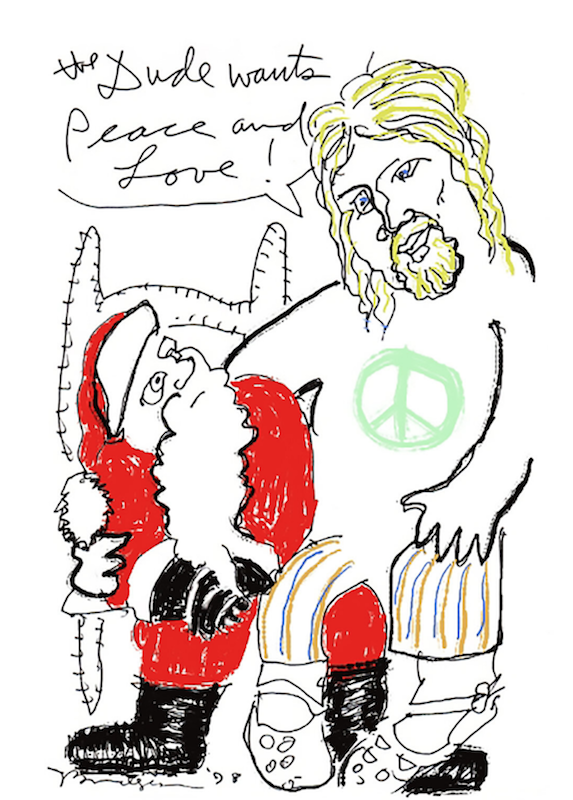 Jeff's Lymphoma Battle
Jeff Bridges shared his lymphoma diagnosis with the world on October 19, 2020. He wrote on Instagram, "As the Dude would say.. New S**T has come to light.  I have been diagnosed with Lymphoma. Although it is a serious disease, I feel fortunate that I have a great team of doctors and the prognosis is good. I'm starting treatment and will keep you posted on my recovery. I'm profoundly grateful for the love and support from my family and friends."
Related: 7 Sneaky Symptoms of Hodgkin Lymphoma: Doctor Told One Teen Her Itchy Rash – Later Diagnosed at Stage 4 – Was 'Nothing to Worry About'
Lymphoma is a cancer that affects the white blood cells. Bridges hasn't shared what type of lymphoma he has; the two most common types of this disease are Hodgkin and Non-Hodgkin lymphoma. The difference between the types has to do with the presence of Reed-Sternberg cells. If doctors detect these cells, the cancer is diagnosed as Non-Hodgkin, which is the more common of the two. However, Hodgkin lymphoma is the more treatable type of cancer.
Related: Mom of 3 Who Was Diagnosed with Terminal Lymphoma is Now Cancer-Free After CAR T-Cell Therapy
View this post on Instagram
Bridges has shared that he recently shaved his head (perhaps as a result of chemotherapy treatments) and that he is "feeling good." The Dude also recently turned 71, which is surely something to celebrate.
Non-Hodgkin Lymphoma Types of Biopsy
Keeping a Positive Attitude Through Cancer
We've been so inspired by the way Bridges has kept a positive and upbeat attitude through his lymphoma diagnosis and treatment. Keeping a positive attitude through cancer treatment has shown to prove beneficial for some patients. Dr. Zuri Murrell, a Colorectal Surgeon at Cedars-Sinai Medical Center, said in a previous interview, "My patients who thrive, even with stage 4 cancer, from the time that they, about a month after they're diagnosed, I kind of am pretty good at seeing who is going to be OK. Now doesn't that mean I'm good at saying that the cancer won't grow."
Related: A Major Step in the Cancer Journey: Learning to Deal With Vulnerability
"But I'm pretty good at telling what kind of patient are going to still have this attitude and probably going to live the longest, even with bad, bad disease," said Dr. Murrell. "And those are patients who, they have gratitude in life. My mother, who passed away about a month before I graduated med school, from breast cancer, she lived 10 years, at a time when people weren't, with mets to her bones and her brain. One of her most amazing characteristics was her attitude."
Learn more about SurvivorNet's rigorous medical review process.