"I went to hell and back! And in that, I found the peace to forgive him."
Adele reveals that she reconciled with her father before he passed away from bowel cancer earlier this year.
Read More
The 15-time Grammy-winning singer tells
Vogue
that she decided to visit after his diagnosis after a lifelong strained relationship with her dad, Mark Evans.
Evans split from Adele's mom soon after his daughter's birth, leaving his ex to raise their child as a single mother.
That fractured relationship only got worse when Evans sold a story about the singer to The Sun, the same outlet that falsely claimed Adele did not reconcile with her father before he passed away.
"I know he loved me, and we actually got our peace before he died," says Adele. "When he passed, I had this sort of physical reaction. That fear left my body."
Her parents also got their peace, too, says Adele.
"My mom was incredible when my dad was at the final stages. She was there and helping," notes Adele.
Adele also discusses the pair's reconciliation in her British Vogue interview.
"We actually got our peace, again contrary to reports," Adele once again states. "I played him my album just a week before he passed, over Zoom. One thing that definitely happened in my divorce was that it humanized my parents for me. Big time."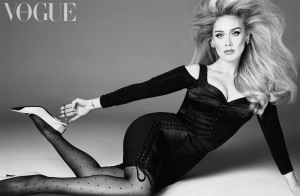 Related: Stanley Tucci, 60, Says Radiation for Oral Cancer Left Him Bedridden With a Feeding Tube For Six Months: 'Drinking Water Burned My Mouth So Much'
The singer also talks about her father's cancer journey.
"He was ready to go, and he lasted a long time with it," reveals Adele. She is grateful for that time, she says, because it allowed the two to make their peace.
Evans admitted to being a less-than-ideal parent in that 2011 interview with The Sun.
"I was a rotten father at a time when she really needed me," said Evans, who admits he struggled with alcoholism during that time. "I was putting away two liters of vodka and seven or eight pints of Stella every day. I drank like that for three years. God only knows how I survived it. I was deeply ashamed of what I'd become, and I knew the kindest thing I could do for Adele was to make sure she never saw me in that state."
He went on to say that he "was in the darkest place you can imagine" and saw "no way out" following the death of his father. John Evans, like his son, passed away from bowel cancer.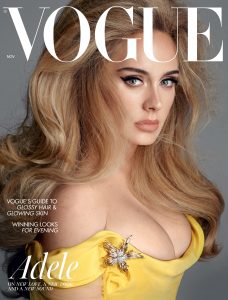 Adele told the fashion bible during their 2012 interview that at the time she "was actually ready to start trying to have a relationship with him."
Her father's decision to speak with The Sun changed that, though, with Adele saying: "He's f*****g blown it. He will never hear from me again."
Adele still carried that anger with her in 2017 when she accepted the Grammy for "Record of the Year." She used her speech that night to thank her manager Jonathan Dickins for orchestrating her return to music after the monumental success of her sophomore album, 21.
"We've been together for ten years, and I love you like you're my dad. I love you so, so much," Adele said, tearing up.
She then laughed and noted: "I don't love my dad, that's the thing. That doesn't mean a lot. I love you like I would love my dad."
Related: Billiards Legend Jeanette 'The Black Widow' Lee Competes In First Pro Tournament Since Terminal Stage IV Ovarian Cancer Diagnosis: 'I'm Having So Much Fun!'
Finding Peace With Loved Ones During A Cancer Battle
The ability to make peace with a loved one before they pass away can bring great comfort.
Camila Legaspi was a teenager when she lost her mother to breast cancer, and while she did not have a strained relationship similar to that of Adele and her father, she did find that those final months with her mother brought her a great sense of peace.
"I mean, I look at that year, and I feel like my relationship with my mom just improved and developed so much, even though there was this unspoken disease that was going on and that obviously overshadowed a lot of things," Legaspi tells SurvivorNet.
"There was something about those moments with my mom and now knowing that she tried really hard to maintain this happiness and this love in our household makes the small things we did so powerful."
Legaspi recalls one day in particular that she spent with her mother towards the end of her battle.
"I remember specifically something we always used to do would be walk the reservoir in Central Park," says Legaspi.
"And it seems like such a simple thing to walk in the park with your mom, but knowing that I was walking in the park with my mom while she was struggling with this massive, massive life sentence, in some ways, but still making time to enjoy these small, simple moments with her daughter."
She then adds: "There was kind of a peace that existed between us that only really appeared that year."
Regaining Sense of Self After Losing A Loved One
Signs and Symptoms of Colorectal Cancer
Bowel cancer, also referred to as colorectal cancer is the third most common cancer affecting men and women in the United States. It also kills more Americans each year than every other form of cancer except lung cancer.
Dr. Paul Oberstein, director, Gastrointestinal Medical Oncology Program at NYU Langone Perlmutter Cancer Center, tells SurvivorNet a few common symptoms of the disease:
Change In Bowel Movements: Major and sudden changes to the size, consistency, or caliber of stool
Change In Stool Color: Bright red or black stool is a sign that an individual should seek medical attention
Abdominal Pain: Unusual discomfort or bloating of the stomach. In the case of women, pain not related to the menstrual cycle.
Sudden and Unexplained Weight Loss: A rapid drop in weight that is not the result of diet or exercise
Anemia: Individuals who feel a general sense of malaise or are constantly tired or weak much more than is typical for them may want to consult a doctor.
Bowel Cancer Symptoms
Learn more about SurvivorNet's rigorous medical review process.
---