The Black Widow Is Back
Jeanette "The Black Widow" Lee returned to competitive pool play for the first time since learning she had stage IV ovarian cancer. She finished 7th in the Diamond Open out of close to 40 professional players.
"Since completing chemotherapy, I still struggle with chronic pain, nausea, fatigue, and recently, my sciatica is worse than ever. Yet I'M HAVING SO MUCH FUN!!! I love seeing my friends and fans, and I'm so thankful," said Lee.
The mental and emotional weight of a cancer battle is a lot for anyone to bear, especially family members and children. Experts tell SurvivorNet that a therapist or social worker can provide great help in staying mentally healthy during through a cancer battle.
"Since completing chemotherapy, I still struggle with chronic pain, nausea, fatigue, and recently, my sciatica is worse than ever. Yet I'M HAVING SO MUCH FUN!!! I love seeing my friends and fans, and I'm so thankful."
That is what billiards legend Jeanette "The Black Widow" Lee had to say earlier this week after returning to competitive play for the first time since revealing her battle with stage IV ovarian cancer.
Read More
The high priestess of pool, 50, joined 38 other women in South Carolina for the Omega Diamond Open, just a few months after learning her cancer could not be cured.
Lee managed to win three of her matches and lose only two, which was good enough for 7th place. It is an impressive result because she is battling cancer and, as of just a few weeks ago, could not bend her body low enough to even hit a ball because of the pain.
She updated her fans throughout the competition on Facebook, saying the joy of competing again helped her overcome the pain she still feels from her ongoing battle with cancer.
Her finish provided more inspiration for the thousands of other cancer warriors now following her on social media, where she shares videos and posts documenting her journey
Lee also looked healthier than ever, with a person close to Lee telling SurvivorNet that she has made eating a priority, powering through nausea, fatigue, and at times excruciating pain to make sure she stays strong.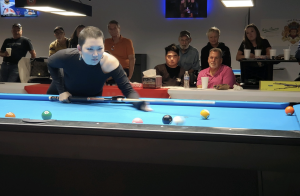 Related: Buffett's Billions: How Prostate Cancer Survivor Warren Buffett, 91, Doubled His Vast Fortune to $109 Billion After Beating the Disease
The only person not blown away by her performance turned out to be Lee herself.
In the end, her only losses in the double-elimination tournament came at the hands of the event's top two finishers. Allison "The Duchess of Doom" Fisher, Lee's longtime rival and the eventual winner, dealt The Black Widow her first loss of the tournament.
After that match, the women posed for photos, with Fisher wearing one of The Black Widow shirts to benefit Lee's family.
"I'm pretty rusty, but I'm not going to pressure myself. I'm just going to try my best and enjoy it. It sounds crazy considering the pain, but I'm going to last as long as I can. Let's bring The Black Widow's game back," wrote Lee after the tournament.
"I can only get better from here, both in my game and my health and stamina. I may never get my game back, but a girl can dream, and I dream of becoming better than I ever was. I promise to enjoy the journey either way."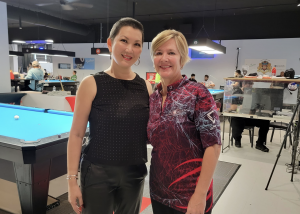 Lee shot to fame in the 1990s, when the Brooklyn-born pool shark became the most famous person ever to play the sport.
The only thing that was not profitable for Lee proved to be the sport that made her a star. Thanks to endorsements, appearance fees, and brand campaigns, she amassed a multimillion-dollar fortune over the next 20 years. Her winnings on the pool table never topped $50,000, even at her peak.
Lee battled a host of aliments during her lifetime, dealing with chronic pain from a young age.
She had metal rods put on her back at age 12 to help with her scoliosis. Then came battles with bursitis, pseudoarthrosis and ankylosing spondylitis, sudden panic attacks, and finally cancer.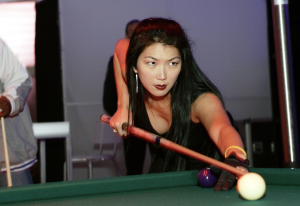 Lee tells Sports Illustrated that she had been riding high at the time thanks to a spinal cord stimulator that was implanted in her, allowing her to play billiards again.
"Nothing was going to stop me," Leee recalls thinking at the time. "I was thinking: I'm going to be a world champion again."
A case of sepsis killed that dream, and the stimulator came out despite her objections.
"It was very sad. I almost just wish I didn't experience it," notes Lee.
Then, a short time later, she woke up unable to breathe. That was the day her life changed forever.
"X-rays revealed fluid buildup in the area between her lungs and her chest. Further tests confirmed: The fluid was filled with cancerous cells that had originated in either her uterus or ovaries and had metastasized to her abdomen, liver, and peritoneum," reads her SI profile.
"Radiation was ruled out—too much risk of damaging her bowels—but treatment couldn't wait. And so, less than a week later, Lee trudged into the Tampa cancer center for her first dose of chemotherapy."
Despite making millions over the years, Lee soon started selling branded apparel and signing autographs so that the mother of six could put away money for her three youngest daughters. The hardest part of her cancer journey is not the pain or the obstacles or the chemo, but rather the day she told her girls, according to Lee.
"Every time they laughed, I'd think, 'How can I take that away from them?' " says Lee.
"As soon as I told them [about my cancer], it became very quiet in the household. I kept saying, 'I'm going to fight this.' And they kept going, 'Yes, I know, mommy.' But they were crying. They were terrified."
She adds: "The fact that there's a chance they could grow up without a mom is just mortifying."
Related: 'X-Men' Star Kelly Hu Reveals Breast Cancer Scare Before Filming New Movie With Stage IV Warrior Shannen Doherty
Mental Health Resources for Cancer Warriors to Stay Strong Like The Black Widow
The Black Widow works hard to say strong both physically and mentally during her cancer battle.
Sarah Kelly, director of social work training at CancerCare, previously spoke with Survivor Net about the impact of a cancer diagnosis.
This news often prompts a fight or flight or freeze response, with freeze being the typical reaction in her estimation.
However, Kelly noted that it was just as difficult for these patients because they immediately started getting a lot of new information. There are several reasons for this, beginning with most people's shock after learning they have cancer. The belief that their life depends on their ability to instantly process this detailed information contributes to that response.
This is where social workers, in particular, can provide an invaluable service.
"Your mind can go completely blank," said Kelly. "If we think of fight or flight or freeze, freeze is a big one that happens where people feel like 'Oh my God, I have no idea what to do.' We can help people figure that out."
Social workers are not only there to help with mental health issues either and can also help with financial problems that may arise or find childcare options for parents undergoing treatment.
Dealing With Fear After Cancer Diagnosis
Mental Healing After Cancer Battle
The mental and emotional weight of a cancer battle is often difficult for family members and children.
Evelyn Reyes-Beato knows that well. She is a colon cancer survivor from a culture where people seldom discuss things like cancer and health in a public forum. That made dealing with her emotional and mental pain difficult until she realized that holding in her feelings made her physical pain worse.
"You have to let it out," Evelyn previously told SurvivorNet. "Your mental and your emotional help your physical get in line. If you keep all of the emotions in, the way I see it is that stuff is going to eat you up inside, and it's not going to let you heal."
Emotional and Mental Healing After Cancer Battle
Learn more about SurvivorNet's rigorous medical review process.