Adele Says Therapy Improved Her Happiness
15-time Grammy winner Adele, 34, says she recently began seeing a therapist again. She was previously in therapy during her 2019 divorce from her ex-partner, with whom she shares a child.
Caring for your mental health is so important, especially if you are going through a physical challenge as well, SurvivorNet experts say.
Many people care for their mental health in the form of seeing a therapist, speaking with a counselor or psychologists, and sometimes treating serious issues like clinical depression or clinical anxiety with prescribed medications.
Singer Adele, 34, recently shared onstage during her Las Vegas residency that she is in therapy again, and she credits therapy with turning her into the happiest version of herself.
Related: SurvivorNet's Mental Health Guide
Read More
PEOPLE 
magazine reports that Adele candidly shared with fans at her "Weekends With Adele" residency how much she leans on therapy and how
happy going to therapy has made her
. We love to see mega-stars like Adele shattering any stigma around mental health, and advocating for the importance of taking care of your mind. Adele said, of returning to regular therapy, "I needed to just hold myself accountable for it. But now I am doing it because I just want to make sure I'm topping myself up every week to make sure I can give you everything." The singer, who is a 15-time Grammy winner, shared that in a recent therapy session she told her therapist how live performance can make her feel stressed.
Related: Famous Actresses Kristen Bell & Olivia Wilde are Among Millions Speaking Out About Mental Health — But is Online Sharing (and Scrolling) Detrimental to Mindset?
She recounted, "I love making music, but there is something about performing live that actually terrifies me and fills me with dread normally. That's why I am not a big touring artist. I did it last time to prove I could do it. But this experience of being in a room this size, I think I might be a live artist for the rest of my life."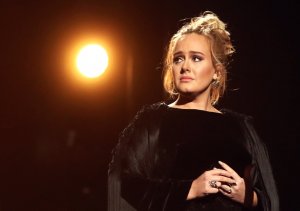 Mental Health After a Major Life Event Like Divorce or Loss
Adele shared how after her 2019 divorce with her ex-partner, Simon Konecki – with whom she shares one son, Angelo, 10 – she had a lot of therapy during that stressful time.  "Obviously, when I was going through my divorce," says Adele, "I was like, basically in like five therapy sessions a day," the "Hello" singer shared with her fans. "But I stopped holding myself accountable for my own behavior and the things I would say and it's because I would always fall back on my therapist."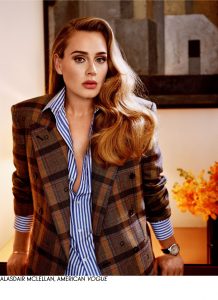 In addition to her 2019 divorce, Adele has gone through some other difficult life events in recent years. She lost her father to bowel cancer in 2021. Adele has shared in the past how she had a complicated relationship with her dad. No matter what, losing a parent is an emotional experience. Leaning on support systems like therapy can help the grief process feel more manageable.
Related: Singer Adele's Estranged Father Died from Bowel Cancer at 57; Why Reconciliations are Complex
Additionally, seeing a psychologist who specializes in grief is a good way to process what's happening in a safe, supportive, professional environment. Dr. Scott Irwin, the Director of Supportive Care Services at Cedars-Sinai Medical Center, tells SurvivorNet in an earlier interview how grief affects people.
He says, "Grief comes in waves. It often gets better over time, but at certain days, it can look like depression. And other days, people look perfectly normal and can function. They're grieving the change in their life, the future they had imagined is now different."
"In cancer care," says Dr. Irwin, "sometimes, we're actually forcing some body changes that are beyond what would be normal aging, and that can be even harder for people to deal with where they don't feel like themselves."
Mental Health: How to Turn Stress into Strength
Releasing the Stigma of Mental Health
For some people, there may even be a sense of shame or guilt involved in seeking mental health treatment in the first place. We love that Adele is speaking openly about seeking treatment for her mental health; in the process of doing so, she's shattering any stigma around it.
Related: Adele, 33, Says She Had a 'Physical Reaction' To Her Father's Passing From Bowel Cancer: 'It Was Like I Let Out One Wail and Something Left'
There's nothing to be ashamed of around seeking mental health support. It's a brave and empowered thing to do, and it is important to realize you are not alone. The CDC reports that over 20% of American adults said they sought out mental health treatment over the past year. Among those people, 16.5% said they had taken some sort of medication for their mental health and 10.1% said they had received counseling or therapy.
Related: Singer Katy Perry, 38, Says She Lost Her Smile: Then Came Her Brave Effort to Remove The Shame Around Mental Health
For many people, therapy improves their overall happiness, and that's been true for Adele, too. She says, "If my voice ain't top-notch that's alright, but my soul is top-notch, I'll tell you that — that's what I try to say to my therapist."
She continued on to say, "Having the human interaction every weekend is honestly— I'm the happiest I've ever ever ever ever been."
Caring for Your Mental Health During a Physical Health Challenge
Adele revealed how she often puts pressure on herself and that she has perfectionist tendencies, which led to her postponing her first run of shows in January.
Whether you're a globally famous singer, or just a regular person going through your own challenges in your line of work, it can be difficult to manage your physical and mental wellness, particularly if you're experiencing a health challenge like a cancer battle.
It's normal to feel feelings like anxiety, stress, overwhelm, depression, and even anger while going through a health challenge. Dr. William Breitbart, the Chair – Department of Psychiatry and Behavioral Sciences at Memorial Sloan Kettering, speaks with SurvivorNet in an earlier interview about coping with anger. Dr. Breitbart says, "[A person] gets angry because one hasn't quite achieved and fulfilled the tasks that they set out for their lives and the responsibilities that they've committed to fulfill."
Treatment for mental health problems like anger can involve speaking with a therapist, and finding ways to achieve the desired goals. Dr. Breitbart notes though that patients must accept their vulnerabilities, too.
"The last resort of relieving existential guilt is this act of being able to forgive yourself for being a human being that is vulnerable and susceptible to not being able to fulfill their full potential. So, it's forgiveness ultimately," he says.
Mental Health: Coping With Feelings of Anger
Contributing: SurvivorNet staff
Learn more about SurvivorNet's rigorous medical review process.