Knowing the Signs of Multiple Myeloma
Aerobics instructor Angie thought she had just pulled a muscle, but X-ray scans revealed holes in her bones and skull.
She had multiple myeloma, a rare blood cancer involving plasma cells, a special kind of mature white blood cells that reside in the bone marrow and help fight infection. In multiple myeloma, cancerous plasma cells grow uncontrollably in the bone marrow and crowd out other functioning white blood cells.
Warning signs of multiple myeloma include weakness, bone pain, muscle cramps, nausea, and frequent infections.
An exciting advancement in multiple myeloma treatment includes the chemotherapy drug Revlimid (or lenalidomide), a groundbreaking pill that has been shown to improve outcomes for patients .
An aerobics instructor, named Angie thought she pulled a muscle from vigorous exercise, but shocking X-rays revealed the truth: she had broken bones and holes skull. She had a rare type of blood cancer called
multiple myeloma
that was causing her body to deteriorate. With March being 'Multiple Myeloma Awareness Month," we're sharing sharing her cancer journey so others can know those early signs to recognize.
"Every time I moved it hurt … walking five minutes felt like I was walking five miles," Angie shared with the Livestrong Foundation.
Read More
"Before I found out, I just thought I had pulled a muscle in my rib cage. I let it go for quite some time until finally I went to the doctor," Angie said, something that many cancer warriors can relate to: attributing their symptoms to a seemingly mild condition and putting off talking to their doctor. X-ray scans showed Angie's bones had been deteriorating.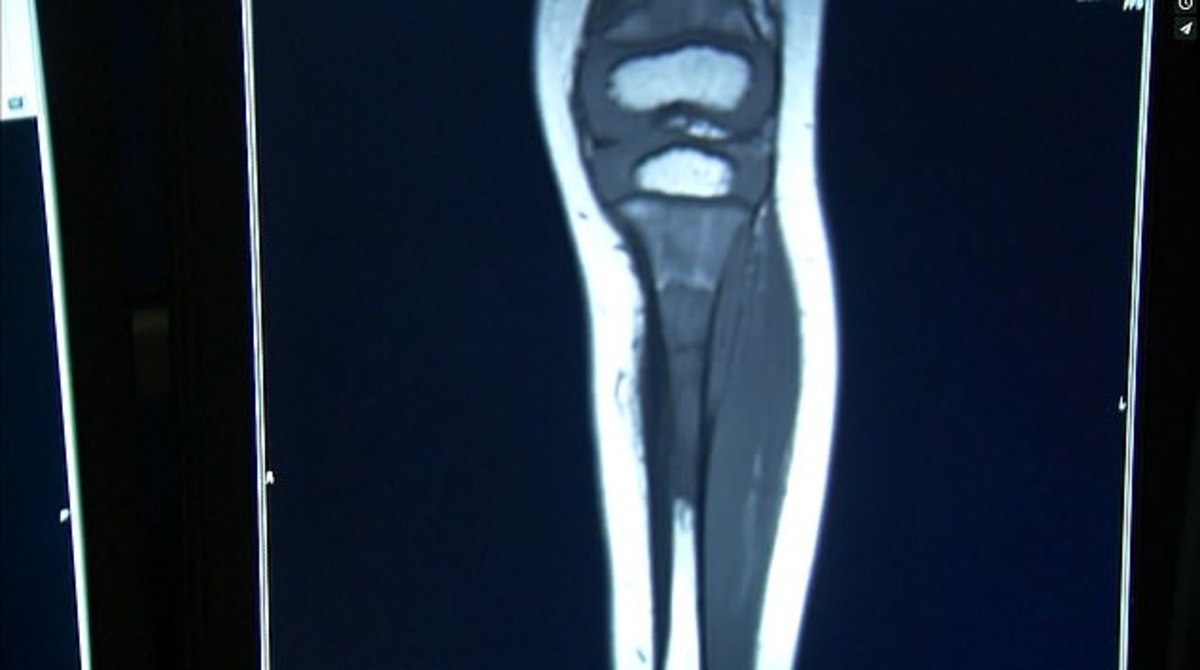 "My bones, my skull looked like Swiss cheese from the holes. I had deterioration in 90% of my body through my bones," she described.
Understanding Multiple Myeloma
Angie mistook her bone pain and tiredness as a pulled muscle, but these symptoms can be indicative of multiple myeloma.
Multiple myeloma is a rare blood cancer involving plasma cells, a special kind of mature white blood cells that reside in the bone marrow and help fight infection. In response to infections, these plasma cells normally produce proteins that help your immune system fight off germs.
"In general having a blood cancer means that your bone marrow is not functioning correctly," Dr. Nina Shah, a hematologist at the University of California San Francisco explained to SurvivorNet.
In multiple myeloma, cancerous plasma cells grow uncontrollably in the bone marrow and crowd out other functioning white blood cells.
"The bone marrow is the factory that makes all of the cells that wind up in our bloodstream," Dr. Mikkael Sekeres, the chief of the Division of Hermatology at the University of Miami Sylvester Comprehensive Cancer Center told SurvivorNet.
Multiple Myeloma Symptoms and Risk Factors
"It's very common for someone to say, 'You know, I've been feeling very tired," Dr. Nina Shah, a hematologist-oncologist with the University of California at San Francisco told SurvivorNet.
SurvivorNet doctors recommend everyone stay vigilant of physical changes and symptoms, taking note when something doesn't feel right inside your body.
"But at the first sign of something abnormal, it's important to then take that to the next step and say, 'OK, what am I missing? Is there something else maybe that could be causing this?' And that's often when we see a diagnosis of multiple myeloma," Dr. Shah added.
Common symptoms for multiple myeloma include:
Weakness, dizziness, and shortness of breath, which are signs of a low red blood cell count, called anemia
Bone pain, which could be a sign of a fracture
Peeing too much or too little, muscle cramps, nausea and vomiting, which are symptoms of kidney failure
Confusion, which is caused by too much calcium in the blood
Frequent infections, because you have too few white blood cells to fight them
Factors that may increase your risk of multiple myeloma include:
Older age – most people diagnosed are in their mid-60s.
Being male – men are more likely to develop the disease than women.
Being of African descent – Black people are more likely to develop multiple myeloma than other racial groups.
Family history of multiple myeloma.
Personal history of monoclonal gammopathy of undetermined significance (MGUS). MGUS is the presence of a single abnormal protein without the presence of symptoms.
While these symptoms and risk factors don't necessarily mean that you definitely have multiple myeloma, it's important to bring them to your doctor and discuss your specific circumstances.
Multiple Myeloma Treatment
Treatment options for multiple myeloma vary depending on the severity of the disease once it is diagnosed. Angie's treatment included chemotherapy and a stem cell transplant.
"After I went through my chemotherapy and stem cell transplant, I had to decide whether or not I was going to go on a maintenance program. My doctor said, 'There's no guarantee that it is going to work'", Angie said.
If you have smoldering multiple myeloma, which is a precursor or early sign of multiple myeloma that hasn't become active, according to Cleveland Clinic, your doctor may opt to monitoring your case regularly.
For more severe cases of multiple myeloma, there are several treatment options, which include:
Bone marrow transplant.
Targeted therapy.
Biologic therapy.
Chemotherapy.
Steroids.
Radiation.
Part of Angie's treatment included receiving a bone marrow or stem cell transplant, in which a person receives new, healthy blood-forming stem cells. Stem cell transplant is commonly used to treat multiple myeloma.
WATCH: How Does Maintenance Therapy for Multiple Myeloma Work?
She also received interferon, which is a form of therapy used to treat infections and cancer, according to the National Center for Biotechnology Information.
"I had to give myself injections of this drug every other day, and they wanted me to do it for a year," Angie said.
The cancer survivor said she ended up using the drug for nine months, and side effects included severe depression, flu-like symptoms and leg cramps, which she said became too much for the cancer warrior to bear.
Luckily for Angie, she went into remission after treatment.
Exciting Advancements in Multiple Myeloma Treatment
Angie was diagnosed with multiple myeloma in 2001, and since then, there have been exciting advancements in the treatment in multiple myeloma that are improving patient lives today. That includes the chemotherapy drug Revlimid (or lenalidomide), a groundbreaking pill that has helped transform the treatment of multiple myeloma.  Standard doses of lenalidomide, in combination with other therapies, is used to kill myeloma cells in newly diagnosed patients.
Then, low doses of Revlimid are used as maintenance therapy, which means it helps keep the immune system vigilant to target the myeloma in case it comes back.
Legendary NBC anchor Tom Brokaw is an inspiring example of living with multiple myeloma, and he has spoken about his experience taking Revlimid.
"The Revlimid thing for me has been … no side effects whatsoever," Brokaw told SurvivorNet. "I think that I'm doing as well as I am in part because of Revlimid. I've been very fortunate, of course, in not having a reaction to a lot of the very powerful drugs that I am taking … my bomb is Revlimid on a daily basis."
Dr. Paul Richardson, director of clinical research at the Jerome Lipper Multiple Myeloma Center in Boston told SurvivorNet that the use of maintenance therapy with Revlimid has been shown to improve outcomes for patients with multiple myeloma.
"What we're realizing is that lenalidomide (Revlimid) is really conferring tremendous clinical benefit by virtue of its continuous use, and it's impacting on survival and progression-free survival in a remarkably substantial fashion," he said. "If you look at the most recent meta analysis of clinical benefit from lenalidomide, you're seeing survival gains of two and 1/2 to three years as a median by virtue of its use.
"And that's not progression-free survival, that's overall survival," Dr. Richard added.
Brokaw's experience with Revlimid as maintenance therapy is a testament to the importance of ongoing treatment and management of multiple myeloma. While the disease may not be curable, maintenance therapy can help patients maintain a good quality of life and keep the disease under control for longer periods of time.
Learn more about SurvivorNet's rigorous medical review process.
---