What Are Sarcomas?
Paralympian Kelly Cartwright, 33, just announced the birth of her third child— a 'perfect' baby boy.
The gold medalist was diagnosed with a rare form of cancer called synovial sarcoma and had to have her leg amputated at 15-years-old; She competed at the London Paralympics in 2012 winning Gold in the long jump and Silver in the 100 meter sprint.
Sarcomas make up about 70 different types of rare cancers that begin in the bones and the soft tissue; Some symptoms could be a lump that can be felt through the skin, bone pain, or an unexpected broken bone that occurs without much of a trigger.
Congratulations are in order for paralympian Kelly Cartwright, 33, who recently announced the birth of her third child— all of her children were born years after the heartbreaking loss of her leg to cancer. Since then Cartwright has not only become a mother, but has also become a high-level athlete inspiring all amputees.
"The best FINAL addition to our family. You're loved so much already," said Cartwright in a post on Instagram. She announced his name as well in the post – Van David Miller.
Read More
The gold and silver medalist was diagnosed with synovial sarcoma, a rare form of cancer, and had to have her leg amputated at the age of 15. After months of intensive rehab Cartwright was fitted with a prosthetic leg.
"Having learnt to walk again, and facing the reality that her netball [UK equivalent to basketball] career was over, she looked for a new direction. That direction was running," according to her biography on her website.
Cartwright's passion for running only grew and she set out to be the best above-knee amputee 100m sprinter in the world, coming very close at the 2012 London Paralympics where she earned a silver medal in the event.
In addition, Cartwright claimed the gold medal in the long jump event at the 2012 London Paralympics.
Cartwright and her partner Ryan Miller have been together for more than seven years, according to the Daily Mail, and are also parents to daughter Charley (2) and Max (5).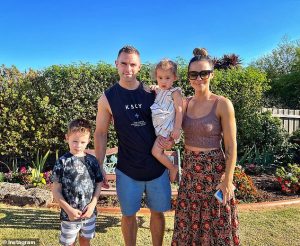 "I remember telling the doctors I'd rather die than have my leg amputated," she previously told Daily Mail Australia.
Understanding Sarcomas
The term sarcoma is used to describe an array of more than 70 rare cancers that begin in the bones and the soft tissues, such as muscles. This diverse group of diseases accounts for only about one percent of tumors in adults and just over 10 percent of tumors in children.
RELATED: What Are Sarcomas? Know the Types and Symptoms of These Rare Cancers
The main symptom of sarcomas is generally a slow-growing, painless mass, but symptoms can be hard to detect as soft tissue sarcomas are typically painless and bone sarcomas can be mistakenly diagnosed as orthopedic injuries.
Bold, Bald & Beautiful: Kara Ladd Met a New Version of Herself After Her Cancer Diagnosis
"Unfortunately, most sarcomas do not cause many of the symptoms that may be associated with other cancers," Dr. Dale Shepard, director of the Cleveland Clinic Taussig Cancer Institute Phase I and Sarcoma Programs, previously told SurvivorNet. "A mass the size of a golf ball or larger and growing should be evaluated as a potential sarcoma. It's important that patients who do have symptoms are not dismissive of them."
Types of Sarcoma Cancers
The word sarcoma refers to a large array of bone and soft tissue cancers, and individual cancers within that set go by unique names. Some of the types of sarcomas include:
Ewing's sarcoma is a cancer that typically occurs in and around the bones, often in the arms or legs, or the bones of the pelvis. It most commonly occurs in children and young adults.
Kaposi sarcoma is a very rare type of cancer that causes lesions on the skin, in lymph nodes, organs, and the mucous membranes of the mouth, nose, and throat. It typically affects people with compromised immune systems, such as those with HIV.
Epithelioid sarcoma is a type of soft tissue cancer that grows slowly. It is likely to begin under the skin of areas like the finger, hand, forearm, lower part of the leg, or foot.
Synovial sarcoma, also called malignant synovioma, is a cancer that can form in the soft tissues such as muscle or ligaments, commonly close to joints or in areas like the arm, leg, or foot. This is the type of cancer Laverty had.
Osteogenic sarcoma, also called osteosarcoma, is the most common type of cancer that starts in the bones.
Spindle cell sarcoma is very rare, comprising as little as 2 percent of all primary bone cancer cases. It can start in the bone, often in the arms, legs, and pelvis, and usually occurs in people over 40.
Advocating for Your Health
Cartwright had to make the difficult decision to amputate her leg or have a radical surgery, likely after much advisement from her doctors. Which is an important reminder to always pay attention to the changes happening to your body and insist that medical professionals investigate the best course of treatment.
Be Pushy, Be Your Own Advocate… Don't Settle
"Every appointment you leave as a patient, there should be a plan for what the doc is going to do for you, and if that doesn't work, what the next plan is," Dr. Zuri Murrell, director of the Cedars-Sinai Colorectal Cancer Center, told SurvivorNet in a previous interview. "And I think that that's totally fair. And me as a health professional – that's what I do for all of my patients."
Looking For Inspiration?
SurvivorNetTV presents Endless Abilities, which takes you on a cross-country journey with Zachary Bastian and his three best friends who are searching for adaptive sports for people with physical disabilities, while collecting inspiring stories from these individuals along the way.
Through their journey, they learned that sports can be the great equalizer, unifying people of all abilities across a level playing field.
Zachary Bastian is an avid surfer who grew up catching waves in Rhode Island. It made him feel closer to his father who he lost at age 14. (His father had pushed him to get up on a surfboard when he was 6.)
One day, he and his friend got on a dirt bike chasing adventure after a bonfire and they hit a car in a tragic accident. He didn't know right away that he wasn't going to walk again, but that's what happened.
SurvivorNetTV Presents: 'Endless Abilities,' a Story of Four Best Friends Who Drove Cross-Country in Search of Adaptive Sports
​
With assistance from Abigail Seaberg and Marisa Sullivan
Learn more about SurvivorNet's rigorous medical review process.
---