After navigating cancer with their son, Vance, Billy Baldwin and Chynna Phillips are coping with quarantine and sharing glimpses of family life on social media. "I know that sometimes the pain can get so intense that we're actually saying, 'Is this ever going to end?'" Phillips asks in an Instagram video.
RELATED: After Teen Son's Cancer Battle, Chynna Phillips Joins Wilson Phillips for Moving 'Hold On' Performance
Read More
"We get trapped in a snowball of pain and grief and loss." To make sense of it, Phillips — whose vocal group Wilson Phillips once topped music charts — relies on faith: "God loves us so much," she explains, "he's saying 'Yes, you can do this. You may not think so. But you absolutely can. I have equipped you to  be able to walk through this and there will be beauty out of ashes.'"
Her words will resonate with members of the SurvivorNet community: Many have said this belief has fortified them through cancer treatment, as well.
Vance Baldwin's Cancer: "Tough as Nails, Heart of Gold"
"A year ago today my son Vance was diagnosed with cancer… he was 16 years old," Baldwin wrote in October 2019 on Instagram.
RELATED: 'So Proud of the Guy' — Billy Baldwin Beams with Pride as Son, Vance, Now Cancer Free, Celebrates High School Milestones
"He kept it very quiet… we all did. He went through 28 rounds of chemo yet stayed VERY positive, focused and kept his life as normal as possible … every single day. Kid's a tough son of a bitch. Sharp as a tack. Funny as hell. Tough as nails. Heart of gold."
Dr. Lawrence Piro, President and CEO of The Angeles Clinic and Research Institute in Los Angeles, talks to SurvivorNet about the doctor-patient relationship. 
As Baldwin thanked supporters during Vance's cancer journey, he included Dr. Lawrence Piro, who specializes in blood cancers — known as hematologic malignancies –which include leukemia and lymphoma.
Chynna Phillips, who married Baldwin in 1995, interviews their son Vance on YouTube. who points to his uneven haircut, noting that his sister did the job "with toenail clippers."
Billy Baldwin's sister, Jane, a physical therapist, has been working with nursing home patients during the COVID-19 crisis. 
When Chynna asks Vance's advice for teens on coping with quarantine, the high-school student turns philosophical: "My best advice would be to know that this is going to be over at some point, keep your head down and keep going."
"Do you pray for the situation to pass?" his mother asks. "Do you believe that when you pray, someone is actually listening?"
"Maybe not listening," Vance replies, "maybe it's like a voicemail and they hear it later."
Praise for Sister: "On the COVID-19 Frontlines"
Billy Baldwin also praised his sister, Jane, for working, "on the COVID-19 frontlines providing critically needed physical therapy services for senior citizens and the disabled," he writes.
"She is also a physical therapist at Bishop Rehabilitation and Nursing Home where she continues to do hands on physical therapy with all of the senior citizen residents at the home. So far so good… I don't believe they have any of the residents/ patients that have tested positive for
RELATED: 'Beds Are Maxing Out, Staff Shortages Will Be a Problem' — The Excruciating Decisions at Cancer Centers Grappling With Coronavirus
COVID-19." Nursing homes have been hit hard by the coronavirus outbreak, reporting some of the highest fatality rates in the country. "Can't tell you how proud I am for her of her putting herself at risk every day to help keep these great New Yorkers healthy & happy," Baldwin adds. "Thank you Jane… LOVE YOU !!!"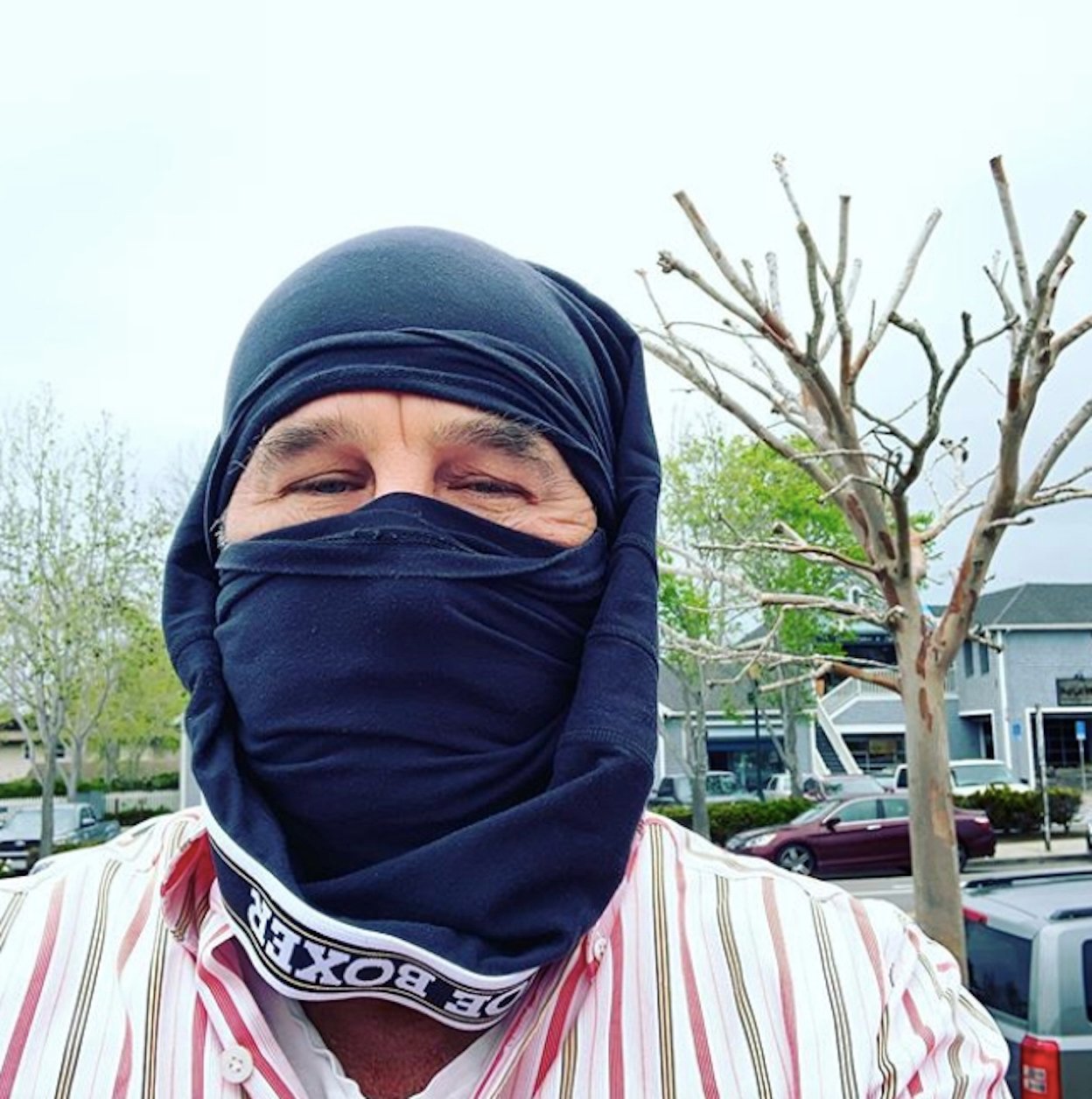 Improvised mask: "Forgot to grab a fresh mask before I ran out the door." Billy Baldwin wrote after an Easter trip to buy groceries.
In more family news, Baldwin reported he'd forgotten to bring along a face mask on an Easter trip to buy groceries. "Couldn't get into Lazy Acres supermarket in Santa Barbara this morning without a face mask… Had to improvise with a pair of my Joe Boxers!! Thank goodness I always carry a back up T-shirt, underwear & socks in my car!!"
Cancer in the Baldwin Family
Billy's mother, Carol Baldwin, is also a cancer survivor. Diagnosed with breast cancer in 1990, seven years after her husband died, she underwent a life-saving double-mastectomy, according to the Carol M. Baldwin Breast Care Center.
RELATED: Actor Billy Baldwin Joyously Recovers From Double-Whammy As His Son And Mother, Both Now Cancer Free, Celebrate Big Birthdays
In a post on her 90th birthday, in December 2019, Billy Baldwin wrote that the "coolest thing of all was that, after surviving breast cancer in the early 90's, she formed the Carol Baldwin Breast Cancer Research Fund. It does an incredible job to raise awareness, provide quality of life support for those in treatment, and funds critical research that will ultimately help find a cure for this dreaded disease. They have raised millions for Stony Brook University and Upstate Medical in Syracuse."
The center, founded at Stony Brook University in 1996, provides accessible screening, medical care, and support services regardless of patients' ability to pay. The same year, Carol, along with family, friends, and health professionals, formed The Carol M. Baldwin Breast Cancer Research Fund, Inc. To date, it has funded 47 research grants totaling $2.35 million dollars, with the promise of more to come, according to the website.
Learn more about SurvivorNet's rigorous medical review process.
---