Facing All the Emotions of a Cancer Journey
AGT star Nightbirde recently shared an update with fans saying that she's still "making it" but also processing negative emotions. She says it's good to have "the occasional pity party" because no one can be positive all the time.
Metastatic breast cancer – also called "stage four" breast cancer – means that the cancer has spread, or metastasized, beyond the breasts to other parts of the body. It most commonly spreads to the bones, liver and lungs, but it may also spread to the brain or other organs.
A cancer journey comes with a complex range of emotions. Even the most resilient and positive fighters know it's important to let out the negative emotions too.
Optimism during a cancer journey is essential, but constant positivity is probably not a realistic goal. Former
America's Got Talent
star Jane Marczewski, aka Nightbirde, often has a smile on her face, but the singing sensation recently shared that negative emotions are very real for her too.
RELATED: 'I Will Not Be A PR Stunt': 'AGT' Star and Cancer Warrior Nightbirde, 30, Pens Poem About Regrets, Fears, And Fame
Read More
Marczewski was diagnosed with terminal breast cancer on New Year's Eve in 2019, and she's still fighting for her health. The 30-year-old pop artist's world turned upside down when doctors found multiple tumors on her liver, lungs, lymph nodes, ribs and spine. They told her she had three to six months to live, but she's proved them wrong. And though she had to leave the hit competition series due to her declining health, she's gained quite a following after her 'Golden Buzzer' audition performance of her original song 
It's OK
.
In a recent video on her Instagram story, Nightbirde updated fans by telling them exactly how she was feeling.
"Hi, I just wanted to not waste this moment when I feel okay and look pretty good to come on here and let you know I'm doing good," she said. "I'm doing well. I'm doing just fine, inching forward inch by inch by inch like a little sad turtle crossing the street. Haven't been killed yet."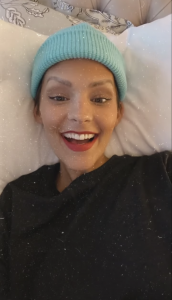 And in a raw reveal of her current mental state, she shared that she'd been having negative feelings.
"I have been watching [The] Beverly Hillbillies and wearing lipstick and coloring in a coloring book and complaining all day, and it's been wonderful," she said. "I would highly recommend having the occasional pity party because nobody can be a ball of sunshine every day, it's not natural. But yeah, just want to let you guys know I'm making it."
With a healthy dose of pity and a smile to share, it's clear that Nightbirde is not ready to give up and determined to appreciate every day that's given to her. In another recent post, she shared a snippet from Mary Oliver's Upstream: Selected Essays that perfectly encapsulates her dedication to finding the meaning of life.
View this post on Instagram
"May I be the tiniest nail in the house of the universe, tiny but useful. May I stay forever in the stream," she wrote in her caption.
Understanding Metastatic Breast Cancer
Nightbirde has proven that an advanced cancer diagnosis does not require that you stop living. Metastatic breast cancer – also called "stage four" breast cancer – means that the cancer has spread, or metastasized, beyond the breasts to other parts of the body. It most commonly spreads to the bones, liver and lungs, but it may also spread to the brain or other organs.
When Breast Cancer Spreads to the Bones
And while there is technically no cure for metastatic breast cancer, there is a wide variety of treatment options used to battle the disease including hormone therapy, chemotherapy, targeted drugs, immunotherapy and a combination of various treatments.
In a previous interview with SurvivorNet, Dr. Elizabeth Comen, an oncologist with Memorial Sloan Kettering Cancer Center, explained how she tries to manage breast cancer when it has progressed to a later stage.
"With advanced disease, the goal of treatment is to keep you as stable as possible, slow the tumor growth and improve your quality of life," she said.
The American Cancer Society reports that there were more than 3.8 million U.S. women with a history of breast cancer alive at the start of 2019. Some of the women were cancer-free, and others still had evidence of the disease, but they also reported that more than 150,000 breast cancer survivors were living with metastatic disease, three-fourths of whom were originally diagnosed with stage I-III. And with ongoing advancements in treatments and options out there today that can dramatically reduce systems, there are many reasons to be hopeful.
Processing the Emotions of a Cancer Journey
Nightbirde has inspired millions with her relentless positivity, but that doesn't mean her cancer journey has been without sadness and strife. She's said "nobody can be a ball of sunshine every day," and it's true. It's very normal to have negative feelings throughout your cancer journey – and it's okay to express them too! Anger, shame, fear, anxiety – they're all to be expected.
Evelyn Reyes-Beato is another resilient woman who's also had to deal with the complexity of emotions during a cancer journey. The colon cancer survivor comes from a culture where health issues and feelings aren't normally talked about, but she found that expressing her emotional pain was a big factor in helping her overall physical health.
You Just Have to Let it Out: Survivor Evelyn Reyes-Beato on Healing Emotionally After Cancer
"You have to let it out," Evelyn previously told SurvivorNet. "Your mental and your emotional help your psychical get in line. If you keep all of the emotions in, the way I see it, is that stuff is going to eat you up inside and it's not going to let you heal."
Danielle Ripley-Burgess, a two-time colon cancer survivor, is another inspiring cancer survivor. She was first diagnosed with colon cancer in high school and proceeded to beat the disease not once, but twice. Understandably so, Ripley-Burgess has had to work through a lot of emotions that came with her cancer and its recurrence. Even still, she's always managed to look at life with a positive attitude.
How to Cope When Recurrence Rattles Your Faith At The Age of 25—Two-Time Colon Cancer Survivor Danielle Ripley-Burgess Shares Her Story
"As I've worked through the complex emotions of cancer, I've uncovered some beautiful things: Wisdom. Love. Life purpose. Priorities," she previously told SurvivorNet. "I carry a very real sense that life is short, and I'm grateful to be living it! This has made me optimistic. Optimism doesn't mean that fear, pain and division don't exist – they do. Our world is full of negativity, judgment, and hate. Optimism means that I believe there's always good to be found despite the bad, and this is what my life is centered around."
RELATED: Stay Positive, It Matters
She moves through life with a sense of purpose unique to someone who's been faced with the darkest of times. Happily in remission today, she's determined to, one day, leave the world better than she found it.
"We can choose to stay positive, treat others with respect and look for the light in spite of the darkness," she said. "This type of attitude and behavior will lead to the kind of legacies I believe all of us hope to leave."
Learn more about SurvivorNet's rigorous medical review process.