Our story about recent paparazzi photos of Alex Trebek – bald from chemo –generated a passionate response from the SurvivorNet family and other members of the pancreatic cancer community. The British tabloid that published the photos claimed Trebek, 79, looked "almost unrecognizable" and "frail and pale." Sun exposure, we'd like to note, is a major risk factor for skin cancer. And who gets dressed up to take out the trash?
We Asked Our Community
So, we asked our readers: "Is it OK for publications to snap and publish photos of Alex Trebek while he battles stage 4 pancreatic cancer?"
Read More
The responses were heartening: "Give the man space and personal peace," said wearetheavers. "Let's inspire each other," said victoriaeverest_  . "Nope," said katherineelizabeth1. "LEAVE HIM ALONE," says Flyguyunited11, adding, "YES, I AM SHOUTING."
RELATED: Alex and Jean Trebek Share the 'Jeopardy!' host's Inspiring Cancer Journey in a Prime-Time Special
Many who had endured a loved-one's pancreatic cancer, flooded the article's comment section to express their outrage: "My beloved husband died of Pancreatic Cancer," said dottieb.
Dr. Anirban Maitra co-leader of the Pancreatic Cancer Moonshot at MD Anderson Cancer Center on the importance of early detection. 
"It is a horrible disease. I am totally disgusted at the photographer and whoever wrote and published this article. Where is your compassion?" she continued, "Alex is a decent man that does not need this. I understand what his wife and family are living with and fighting. I am heartbroken for them. To the person that took this photo, please grow a heart."
RELATED: New Drug For Pancreatic Cancer Takes a Giant Step Forward
"He looks amazingly healthy for someone who's had pancreatic cancer," said Kathydi. "My husband had pancreatic cancer and he only lasted for 4 months and he was much younger than Alex. He hardly had the strength to get out of bed, never mind take out the trash."
"I think he looks strong!" says JamieUtitus. "My best friend was diagnosed with PC, stage 4 on Christmas and was dead by Feb 17th. He was only 43 and only made it six weeks. Alec looks like a miracle to me."
RELATED: "Stay Positive!" Alex Trebek Pens Touching, Private Note to Woman Pancreatic Cancer Survivor Who Worships Him
"A family member passed away from that same cancer a few months ago, less than a year after diagnosis," said Truth Lover. "Alex actually looks good. Wish they would find a cure, since it's a terrible disease."
"Please let this cancer patient have his privacy and dignity," wrote anneyt of Boston. "My brother had pancreatic cancer. Go turn a camera on him. He would hit you."
Beating the Odds: Trebek's Triumphs
On March 4, Trebek announced that he'd beaten the odds by surviving a full year since his cancer diagnosis. While the two-year survival rate is a slim seven percent, Trebek added that he
and his doctor were optimistic. In expressing hope, he included others fighting the disease in his message: 'You know something, if I — no — if we, because so many of us are involved in this same situation — if we take it just one day at a time with a positive attitude, anything is possible."
In mid-May, Trebek made a charming guest appearance on Paula Poundstone's podcast, offering career tips as the comedian contemplated starting her own game show (via Zoom) from her living room. He left no doubts about his stamina during cancer treatment, describing his 10-hour workdays, during "Jeopardy!" tapings.  "The trick," Trebek told Poundstone, "is to always be on the side of the players."
A six-time Emmy award winner, Trebek is again nominated (for the 32nd time) for "best game show host" when the 47th annual Daytime Emmy Awards airs on the 26th.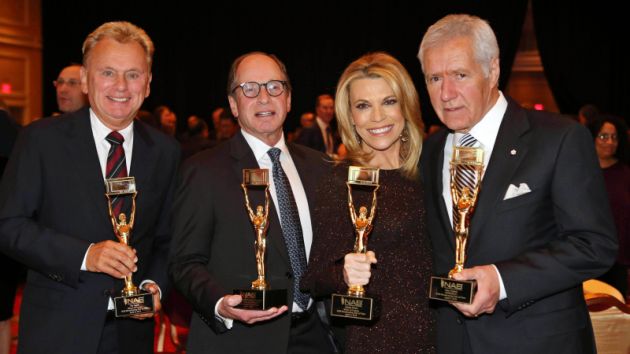 "I was concerned that sympathy might play a big role," he said, when he accepted the award in 2019, "I'm not a fan of sympathy votes, because I believe you should be judged on the merits of your work. However, I started thinking back to last year [2018]. I had just had major surgery to remove two life-threatening blood clots on my brain …. but I didn't win. So maybe I've been worrying about the wrong thing."
Those surgeries were not cancer-related. Trebek, who was 77 at the time shared on "Jeopardy!" social media: "I had a … subdural hematoma, blood clots on the brain caused by a fall I endured about two months ago."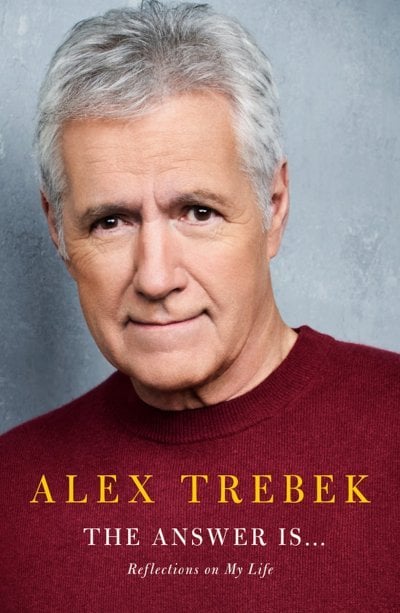 On July 21, the "Jeopardy!" host will release his memoir, "The Answer Is…: Reflections on My Life," one day after celebrating his 80th birthday
"For over three decades, Trebek had resisted countless appeals to write a book about his life. Yet he was moved so much by all the goodwill, he felt compelled to finally share his story," his publisher, Simon & Schuster, says of the highly anticipated book. "I want people to know a little more about the person they have been cheering on for the past year," he writes. The book will provide personal anecdotes and Trebek's insight on marriage, parenthood, education, success, spirituality, and philanthropy.
Like many celebrities facing cancer, Trebek initially considered keeping his diagnosis private. Instead, he's been open about his cancer journey and treatment options, posting updates, and giving interviews to raise awareness of pancreatic cancer, a disease that will be diagnosed in 56,000 Americans this year, according to the Pancreatic Action Network, (PanCAN).
Pancreatic cancer is a relatively rare form of cancer with only about a few hundred thousand new cases being diagnosed each year.  Unfortunately, this type of cancer is often detected late and treatment options are based on the stage of the cancer. Treatment options generally include surgery, chemotherapy, and radiation therapy but their impact can differ depending on how far along the cancer is.
According to the American Cancer Society, some of the risk factors associated with pancreatic cancer include tobacco use, diabetes, being overweight, age, and family history, along with many other potential factors.
Learn more about SurvivorNet's rigorous medical review process.
---