Famed "Jeopardy!" host Alex Trebek, who's battling with stage 4 pancreatic cancer, seems to make friends wherever he goes. Add to his long list of acquaintances the members of the Taft College Foundation in California — a relationship so meaningful to Taft that they recently traveled to pay their old friend a visit.
The friendship began, according to local Bakersfield station KBAK-TV, when Trebek approached Taft College because he was interested in learning about the oil industry.  "So they got together with me, they sent me some books about the subject, and I began learning a little bit about it," Trebek told the station.
Read More
Though he'd been to Taft's petroleum summit in 2015, he was asked to but couldn't host the 2019 summit due to his cancer, but sent a welcome video in his place.
Well, this year, the good folks at Taft came to him.
At a recent taping, they sat in the audience and waved signs with messages such as, "Taft College Loves You Alex!" for the cameras.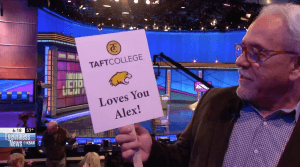 "For them to come down here is special," Trebek told WBAK. "It's party time for them. It gets them out of Taft, which is sometimes a good thing, and it just makes me feel so very comfortable and good to see them in our studio audience."
Alex Trebek's Cancer Journey
Trebek has been battling advanced pancreatic cancer for nearly a year now. When he first went public with his diagnosis in March 2019, he was met with an incredible amount of prayers, support and love from fans all over the world.
RELATED: Teen 'Jeopardy!' Winner Raises $200K for Pancreatic Cancer Research in Honor of Alex Trebek
When pancreatic cancer is diagnosed in advanced stages like Trebek's was, the prognosis is extremely poor. When pancreatic cancer is diagnosed at stage 4, that means it has spread to distant areas of the body — and the five-year survival rate is only 3%, according to the American Cancer Society.
However, Trebek has remained optimistic throughout his cancer journey. Despite the struggles that can come along with a cancer diagnosis, from depression to losing your hair, Trebek has remained dedicated to enjoying his life. He even said that he will continue to host "Jeopardy!" as long as he is able.
RELATED: Alex Trebek's 'Hair' Looks Amazing During Cancer Battle – Here's the 411 on Wigs
After admitting there were some disheartening setbacks with his treatment plan back in fall 2019, Trebek recently disclosed in an interview with 20/20 that he and his medical team may try a bit of experimenting to see if his cancer responds to a non-standard treatment.
"We may try a new protocol … a different chemo or something in the trial stage that is not chemotherapy," he explained. "I don't mind experimenting. I've got nothing to lose, so let's go for it."
Learn more about SurvivorNet's rigorous medical review process.