Finding Inspiration from the Bravest Among Us
Country music singer Toby Keith, 62, is a staunch supporter of the U.S. military. Many of his songs are laced with patriotism and inspired by the troops, including his father, who also served.
Keith appears to be on the tail-end of a stomach cancer journey that began in 2021.
Part of Keith's treatment includes chemotherapy. While we do not know the exact type of chemo he received, chemotherapy does come with side effects, which may include nausea, hair loss, or weight changes. The "Red Solo Cup" singer has lost noticeable weight during his treatment.
The singer also has received immunotherapy, which is a form of cancer treatment that uses the body's immune system to fight the cancer. This form of treatment may also have side effects but can be effective. The singer said his tumor has shrunk since starting cancer treatment.
Country music singer Toby Keith, 62, is known for his iconic patriotic themes and unwavering support for our troops. Songs like "Red Solo Cup," "Should've Been a Cowboy," and "Courtesy of the Red, White, and Blue" all have a story behind them with ties to Keith's patriotism and support for the military. Perhaps the most prominent of his top hits to fit this category is "American Soldier."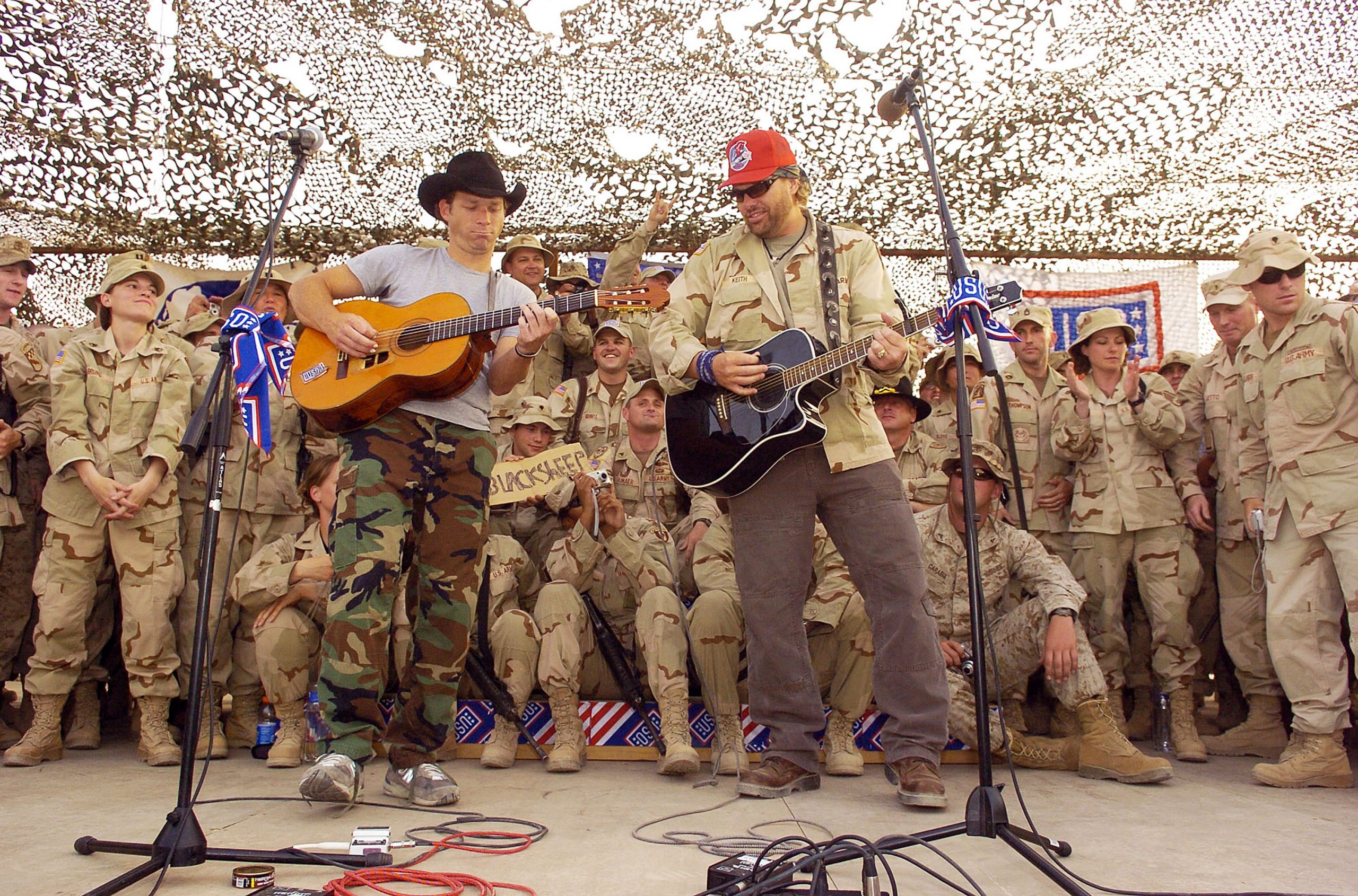 Keith grew up in a military family, as his dad bravely wore the uniform.
Read More
"My father was a soldier. He taught his kids to respect veterans. It's that respect and the thank you that we have a military that's in place and ready to defend our nation, our freedom," Keith once said to troops serving in Afghanistan, the Defense Visual Information Distribution Service
reports.
He shared with Country Music Television (CMT) that "Courtesy of the Red, White, and Blue" was inspired by his dad. "I thought about my dad, being the veteran he was and the flag-flying patriot he was," Keith
told
CMT. "He did lose his right eye. He did come home, and he never did gripe about it. So that's the reason I wrote the song — for him."
"American Soldier" was written to acknowledge U.S. servicemembers and their families.
Keith has performed in 17 countries, lifting the spirits of U.S. troops, according to the United Service Organization, a non-profit that supports military servicemembers and their families.
Keith's love of country and music helps bring the award-winning singer joy in life.
Toby Keith's Resilient Journey
Keith has been battling stomach cancer since 2021. He's since undergone treatment, which includes chemotherapy, radiation, and surgery. This summer, he revealed he's feeling pretty good and nearing the end of cancer treatments.
After his diagnosis, he stepped away from the big stage to focus on his health. After nearly two years of battling the disease, the "Red Solo Cup" singer recently revealed he's "feeling pretty good" in an interview with Country Now.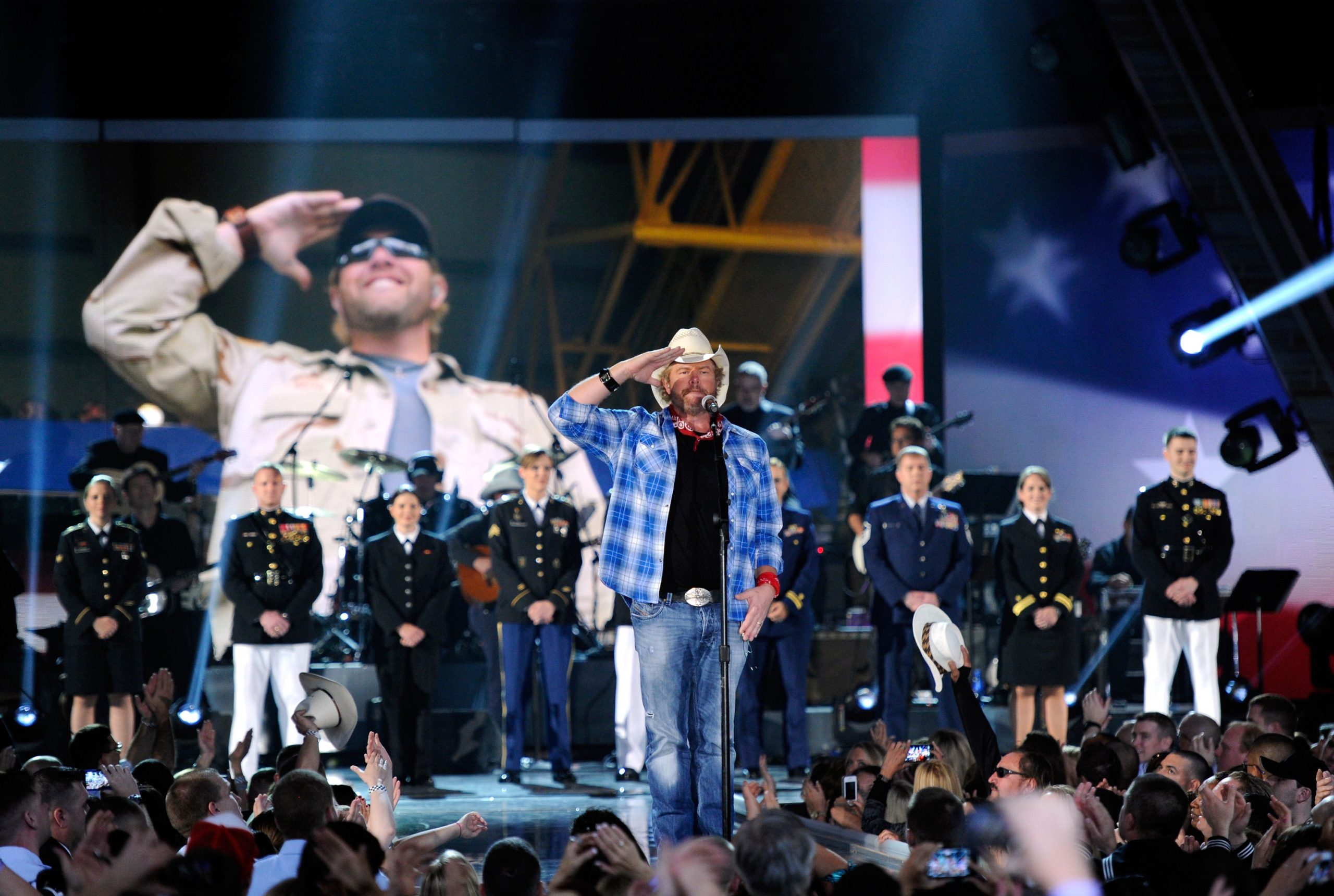 "I'm about another eight weeks from my last scan. So, I expect next time I look for that tumor to be even less, and I've only got one that's shown up," Keith said.
"Basically, everything is in a real positive trend. You never know with cancer, so you have to prepare," the country singer continued.
His treatment has involved chemotherapy and immunotherapy. Chemotherapy involves cancer-killing drugs given to patients orally or intravenously. Immunotherapy is a cancer treatment method that uses the body's immune system to fight cancer cells. We do not know what kind of chemo or immunotherapy he is undergoing for treatment at this time.
Based on Keith's comments and pop-up performances throughout the summer, the "Beer for My Horses" singer appears to be managing his treatments well. Side effects from chemotherapy and immunotherapy may include fatigue, nausea, diarrhea, and loss of appetite.
View this post on Instagram
"The side effects of immunotherapy are not, quote, forever," medical oncologist Dr. Anna Pavlick tells SurvivorNet.
"Depending upon the severity depends upon how we manage it. Some patients will get diarrhea, and we can give them treatments to calm down their diarrhea, and it lasts a couple of days," Dr. Pavlick continued.
Understanding Stomach Cancer
Stomach cancer (also called gastric cancer) starts in the cells lining the stomach, according to the National Cancer Institute. Symptoms may include bloating, indigestion, and loss of appetite. More severe symptoms may include bloody stools and jaundice.
Treatment options for stomach cancer may include surgery, radiation, chemotherapy, targeted therapy, and immunotherapy. Your care team will decide the best treatment option depending on your overall health and the maturity of the cancer.
Questions to Ask Your Doctor
If you or a loved one are faced with cancer and wondering how treatment may affect your life, here are some questions you may consider asking your doctor to help get the conversation started:
What are the potential side effects of my treatment?
How will treatment affect my ability to continue my usual activities?
Are there ways to manage side effects of the treatment?
When would I be able to get back to normal activities?
I want to find other ways to occupy my time while going through treatment. Can resources help me find activities that make sense for me?
Learn more about SurvivorNet's rigorous medical review process.
---