Andrew Lloyd Webber Reveals Suicidal Thoughts During Former Cancer Battle
Cats creator Andrew Lloyd Webber battled prostate cancer which left him impotent and gave him thoughts of suicide due to the pain of his cancer. He was declared cancer-free in 2010.
Prostate cancer is screened for via PSA (prostate-specific antigen) test, which looks for PSA in the bloodstream.
If you're having thoughts of suicide or experiencing depression during your cancer battle, reach out to a loved one for help and connect with a mental health professional.
Andrew Lloyd Webber, the 73-year-old impresario of musical theatre was declared cancer-free from prostate cancer in 2010, but his road through the disease was not an easy one, he reveals in his memoir.
Lloyd Webber, the creator of The Phantom of the Opera, Jesus Christ Superstar, Cats, and more, was rendered impotent by his cancer battle. He was also in so much pain from his cancer battle that it led him to think of suicide by overdosing on painkillers. According to the Daily Star, in his memoir, Unmasked, Andrew writes, "I did think of suicide. It was so painful and I couldn't sleep."
Read More
Lloyd Webber was on many "ridiculous" painkillers, and he says that for him they weren't completely effective. So he thought, "'I shall take the whole lot of them.'" Webber's latest production in London's West End, 
Cinderella,
 has been pummeled by cases of Covid-19 among the performers and theatre staff, and Omnicron-related restrictions in the UK.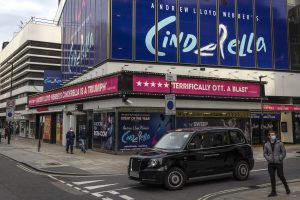 How Do You Screen for Prostate Cancer?
Prostate cancer is screened for via PSA (prostate-specific antigen) test, which looks for PSA in the bloodstream. In a previous interview, Dr. James Brooks, a Urologic Oncologist at Stanford Medicine, said, "Current guidelines are to start screening at age 55 and continue screening through age 70."
"The reason for that is prostate cancer diagnosed after age 70 has a reasonably low probability it's going to take your life because prostate cancer, even in its aggressive forms, when it's localized is a relatively slow-growing cancer."
Dr. David Wise added, "Men who are at high risk because of a family history should have PSA testing earlier. At the latest, age 40, but probably even by age 35, they should have an initial PSA. That PSA test at a younger age, it's a more accurate test because the prostate has not increased in size, which can cause the test to be more difficult to interpret."
When Should I Get Tested for Prostate Cancer?
Caring for Your Mental Health During Cancer
A cancer diagnosis may lead to grief, depression, and anxiety. A small percentage of people diagnosed with cancer (around 15%) experience clinical depression and may lead to thoughts of suicide, like those Lloyd Webber experiences. Taking steps to feel better may include speaking with a therapist, or taking anti-depressant medications.
While battling cancer, it's important to try to focus on the good, stay positive, and do things that bring you joy, to the degree you're able to do so. Dr. Dana Chase, a Gynecologic Oncologist at Arizona Oncology, said in an earlier interview, "We know, actually from good studies, that emotional health, quality of life is associated with survival, meaning better quality of life is associated with better survival, better outcomes," she said.
Dr. Chase recommended incorporating activities that bring you joy into your day-to-day life. "So definitely, working on your emotional health, your physical well-being, your social environment, your emotional well-being, definitely working on those things and making them better are important and can impact your survival. If that's related to what activities you do that bring you joy, then you should try to do more of those activities."
What Still Brings You Joy? Your Emotional Health is So Important to Living with Cancer
Learn more about SurvivorNet's rigorous medical review process.