The Importance of Advocating for Your Health
Meg Kinnard, 41, is a politics reporter for The Associated Press currently undergoing treatment for an aggressive and rare type of breast cancer called inflammatory breast cancer.
Her diagnosis came after doctors dismissed her initial symptom and then gave her an incorrect first diagnosis.
Being your own advocate can be key to coming to a correct cancer diagnosis and obtaining the best treatment possible while dealing with a diagnosis. Kinnard's message to other women is that if you notice something, "demand" that it's addressed.
Symptom dismissals and misdiagnoses are not unheard of in the world of cancer. Unfortunately, Meg Kinnard had to deal with both, but after a harrowing breast cancer journey, she's happy to report she has no evidence of disease. Now she's on a mission to remind others to advocate for their health.
Kinnard has been a journalist for the past two decades, but the last 16 years of her life have been dedicated to politics reporting for The Associated Press in South Carolina. The 41-year-old mother of three is used to sharing stories about other people, but now she's getting used to sharing more about herself. In an Instagram post on Oct. 19, she gave the most exciting announcement of her breast cancer journey to date: No evidence of disease.
View this post on Instagram
Read More
"When I was first diagnosed with Stage 3 breast cancer earlier this year, I said that I had every intention of rolling into 2022 cancer-free," she wrote in her caption. "This morning, I found out that I beat my goal by a couple of months. NO👏 EVIDENCE 👏OF 👏 DISEASE."
The update was celebratory in nature, but Kinnard never misses an opportunity to educate.
"Thank you, everyone, for the kindness & encouragement you've shown over this past year," she wrote. "Although my type of cancer has a high recurrence rate, thanks to the clinical trial I'm in at @mdandersoncancercenter I'll be able to have scans every 3 months, so I can stay on top of it. Finally, I am posting this from HOME. It feels so good to be back in South Carolina. And you know what's coming … Self-exam. Get a mammogram. Advocate for yourself."
And although she's taking the time to enjoy the victory of the moment, Kinnard is not forgetting that it took almost four years to get to the correct diagnosis. As a result, she feels an obligation to share her breast cancer journey so that others can learn from her experience.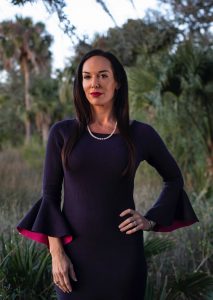 The First Sign
Kinnard was doing a self-exam in 2017 when she found what felt like a small pebble in her left breast. She was 37 at the time without a family history of breast cancer, so mammograms were not yet recommended, but she sought one out anyway. She was then told her lump was a calcium deposit and nothing to worry about. As time went on, she had periodic follow-ups but was still told it was nothing of concern even though her entire left breast began to hurt and became inflamed.
"Those are words that you're supposed to want to hear from healthcare providers, 'Everything is okay, we're just gonna keep an eye on it, but we don't have to do anything right now,'" she told SurvivorNet. "Part of that is relief, but the other part is kind of a nagging feeling that you try to push down… And as I went through the ensuing several years of monitoring and still being told that everything looked okay, that part of me was very much still there and still on alert and still worried and still thinking that there was more to this."
The First Diagnosis
It wasn't until February of this year that a radiologist finally ordered a biopsy of the "calcium deposit." Her worries were confirmed: She was diagnosed with hormone-positive, Stage 3, invasive ductal carcinoma. She was told her type of breast cancer was common and curable but that she would have to undergo months of chemotherapy, a mastectomy and then weeks of radiation. In the following weeks, testing detected another smaller tumor in her right breast but revealed that the cancer hadn't spread beyond her lymph nodes in her armpits and neck.
Once she received her diagnosis, Kinnard did not want any more delays. Fortunately, she was able to start chemotherapy treatments just three weeks post-diagnosis after a doctor friend rushed her tests and biopsies. A feat, she said, that wouldn't have been possible without the connection since COVID-19 had been overwhelming South Carolina's hospitals.
In a way, it was almost a relief to have her suspicions confirmed, but there was still some apprehension with this diagnosis.
"It was good to get a diagnosis," she explained. "But I definitely felt that I needed to also hear it from somebody else before feeling comfortable that I was on the right path."
The Correct Diagnosis
Thankfully, Kinnard did not stop there. She traveled to MD Anderson Cancer Center in Houston with her husband a week after her first chemotherapy treatment. There she was given an entirely different diagnosis: inflammatory breast cancer – a much more rare and aggressive form of breast cancer.
"There are so many times that I have sat and wondered if I couldn't have come [to MD Anderson] what would my outcome be?" she said. "None of us are guaranteed that we'll be cancer free or with no evidence of disease, but I know that my chances would be a lot lower, for any of that, if I hadn't been able to come here and to experience the cutting edge of cancer treatment."
The Course of Treatment
Luckily, her early start to chemo did not set her back, and she continued her 16 rounds of chemotherapy at her home on a weekly protocol directed by her new team with visits to Houston to monitor her progress every few weeks. She had to stay in Houston for longer, however, for surgery and radiation which began in August.
"My surgery was very involved," she explained. "Twelve hours long and with a double mastectomy as well as the removal of 64 lymph nodes and [a] lymphovenous bypass on six veins. I still have an open wound on the left side of my chest."
Ten days after surgery, she had an emergency procedure to remove a massive hematoma, a collection of blood outside of the blood vessels, but she made it through. Now Kinnard's almost done with her five weeks of twice-daily specialized radiation. She'll wrap up on Oct. 18.
"It's kind of hard to think about it in single digits now," she said on Thursday. "But I have just five more actual treatments… and then I'm going to be part of a clinical trial, as well."
The clinical trial with MD Anderson, which will span over the course of the next two years, will be testing the use of Keytruda, a type of immunotherapy, for inflammatory breast cancer patients. The drug is already used to treat other types of breast cancer, but researchers are hoping it will work well for the more aggressive inflammatory breast cancer.
"I'm very, very, very thrilled to be part of that research," she said. "That's how cutting edge science works is putting in the time. And I'm thankful that I can be able to do that but I do get to go home, at least for a little bit, starting next week."
For Kinnard's long-term cancer care, she'll be doing a five to 10-year regimen of hormone-blocking medications to keep her cancer from returning. She'll also be returning to MD Anderson for the rest of her life for checkups.
How She's Made it Through
Kinnard's cancer journey has had no shortage of challenges. After an initial dismissal of her first symptom, a misdiagnosis, a worse correct diagnosis and an intense series of treatments, it's safe to say that she's been through a lot. But, thankfully, she's been able to find the support she needs when she's needed it most. Her faith, for starters, has played a huge role throughout her cancer journey.
"I can tell you that there's nothing more important that I've received in this whole journey than someone's positive thoughts and earnest prayers, and I'm so thankful for every single one," Kinnard said.
Her husband, mother, kids, friends and even her work, has also helped her take everything one step at a time and keep moving forward.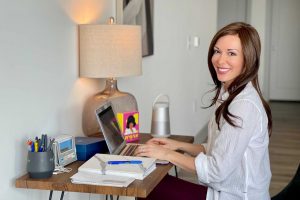 "I'm professionally supported, I'm personally supported and it has been a godsend, not only to feel that but, you know, also to have the ability to feel like I can still do my job effectively."
Yes, you heard that right. Kinnard has been working throughout her cancer journey. In fact, she only took about two weeks off after her big surgery.
"I have continued to report on politics and legal affairs and other bits of news pretty much the whole time," she said. "It has definitely been mentally sustaining to me to have a job that I enjoy doing and feel like doing through all of this. It helps keep me grounded in a life, or a part of life, that has nothing to do with cancer, something that feels normal to me. Something that has been part of my life for 20 years well before cancer was part of it."
Understanding Meg Kinnard's Diagnosis
Meg Kinnard's diagnosis was ER-positive, PR-positive, HER2-negative inflammatory breast cancer.  Inflammatory breast cancer (IBC) is rare and only accounts for 1 to 5 percent of all breast cancers.
Symptoms of this type of breast cancer are caused by cancer cells blocking lymph vessels in the skin causing the breast to look "inflamed." Symptoms include breast swelling, a purple or red color of the skin and dimpling or thickening of the breast skin sometimes making it look and feel like an orange peel. You also might not feel a lump – though Kinnard did – even if it is there. And like other potential signs of cancer, if you do have exhibit any of these symptoms, it does not necessarily mean that you have IBC. Still, you should see a doctor right away.
But in order to fully understand that diagnosis, we have to understand the concept of receptors. Looking into whether or not the breast cancer cells have certain receptors – the estrogen receptor, the progesterone receptor and the HER2 receptor – can help identify the unique features of the cancer and help personalize treatment. In Kinnard's case, she had the estrogen receptor and the progesterone receptor, but not the HER2 receptor.
The Unique Features of Breast Cancer: Deciding the Right Course of Treatment
"These receptors, I like to imagine them like little hands on the outside of the cell, they can grab hold of what we call ligands, and these ligands are essentially the hormones that may be circulating in the bloodstream that can then be pulled into this cancer cell and used as a fertilizer, as growth support for the cells," Dr. Elizabeth Comen, a medical oncologist at Memorial Sloan Kettering Cancer Center, told SurvivorNet in a previous interview.
RELATED: Treatment for HER2-Positive Breast Cancer
One example of a type of ligand that can stimulate a cancer cell is the hormone estrogen, hence why an estrogen receptor positive breast cancer will grow when stimulated by estrogen. For these cases, your doctor may offer treatment that specifically targets the estrogen receptor. But for HER2 positive breast cancers, therapies that uniquely target the HER2 receptor may be the most beneficial.
Advocating for Your Health
Almost every one of Meg Kinnard's social media posts or interviews about her cancer journey now includes her mantra: "Self-exam. Get a mammogram. Advocate for yourself." A big reason for that is because she recognizes that her experience highlights the importance of advocating for your health. And she wants women, in particular, to "trust their gut."
"I would love for other women to trust themselves," she said. "We are our own best advocates. We are the people who are in the best position to pay the closest attention to what's going on with our own bodies. Nobody else can feel a pain that we might feel. Nobody else will be aware of the smallest nuance of a change to something that's going on."
Her message: If you notice something, "demand" that it's addressed.
"It is very easy, particularly for women, to put others before ourselves in terms of making sure that a kid gets to an appointment, or that a parent or another loved one has a ride to get to a doctor when they need to get there," she said. "We need to remember to do those things for ourselves as well. So, it's a double edged thing, but it's listening to your body, and what it's trying to tell you, and then ensuring that you get that message in front of your health care providers."
And even if you do all of that, she says, you can still seek another opinion if you feel so inclined.
"You have options," she said. "Initially when I was diagnosed, all I wanted was an affirmation of what I'd been told… But I didn't get that, I got even something better. And that was a more specific, correct tidbit of information. So, you don't just have to stop with that first step, you can keep pushing to make sure that you get the right answer for what's really going on."
You have every right to insist that your doctors investigate any possible signs of cancer, other avenues for treatment or the potential of a different diagnosis. And if you simply don't know what's causing a change to your body, you should still seek professional help. You never know when speaking up about a seemingly unimportant issue can lead to a very important diagnosis – cancer or otherwise.
Be Pushy, Be Your Own Advocate… Don't Settle
"Every appointment you leave as a patient, there should be a plan for what the doc is going to do for you, and if that doesn't work, what the next plan is," Dr. Zuri Murrell, director of the Cedars-Sinai Colorectal Cancer Center, told SurvivorNet in a previous interview. "And I think that that's totally fair. And me as a health professional – that's what I do for all of my patients."
In a previous interview with SurvivorNet, April Knowles explained how she became a breast cancer advocate after her doctor dismissed the lump in her breast as a side effect of her menstrual period. Unfortunately, that dismissal was a mistake. Knowles was diagnosed with metastatic breast cancer at age 39. She said the experience taught her the importance of listening to her body and speaking up when something doesn't feel right.
I Wanted My Doctor To Like Me, Then He Missed My Breast Cancer
"I wanted my doctor to like me," she said. "I think women, especially young women, are really used to being dismissed by their doctors."
Figuring out whether or not you actually have cancer based on possible symptoms is critical because early detection may help with treatment and outcomes. Seeking multiple opinions is one way to ensure you're getting the care and attention you need.
Another thing to remember is that not all doctors are in agreement. Recommendations for further testing or treatment options can vary, and sometimes it's essential to talk with multiple medical professionals.
Learn more about SurvivorNet's rigorous medical review process.