Understanding Treatment Options for Melanoma
"Real Housewives of Beverly Hills" star Teddi Mellencamp, 42, struggles with melanoma after roughly a dozen bouts with the dangerous form of skin cancer. She revealed in an Instagram post she tried a new immunotherapy cream treatment that hasn't proved effective so far.
Melanoma is a type of skin cancer that starts in the same cells that give your skin, hair, and eyes their color.
You're most likely to find melanoma on sun-exposed skin areas like your face, neck, arms, and legs. However, you might also find them in your feet, eyes, and mouth.
While we don't know the exact type of immunotherapy Mellencamp uses for treatment, several Food and Drug Administration-approved medications are available to patients.
Mellencamp hopes her experience encourages others to take precautions for early detection. Catching the cancer early and having it treated leads to a high survival rate. Treatments, including targeted therapy and immunotherapy, give diagnosed people a better chance of living a long and healthy life than ever before.
"Real Housewives of Beverly Hills" star Teddi Mellencamp, 42, has been plagued with melanoma for years, and now the reality TV star has hit another snag along her journey to relief. She revealed she tried a topical cream, hoping for promising results, but little to no progress has emerged so far. A photo of her shoulder shows reddish markings on her skin she hoped would have blistered since applying the cream, which would indicate healing.
The popular Housewives star has dealt with roughly a dozen bouts with melanoma. She's publicly shared her skin cancer journey with supportive fans because she wants to spread awareness through her experiences.
Read More
RELATED: Treating stage zero melanoma.
View this post on Instagram
"It's been 12 days since I started the immunotherapy cream on my shoulder, and sadly, it has not blistered yet. Blisters = it's working. So my doctors are upping the dosage in the hopes that kicks it into gear," Mellencamp wrote in an Instagram caption.
She indicated a possible skin graft is on the table as she and her medical team continue trying to treat her skin condition.
"We are going to have to take the next steps – which is a full skin graft of my shoulder, taking the skin from my lower abdomen. Let's just say I have never prayed so hard for some blisters," Mellencamp added, hinting at the next phase of her journey to recovery.
RELATED: 'A Game Changer': New Combination Immunotherapy for Advanced Melanoma Offers More Options For Patients
A silver lining to Mellencamp's experience is her continued push to spread awareness about melanoma.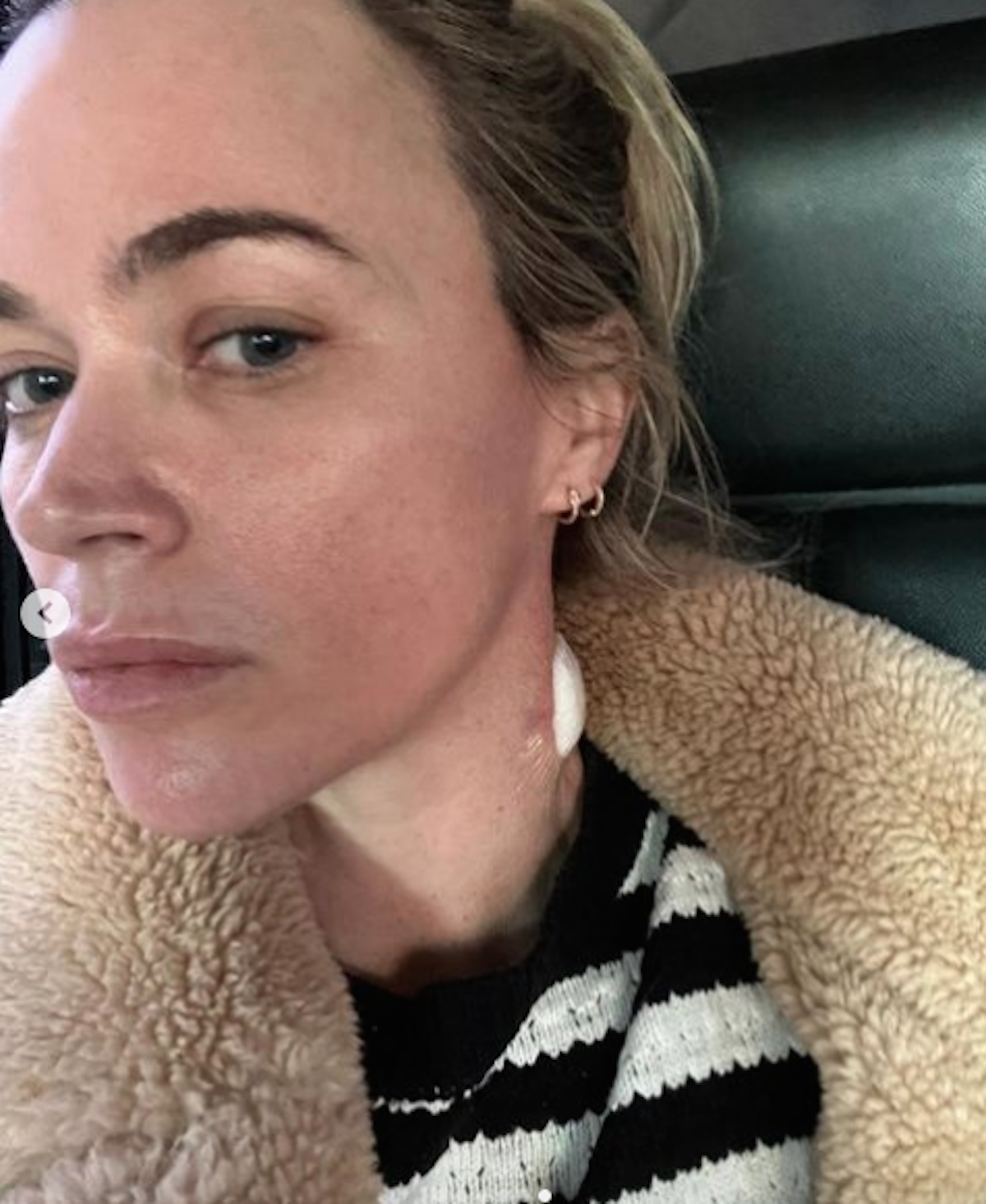 "As always, thank you for your love and support and for sharing your own stories. This all gives me strength to push through and continue to share mine," Mellencamp said.
Instagram user Susan Lussier offered words of encouragement to Mellencamp.
"As someone with both a sibling and a parent who have had melanoma, I just want to thank you for spreading awareness. I am sending you my prayers and positive thoughts," Lussier wrote in a comment.
Turning to Immunotherapy to Treat Melanoma
Immunotherapy helps patients fight melanoma by enabling their own antibodies to attack cancer cells. While we don't know the exact type of immunotherapy Mellencamp uses for treatment, several medications are available to patients. Some people may not be candidates for this therapy, and side effects vary from person to person.
"When immunotherapy came on the market, it was such an exciting time for everyone involved in the care of melanoma, the main reason being is it went from this scary unmanageable cancer with no treatments to one that could potentially have a long-lasting result with patients absolutely never having to worry about their melanoma," explains Dr. Cecilia Larocca, a dermatologist at Dana Farber Cancer Institute.
FDA-Approved Immunotherapy for Melanoma
There are several FDA-approved immunotherapies for melanoma. Each is approved for certain instances of melanoma.
Tebentafusp-tebn (Kimmtrak)
Aldesleukin (Proleukin)
Atezolizumab (Tecentriq)
Dostarlimab (Jemperli)
Interferon alfa-2b (Intron A)
Ipilimumab (Yervoy)
Nivolumab (Opdivo)
Peginterferon alfa-2b (Sylatron/PEG-Intron)
Pembrolizumab (Keytruda)
Talimogene laherparepvec (Imlygic)
Imiquimod (Aldara)
WATCH: Turning to Immunotherapy.
Understanding Melanomas and How to Cope
Melanoma, as Teddi Mellencamp has had, is the most dangerous form of skin cancer. It starts in the same cells that give your skin, hair, and eyes their color. In melanoma, the cells change in a way that allows them to spread to other organs.
Changes to a mole you've had for a while or a new growth on your skin could be signs of melanoma, according to SurvivorNet's experts. You'll want to watch them and tell your doctor about any changes you notice.
You're most likely to find melanoma on sun-exposed skin areas like your face, neck, arms, and legs. Surprisingly, you might also find them in other places as well, like:
The palms of your hands or soles of your feet
On your eyes or mouth
Under your nails
SurvivorNet experts recommend avoiding unprotected sun exposure because ultraviolet (UV) radiation can lead to melanoma. Tanning beds pose ultraviolet radiation risks for skin cancer and should be avoided. Many dermatologists recommend using spray tans to reduce the risk of melanoma skin cancer.
WATCH: How do you perform a skin check using the ABCDEs?
What Are the Symptoms of Melanoma?
The most important thing to look out for when it comes to finding melanoma is a new spot on your skin or a spot that is changing in size, shape, or color, SurvivorNet's medical experts say.
When you check your skin, use the acronym ABCDE as your guide:
Asymmetrical moles: If you drew a line straight down the center of the mole, would the sides match?
Borders: Is the mole irregular or jagged?
Colors: Are there multiple distinct colors in the mole?
Diameter: Is the mole larger than 6 millimeters (mm), about the size of a pencil head eraser?
Evolution: Has the mole's color, shape, or size changed over time?
If you answered "yes" to any of these questions, our experts say it's time to see your dermatologist for a skin check.
RELATED: How is Melanoma Treated After Surgery? The Landscape of Therapies Explained
Treating Melanoma
With breakthrough treatments like targeted therapy and immunotherapy now available, people diagnosed today with melanoma have a much better chance of living a long and healthy life than ever before.
The American Cancer Society says the five-year survival rate for localized melanoma that has not spread is 99%. The five-year survival rate for melanoma that has spread to other body parts drops to 71% for regional spread and 32% for distant spread.
If you're diagnosed with melanoma, there's a good chance surgery will be the treatment your doctor recommends. Cancer removal usually leads to a cure in the early stages of the disease.
Mohs surgery might be an option for an early-stage melanoma close to the skin surface. This technique removes skin cancer, layer by layer, until all the cancer is gone.
Stage 1 melanoma surgery consists of simple, in-office removal of the cancerous cells by a dermatologist. If the cancer is thicker, your surgeon will remove it through a technique called wide excision surgery.
Stage 2 and stage 3 melanoma surgeries are performed by surgeons or surgical oncologists, not dermatologists. You may also have a sentinel lymph node biopsy to see if the melanoma has spread to the first lymph node where it's most likely to travel. If your cancer has reached this first lymph node, it may have spread to other neighboring lymph nodes and organs.
After surgery, the removed tissue and lymph nodes are examined to measure the melanoma and determine if it has clear margins. Clear margins mean the cells around the area of tissue that was removed don't contain any melanoma. When no cancer cells are left around the removed area, your cancer is less likely to return.
RELATED: Continued melanoma treatment after surgery.
Questions to Ask Your Doctor
If you are diagnosed with skin cancer, you may have some questions for your doctor. SurvivorNet suggests some of the following to help you on your cancer journey.
What type of skin cancer do I have?
What treatment options exist for my type of melanoma?
Will insurance cover this treatment?
Would treatment through a clinical trial make sense for me?
What resources exist to help manage my anxiety because of this diagnosis?
Learn more about SurvivorNet's rigorous medical review process.
---