Living a Healthy Life After Cancer
Comedian Kathy Griffin, 62, is making the effort to stay physically fit after battling lung cancer and having surgery on her vocal cords.
Griffin, who was diagnosed with stage 1 lung cancer in 2021 and declared "cancer free" after surgery, has since been focusing on her mental health and fitness.
Regular exercise, a balanced diet, and managing stress are what SurvivorNet experts recommend for people regardless of their health, but especially for cancer warriors and survivors.
"The more physically fit you are going through your cancer treatment, the fewer side effects you'll have and the faster you'll get back to your normal quality of life," Dr. Sairah Ahmed says.
Comedian and lung cancer survivor Kathy Griffin is an inspiration to anyone who has overcome disease as she's continues to make time for her health and fitness, something she often takes to her social media pages to share. In fact, she recently describing herself a "workout beast."
The 62-year-old Primetime Emmy Award-winner, was previously diagnosed with stage 1 lung cancer as a non-smoker in 2021 and has since been cancer-free.
Read More
However, her recovery journey—which follows having half of her lung removed amid treatment, in addition to vocal cord surgery is ongoing and it's something she's clearly focusing on.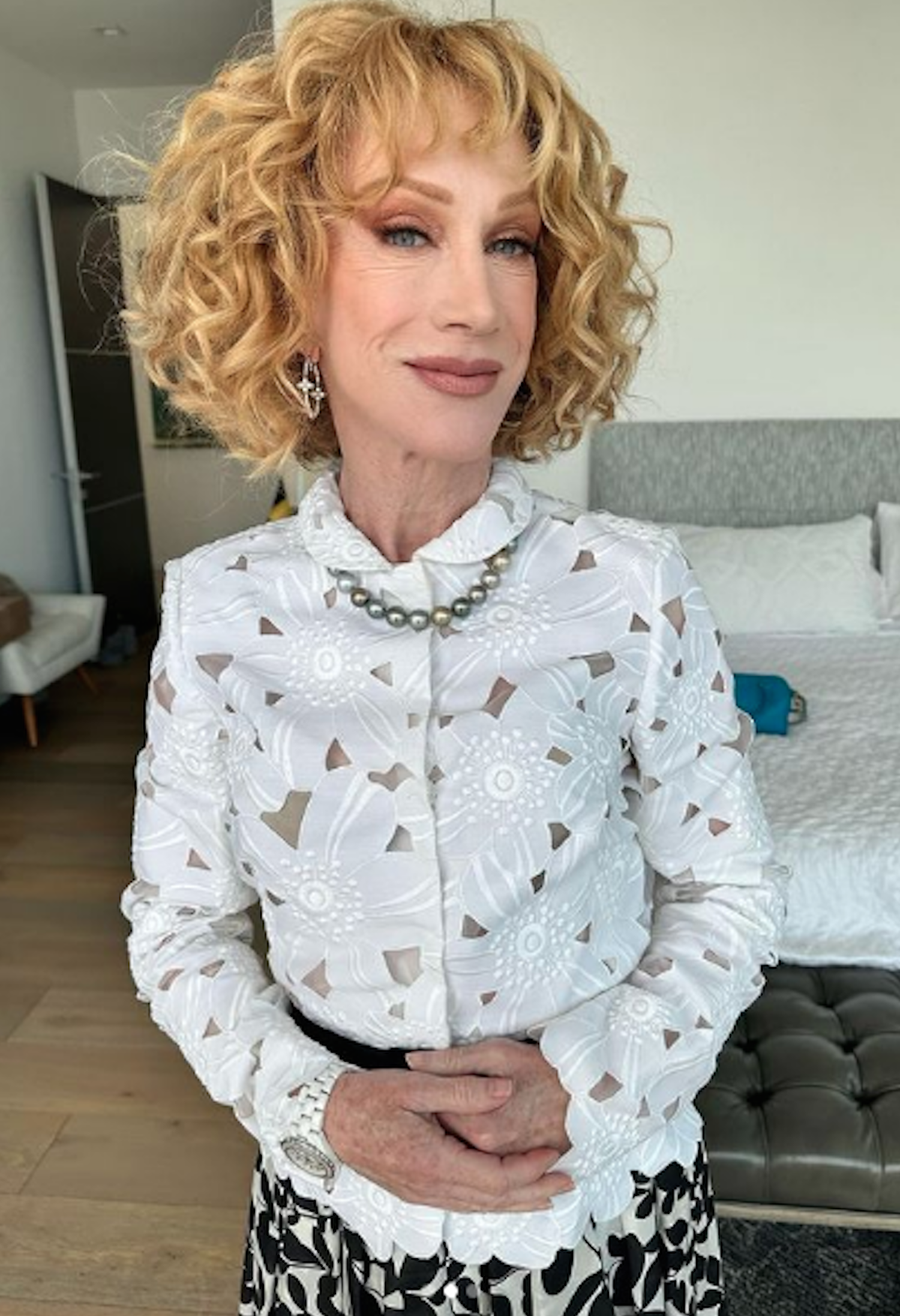 "Yesterday was the big storm so I'm not going to go in the water today. But I am back to doing my workout," Griffin said a recently shared video clip, posted on both her Instagram and Twitter. "I'm going to do these steps because it helps my lung capacity 'cause I had lung cancer."
She then proceeds to show a stunning staircase, alongside a beach, with many steps, adding, "It's like, wait … hold on, I don't even know if you can see it all the way. I think it's something like 280 [steps]. Ok. Here I go!"
Griffin, who hold a Guinness World Record for the most comedy TV specials, captioned the post on her Twitter page, "I'm a workout beast. #lungcancer #CancerSurvivor #Cancer."
I'm a workout beast. 😂 💪#lungcancer #CancerSurvivor #Cancer pic.twitter.com/vzXsM2vxjZ

— Kathy Griffin (@kathygriffin) August 21, 2023
"Werkin all day and night," the comedian wrote along her Instagram post, featuring the same video.
It's likely Griffin recorded herself while on a beach with a staircase in Malibu, California, or somewhere nearby, as two hours prior to that post, she shared a photo of the ocean, with the caption, "Are we sure there was a storm yesterday??? #Malibu."
Also, just one day prior to her post, she promoted one of her stand-up comedy specials being shared on YouTube and announced that she was "riding out the storm" amid Tropical Storm Hillary.
Kathy Griffin's Voice & Lung Cancer Battle
In August 2021, Griffin was diagnosed with stage 1 lung cancer and underwent surgery, where she had half of her left lung removed. In December 2021 she announced she was "cancer-free," however, the persisting effects of surgery plagued the comedian.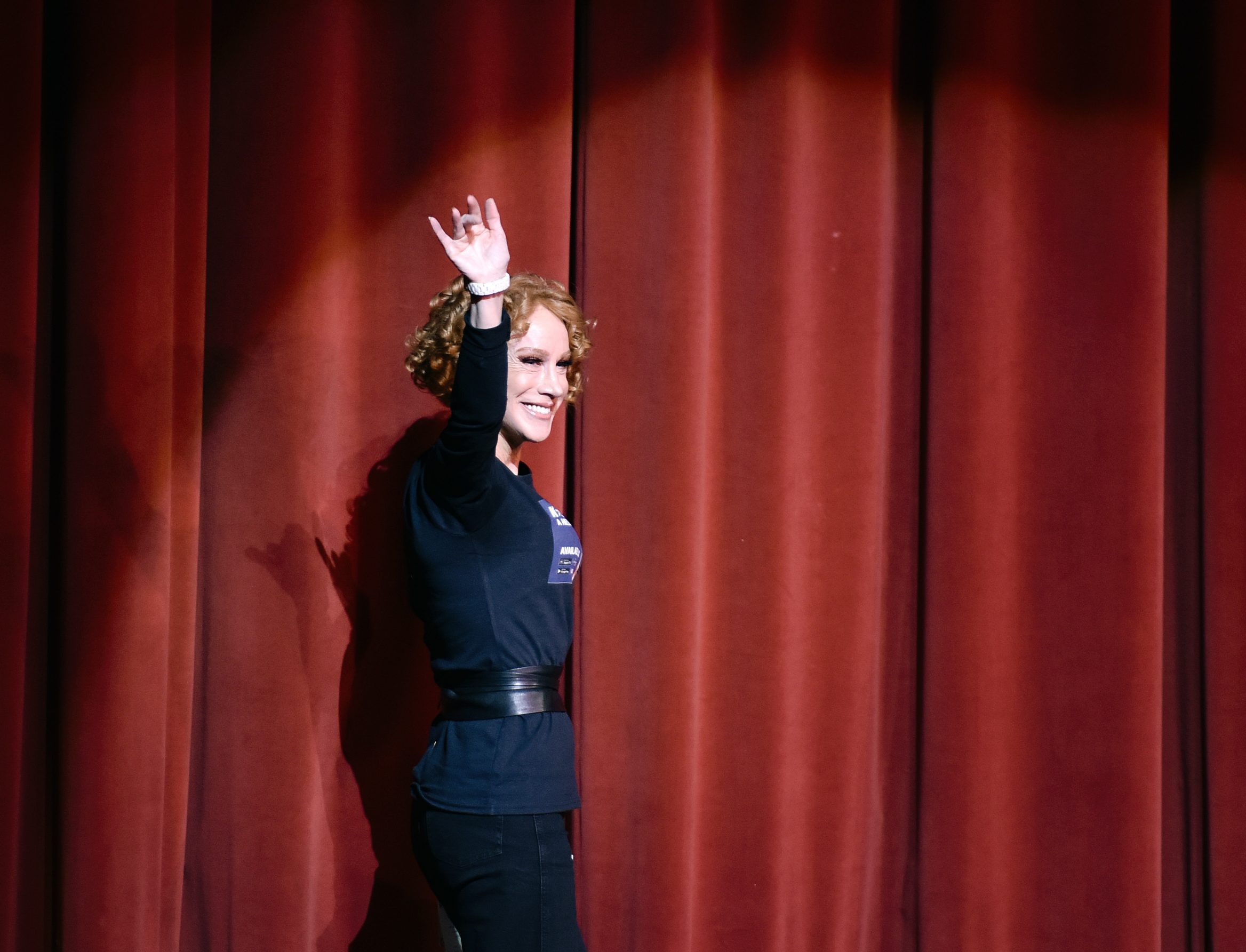 Her voice was left distorted due to intubation during the surgery. She described her voice as sounding like "Minnie Mouse meets Marilyn Monroe."
While working to reclaim her voice, she also wrestled with post-traumatic stress disorder (PTSD). She relied on close friends and family to help her overcome some of her mental health challenges.
More recently, Griffin underwent vocal cord surgery to help restore her voice to what it once was. Immediately after the procedure, she insisted she was in "good shape."
Living a Healthy Lifestyle
It's great to see Griffin maintaining a healthy lifestyle—and the general recommendations for a healthy lifestyle are the same whether you have cancer or not. Dr. Ken Miller, the Director of Outpatient Oncology at the University of Maryland Greenebaum Cancer Center, has some guidelines for cancer survivors who are concerned about a recurrence:
1. Exercise at least two hours a week and walking counts.
RELATED: Major Reduction in Cancer Risk by Following Old Standbys Diet and Exercise
2. Eat a low-fat diet. The Women's Intervention Nutrition Study, which looked at early-stage breast cancer patients, found that a low-fat diet was associated with reduced risk for cancer recurrence, particularly in those with estrogen receptor-negative cancers. Other studies have found that foods with a high glycemic index that are digested quickly and cause a spike in blood sugar may lead to tumor growth in lung cancer patients.
3. Eat a colorful diet with lots of fruits and vegetables. The American Cancer Society recommends aiming for two to three cups of vibrant vegetables and fruits each day.
4. Maintain a healthy weight. Studies have shown that being obese can increase your risk for several types of cancer.
Keeping Fit and Managing Stress
Just as a healthy and balanced diet is always important, staying fit with regular exercise has a numerous benefits for cancer warriors and their loved ones alike.
"The more physically fit you are going through your cancer treatment, the fewer side effects you'll have and the faster you;'ll get back to your normal quality of life," Dr. Sairah Ahmed told SurvivorNet. Dr. Ahmed is an associate professor in the Department of Lymphoma/Myeloma, Division of Cancer Medicine, at MD Anderson Cancer Center.
The Role of Diet and Exercise in Cancer Risk
Far from just physical fitness, Dr. Ahmed emphasizes the importance of emotional strength—both for patients and their loved ones.
"Stress control is often something that is not talked about and is not given much weight, but there is a lot of stress, both in terms of the patient who's going through cancer, as well as the family who has to support that patient," she says.
Of course, there are health worries. But there are so many more challenging factors to tackle, too.
Staying Active After a Cancer Diagnosis
"There's financial stress, there's emotional stress, and being able to deal with that as well as talk to professionals when you need it, is very important," she says.
"Staying on cancer treatment is the one thing that will help to cure your disease, and if you are so sad or so overwhelmed that that doesn't happen, then you're actually going to compromise your cancer treatment."
She recommends preparing for "stress" and seeking professional support if needed, as a key piece of preparing for cancer treatment.
Questions to Ask Your Doctor
If you find yourself facing a cancer diagnosis, like Griffin did, and need help preparing for your journey, beginning with your physical and mental health is a great start. Here are some questions you can ask your doctor to help you get started.
After sharing your typical diet with your doctor, ask what changes he or she recommends you make.
What areas of my body do you think I can focus more on in the gym to best prepare myself for cancer treatment?
When going through treatment, how can I stay active?
Are there interventions beyond medication for my depressed or anxious feelings?
How can I go about finding and nourishing these positive emotions?
What can I do if I'm struggling to maintain a sense of positivity?
What lifestyle factors can I adjust to feel better mentally?
Mental Health… How Are You Coping?
Smoking and Cancer Risk
Although Kathy Griffin never smoked, it's important to note that the American Cancer Society estimates that smoking causes approximately 20% of all cancers and about 30% of all cancer deaths in the United States.
"We know that there is a causal relationship between smoking and both incidents of cancer and the chance of dying from cancer," Dr. Andrea Tufano-Sugarman of NYU Langone Health told SurvivorNet in an earlier interview.
"And there are very few things in science that have a cause and effect relationship, but this is one of them, which is very powerful."
Lung Cancer in Smokers vs. Non-Smokers
The National Cancer Institute reports that tobacco use causes many cancers including cancer of the lung, larynx (voice box), mouth, esophagus, throat, bladder, kidney, liver, colon and rectum, stomach, pancreas and cervix, as well as acute myeloid leukemia (a type of blood cancer). Smokeless tobacco (snuff or chewing tobacco) users have increased risks of cancers of the mouth, esophagus and pancreas.
Lung cancer is the second-most common type of cancer (excluding non-melanoma skin cancer) in the United States. Remember, non-smokers still do get lung cancer, but cigarette smoking is the number one risk factor for the disease.
Tobacco smoke is made up of a mixture of more than 7,000 different chemicals, at least 70 of which are proven to cause cancer.
According to the Centers for Disease Control & Prevention, cigarette smoking is connected to approximately 80-90% of lung cancer deaths, and people who smoke cigarettes are 15 to 30 times more likely to get lung cancer or die from lung cancer than people who don't smoke.
Additionally, second-hand smoke can cause lung cancer. The CDC estimates that secondhand smoke causes more than 7,300 lung cancer deaths each year among U.S. adults who do not smoke.
"Cigarette smoking can cause cancer almost anywhere in the body," the CDC explains. "Cigarette smoking causes cancer of the mouth and throat, esophagus, stomach, colon, rectum, liver, pancreas, voicebox (larynx), trachea, bronchus, kidney and renal pelvis, urinary bladder, and cervix, and causes acute myeloid leukemia."
Contributing: SurvivorNet Staff
Learn more about SurvivorNet's rigorous medical review process.
---