Tarek Focuses on His Body After Beating Cancer
HGTV star Tarek El Moussa, 41, shares that he's excited about getting into the best shape of his life, following his cancer battles.
Tarek survived testicular and thyroid cancer.
Thyroid cancer will often present itself as a large bump (tumor) in the neck. It remains unclear what causes the disease. Some symptoms of thyroid cancer can be mistaken for a common cold.
Symptoms of testicular cancer include a lump in either testicle and a feeling of heaviness in the scrotum; perform self-checks to look for these things as it could be cancer.
HGTV star Tarek El Moussa, 41, beat cancer multiple times, and now he's determined to get into the best shape of his life after overcoming the disease.
El Moussa beat testicular cancer, thyroid cancer, and he also battled Covid during the pandemic.
Read More
The Long Beach, CA, native shared a gym video this week where he can be seen lifting weights and getting into great shape.
On Instagram, he writes, "The workout video that no one asked for and that you didn't know you needed 😂 I've always been into working out and have told myself that I wanted to get into the best shape of my life for YEARS, but here we are- it may be a few years later than I expected or wanted but hey, better late than never…"
 

View this post on Instagram

 
El Moussa thanks his support team, his trainer and coach. He continues, "Thank you to my friend, trainer and coach @seantorbati for pushing me- my workouts with him plus my diet and me staying consistent using @tru_supplements has gone a LONG way 🙌👏 Let me know if you guys would want more workout content from me… I think it'd be fun to post some of my routines or some things that motivate me but let me know what you think!"
El Moussa and his wife, Selling Sunset star Heather Rae El Moussa, 34, are currently expecting their first child together. The baby is due in early 2023. El Moussa has two children from his previous relationship.
 

View this post on Instagram

 
Tarek Beat Testicular Cancer: What Are the Symptoms?
Tarek is a survivor of testicular cancer. Each year, approximately 10,000 new cases of testicular cancer are diagnosed in the U.S. This is a cancer that primarily affects young men aged 15 to 35. The average age at the time of diagnosis of testicular cancer is about 33, according to the American Cancer Society.
Dr. Edwin Posadas, the medical director of the Urologic Oncology Program at Cedars-Sinai, tells SurvivorNet in an earlier interview that this disease often presents as an unusual lump. "It's not uncommon to see men come in with masses on their scrotum and have inflammation of the scrotal wall; they develop pain as a result. A lump is the most common symptom of testicular cancer."
Related: 5 Important Facts About Testicular Cancer, Including How to Screen for the Disease
Dr. Posadas also says that testicular cancer doesn't often present with pain, but it can. "Most men will present with some sort of mass on their testicle. A sexual partner or spouse may feel the mass when they're being intimate." He also says some men may notice blood in their ejaculate as a result of testicular cancer, which is a less common symptom.
In an earlier interview, Tripp Hornick reflects on the potential embarrassment some men might feel after a testicular cancer diagnosis, as with other intimate-body-part cancers, such as anal cancer. He tells SurvivorNet, "Shame is an important topic when it comes to cancer. And I think we as men have an awful lot that we can learn from what women have had to go through in breast cancer."
"The most important thing is to never become the victim and not to empower yourself as a victim," says Hornick. "There's nothing good and nothing positive about sending a message as a victim and a culture of victimhood. The way to turn the shame upside down, if you have it, is to show how strong you are."
"Those of us, the vast majority of people who have had [testicular] cancer and gone on to live very successful and happy lives– listen to those people. Listen to us. Listen to yourself."
Dealing With the Shame That May Come With Testicular Cancer
Understanding Thyroid Cancer
El Moussa also battled thyroid cancer. Thyroid cancer is a disease that begins in the thyroid gland, which is at the base of the neck. The cancer will often present itself as a large bump (tumor) in the neck. It remains unclear what causes the disease. Some symptoms of thyroid cancer can be mistaken for a common cold.
Dr. Scott Strome, a head and neck cancer surgeon who is currently the dean of the University of Tennessee College of Medicine, and previously was chair of head and neck surgery at the University of Maryland School of Medicine, explained thyroid cancer in a previous interview with SurvivorNet.
"We're now able to detect thyroid disease, thyroid cancers, much earlier than we used to be able to," he says. "We tend to see it predominantly in younger women, but it can occur in both men and women.  In most cases, I tell my patients that, 'Your thyroid cancer is a barnacle on the ship of life.'"
Still, he suggests finding an experienced thyroid expert for treatment.
"Folks who have thyroid cancer, they need to go to a really experienced thyroid setting and have folks who really understand the disease.  Those are for the most indolent type of thyroid cancers, called papillary," he says. "Thyroid cancer is a pretty interesting disease because papillary is a really indolent cancer.  On the other end of the spectrum, you have what's called anaplastic thyroid cancer, which may be one of (if not the) most aggressive cancers that we see. So it's a whole spectrum of disease."
Treatments for thyroid cancer can include surgery, hormone therapy, radioactive iodine, radiation, and chemotherapy. Symptoms of thyroid cancer include the following:
A lump in the neck, sometimes growing quickly
Swelling in the neck
Pain in the front of the neck, sometimes going up to the ears
Hoarseness or other voice changes that do not go away
Trouble swallowing
Trouble breathing
A constant cough that is not due to a cold
Focusing on Health Foods After Beating Cancer
El Moussa is a great example of someone who still prioritizes his health and wellness, even now after being cancer-free. Many people pay extra-attention to their diet during and after a cancer diagnosis.
Marisa Gholson, a Physicians Assistant at Compass Oncology, says in an earlier interview, "We get questions all the time about whether they should cut out dairy or sugar or soy. And basically what I tell patients is that you should eat a well-balanced diet."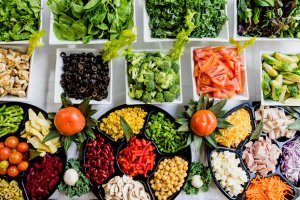 Gholson says, "There's not great evidence that cutting out sugar or dairy or soy is going to slow down or reverse the growth of your cancer. So I think just making sure that you're getting the nutrition that you need."
She says that due to some cancer treatments, like chemo, some people may lose their appetite during their cancer journey. "One of the side effects of chemo can be a loss of appetite," Gholson explains. "You can also taste changes. So when those side effects occur, I tell patients just to try and eat whatever tastes good and to supplement with nutritional shakes like Ensure or Boost, just to make sure that they're getting the nutrition that they need to make it through treatment."
"Everything in moderation," she says.
A Healthy Diet During Ovarian Cancer
Exercise During Cancer
As El Moussa knows, another component of wellness is exercise. Diet and exercise are the keys to being your best, no matter what kind of health issues you're going through.
Research has shown that people with cancer who do moderate exercise have no negative side effects. And people diagnosed with cancer who exercise regularly have 40%-50% less fatigue. (Fatigue is a common side effect of treatments like chemo).
Dr. Marleen Meyers, a medical oncologist and Director of the Cancer Survivorship Program at NYU Perlmutter Cancer Center, tells SurvivorNet in an earlier interview, "Lack of exercise actually begets fatigue. So the best treatment for fatigue is exercise. And what we have to do is get people over the hump, to get initial exercise going."
The Benefits of Exercise after Ovarian Cancer Surgery
Learn more about SurvivorNet's rigorous medical review process.