Bethenny Frankel's Battle With Skin Cancer
Bethenny Frankel was diagnosed with a type of skin cancer called basal cell carcinoma in 2017. She had surgery to remove the cancer, and she's since advocated for skin protection.
Following her cancer battle, the 52-year-old Real Housewives of New York star has cut down her alcohol intake due to other "medical issues." She had uterine fibroid tumors surgically removed earlier this year.
Last year, new and powerful evidence that drinking alcohol significantly increases cancer risk was revealed. In fact, the research published in 2021 suggests that 4% of global cancer cases in 2020 were attributable to alcohol consumption.
Skin cancer survivor and alcohol entrepreneur
Bethenny Frankel
, who is set to launch her new brand of Forever Young wine next year, has put a limit to how much alcohol she drinks following her recent struggle with a uterine fibroid condition.
The 52-year-old former Real Housewife of New York star and founder of Skinnygirl has just opened up about cutting back on her alcohol intake in an interview on PEOPLE's Every Day podcast.
Read More
Speaking to podcast host Janine Rubenstein, Frankel admitted, "
I stopped drinking hard alcohol
. I just drink the occasional wine. It's because of some medical issues, and I've been really on the case of getting to the bottom of some medical challenges I've experienced." Frankel — who founded Skinnygirl cocktails, low-calorie alcoholic beverages including wine, margaritas, vodkas, and ready-to-serve cocktails — decided to change her drinking habits after she had uterine fibroid tumors surgically removed earlier this year.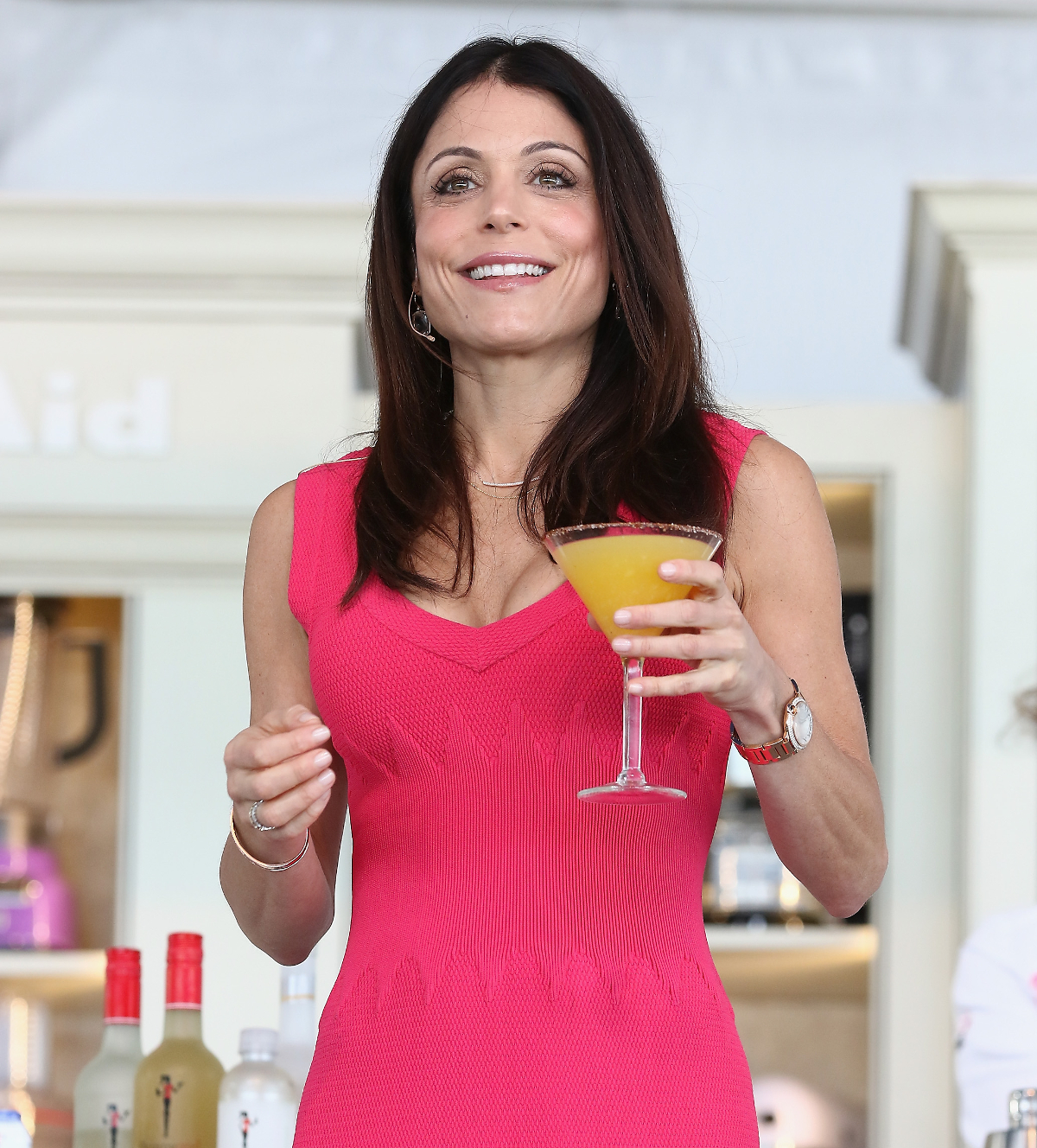 Bethenny Frankel's Cancer Journey
The
Real Housewives of New York
star was diagnosed with skin cancer in 2017 after noticing a spot on her face that was growing.
"I had a growth on my face that was enlarging. I guessed it to be a basal cell carcinoma and had it lanced and removed," Frankel told PEOPLE in 2017. "The doctor confirmed it is indeed basal cell carcinoma, a form of skin cancer, and says while it is cancer, I am lucky to have it removed — so it won't affect my overall health."
For treatment, she underwent an operation called Mohs surgery followed by plastic surgery to address any scars. Mohs surgery is a microscopically-controlled surgery where thin layers of skin cancer tissue are removed until the surgeon reaches clear tissue in order to hopefully ensure that all the cancer is removed.
"You're able to remove a very conservative margin around the cancer and study it in essentially real-time," Dr. Sumaira Aasi, a Professor of Dermatology and Director of Mohs and Dermatologic Surgery at Stanford, previously told SurvivorNet. "And we continue to repeat the process until the cancer is out."
After treatment, Frankel was cancer-free and became an advocate for skin protection.
"I am extremely lucky to have caught it in time, and it just goes to show you have to know your body and be very aware of any changes," she said. "This was a sharp reminder why it is so important that I religiously wear large hats to cover my face and reapply sunscreen.
"Always make sure to rub in spray-on sunscreen on your kids — spraying it on by itself doesn't cover them enough. Apply it thoroughly every two hours and check the expiration dates as sunscreen does expire; and sit in the shade whenever possible."
Linking Alcohol Consumption to Specific Cancers
Last year, new and powerful evidence that drinking alcohol significantly increases cancer risk was revealed. In fact, the research published in 2021 suggests that 4% of global cancer cases in 2020 were attributable to alcohol consumption.
According to the study published in The Lancet Oncology, more than 700,000 new cases of cancer worldwide in 2020 were attributable to alcohol consumption.
RELATED:  More than 700,000 New Cases of Cancer Worldwide In 2020 Were Attributable to Alcohol Consumption, New Research Suggests
The majority of the cases attributed to alcohol consumption (189,000 cases) were esophageal cancer cases. The second highest was liver cancer (154,000), and the third highest was breast (98,300).
According to the American Cancer Society, alcohol consumption can increase your risk for many different types of cancer. Considering cancers of the mouth, throat, voice box, and esophagus, for example, alcohol "clearly" increases risk. That being said, the ACS notes that drinking and smoking together puts you at a much higher risk for these cancers than drinking or smoking alone.
RELATED: There's a Proven Link Between Alcohol and Breast Cancer Risk — So Why Don't We Hear About It?
"This might be because alcohol can help harmful chemicals in tobacco get inside the cells that line the mouth, throat, and esophagus," the ACS website states. "Alcohol may also limit how these cells can repair damage to their DNA caused by the chemicals in tobacco."
When it comes to liver cancer, "long-term alcohol use has been linked to an increased risk." When you regularly drink a lot of alcohol, liver damage can occur and lead to inflammation and scarring — a possible explanation for the increased risk.
We also know there's a clear link between breast cancer and alcohol consumption. In November 2017, the American Society of Clinical Oncology published a statement citing evidence that links alcohol to multiple cancers and calling for reduced alcohol consumption as a way to cut people's cancer risk. But many women recently said they had been drinking more during the pandemic, and 70 percent weren't aware of the resulting increased cancer risk, according to SurvivorNet survey in February 2021.
Alcohol Can Increase the Risk of Developing Breast Cancer
In a previous interview with SurvivorNet, Dr. Elizabeth Comen, a medical oncologist at Memorial Sloan Kettering Cancer Center, said that every drink consumed increases cancer risk.
"What that means is a linear response to risk, meaning that each drink increases a woman's risk for breast cancer. So binge drinking, it's not good for anybody," she said. "And it's also not good for a woman's increased risk of breast cancer."
The ACS also reports that alcohol use has been linked with a higher risk of cancers of the colon and rectum with stronger evidence for this in men than in women, though studies have found the link in both sexes.
Does Alcohol Impact the Risks for Colon and Other Cancers?
Dr. Heather Yeo, a colorectal cancer surgeon at New York Presbyterian/Weill Cornell Medical Center, said she believes alcohol increases risk for certain cancers but acknowledged that the data was mixed, especially for colon cancer.
"I do think that high levels of alcohol certainly predispose to a certain number of cancers, including pancreatic and liver cancer, and may predispose to colon cancer," she said. "But there's also some data that shows that low levels of alcohol, or a glass of wine here and there, may actually lower your risk of colon cancer."
Perhaps 'In Moderation' is the Motto
It's important to note that alcohol consumption may increase the risk of developing these cancers, but it doesn't necessarily cause these cancers. That being said, it's hard to know what to do if you're concerned about your alcohol intake increasing your risk of various cancers.
Dr. Elizabeth Comen acknowledges the mixed messages coming from the healthcare community regarding alcohol consumption.
"I think we've probably been getting the public mixed messages about alcohol," Dr. Comen said. "In some instances, we say that drinking wine might be good for the heart, and we don't necessarily offer great specific guidelines about how much alcohol is safe to drink."
Dr. Comen's advice isn't to necessarily stop drinking altogether. She just wants people to think about moderation and own the decisions they make.
"Patients ask me this all the time, 'Well, how much can I drink?'" she said. "If you want to have absolutely no risk from alcohol, then don't drink at all. But probably having less than four glasses a week of alcohol is probably OK."
Dr. Heather Yeo also stressed the importance of moderation.
"For women, anything over a half a glass or a glass a day is probably not helping your overall health," Dr. Yeo said. "For men, they can probably go one to two glasses before they start seeing health effects."
Contributing: SurvivorNet Staff
Learn more about SurvivorNet's rigorous medical review process.
---