How to Save More Black Lives From Cancer
Black people are more likely to die from cancer than white people.
Fear and distrust prevent many people in minority groups from getting the screening tests they need.
Every Black American age 45 and older should talk to their doctor about cancer screening.
If you're nervous about seeing a doctor, ask questions and get a second opinion.
Cancer doesn't affect everyone who gets it in the same way. Black people are
more likely to die from their cancer
than are white people. The reasons for this disparity are numerous. Lower incomes, a lack of health insurance, and an absence of health care facilities close by all carry some responsibility for the worse outcomes in minority groups. Yet it doesn't have to be that way.
Related: Close the Gap—Racial Disparities in Cancer Care Are Devastating– Let's Change Things
Read More
"In the Black communities, we have people who are dying of cancer who shouldn't be,"
Dr. Karen Winkfield
, radiation oncologist at Meharry-Vanderbilt Alliance in Nashville, TN, tells
SurvivorNet
. "Sometimes it's because they may not know that cancer is a problem in the community, or maybe they don't have the time."
She goes on, "It's really important to make sure that we are taking care of our own health and our own bodies. That's the one thing we have control over."
Breast Cancer Surgeon Dr. Anita Johnson Explicitly Lays Out Ways We Can Close the Gap in Racial Disparity: "Access to Care is Key!"
Close The Gap
It's a sad fact of life in America that Black people are much more likely to die of cancer. Over the last two years, SurvivorNet has been focused on raising awareness about these huge disparities in cancer when it comes to race. The initiative is called "Close The Gap."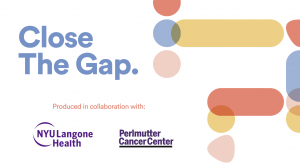 We are very happy to have NYU Langone and The Perlmutter Cancer Center as partners in this effort.
Screening Can Save Lives — But Only When It's Done
Doctors can't screen for every cancer, but when these tests are available they can save lives. For example, colonoscopy for colorectal cancer allows doctors to find and remove precancerous growths called polyps before they turn into cancer. Research finds this test not only reduces the risk of colorectal cancer, but also cuts the number of deaths from this cancer by more than half.
Related: Why Do So Few Black Men Get Colon Cancer Screenings? Closing the Racial Disparity Gap In Cancer at Forefront After Tragic Death of Chadwick Boseman, 43
Dr. Winkfield urges everyone age 45 and older to talk to their doctor about getting screened for cancer. Sometimes that's easier said than done. Insurance will cover the cost of the doctor visit and recommended screening tests, but only for people who actually have health insurance coverage.
"It's sometimes just hard to put food on the table. So thinking about going into the doctor and spending money to go and see somebody that you feel might not care about you could be tough. But your health is important," Dr. Winkfield says.
Fear is another barrier that keeps many Black Americans from getting screened. Research finds that Black women, who are more likely to die from breast cancer than white women, are afraid of what their doctor might find during a mammogram.
Dr. Winkfield stresses that it's better to know your results, because then you can do something about them. "The earlier cancer is found, the better the chance of a cure," she says.
Medical Mistrust
It's not surprising that Black people are so mistrustful of the medical profession, which has historically mistreated them. For 40 years, from the early 1930s until the early 1970s, the Public Health Service conducted a study of 600 Black men in Tuskegee, Alabama, without the men's consent or benefit. The Tuskegee Syphilis Study and other harrowing incidents like it have left Black Americans distrustful of doctors.
Related: The Infamous Tuskegee Syphilis Experiment– Understanding Why Some African-Americans Don't Trust The Medical System
Yet there are far more safeguards in place today than there were 40 years ago, Dr. Winkfield says. If you're nervous about seeing a doctor, she suggests doing a "litmus test." Ask them questions. "If you don't like what they're saying, and you don't like how they're saying it to you, you can get another doctor," she adds. "If you are feeling as if the doctor is not trustworthy or you don't feel like they have your best interest at heart, please get a second opinion."
The Advantages of Enrolling in a Clinical Trial
Clinical trials give researchers a chance to test out new treatments to find out if they're better at stopping cancer than the treatments currently available. Enrolling in one of these studies can give you an opportunity to try a new, and possibly more effective drug before it's available to everyone else.
Dr. Ted Teknos, president and scientific director of University Hospital's Seidman Cancer Center in Cleveland, explains why it's imperative for Black cancer patients to get access to clinical trials
The trouble is, very few Black patients enroll in these studies. If you're worried about participating, know that the people running the study will take every precaution to ensure your safety.
"Every institution has an institutional review board," Dr. Winkfield tells SurvivorNet. "They review the clinical trials to make sure that they're safe. In addition, there's a data safety monitoring board. The data safety monitoring board is an independent group of individuals that reviews the progress of a clinical trial to make sure that that clinical trial is being done safely and ethically. You will not be guinea pig."
Learn more about SurvivorNet's rigorous medical review process.
---