Mental Health During a Cancer Journey
Blink-182 bassist Mark Hoppus was fighting for his life last year while battling a type of blood cancer called diffuse large B-cell lymphoma. In a recent interview, he said he overcame a deep depression during chemotherapy treatments.
One of our experts says a cancer diagnosis can come with grief. He recommends talk therapy to help people cope with the change that a cancer diagnosis brings to a person's life.
Lymphoma, in general, is a type of blood cancer.The Leukemia & Lymphoma Society reports that every 3 minutes, one person in the U.S. is diagnosed with leukemia, lymphoma or myeloma.
Sneaky lymphoma symptoms often lead to a late diagnosis. People with lymphoma do not always have symptoms, but common ones are swollen glands in your neck, armpit or groin, fever, chills, night sweats, unexplained weight loss, feeling tired and swelling in your stomach.
Mental health should always be a part of the cancer care conversation. And blink-182 bassist Mark Hoppus, 50, is here to remind other survivors that things can get better.
Just over a year ago, Hoppus was feeling the lowest of lows. He was undergoing chemotherapy for blood cancer and really struggling with his mental health. In a recent interview with PEOPLE, Hoppus opened up about the "snap-out-of-it moment" he had when his depression was at its worst.
Read More
"I was in our living room crying and telling my wife, 'I don't know if I can do this,'"
Hoppus said
. "She was like, 'Well, what are you going to do, kill yourself?' And that's exactly what I was thinking. It was pretty dark."
His reaction to his wife, Skye Everly, 50, was, understandably, complex. But it made for a real turning point regarding his mental health.
"It was a total snap-out-of-it moment," Hoppus said. "I was like, 'What a s—ty thing to say.' But also, what a kind thing to say, like, 'Snap out of it, you f—ing baby. You have a beatable form of cancer. It's going to suck to get there, but get there.' I had to do the work."
RELATED: Blink-182's Mark Hoppus, 50, Gets A New Tattoo To Celebrate Beating Cancer. 'Not this time DEATHY!' Wrote One Of The Artists
Leaning on his wife of 22 years, his mother, Kerry Wernz, who also received successful treatment for the same cancer in 2019 and even strangers on the internet for support, Hoppus fought his way through "brutal" chemotherapy.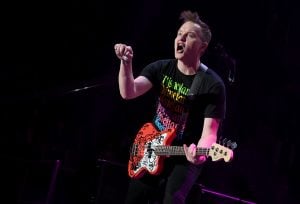 "I had no energy and ended up being on the couch just trying to get through the day," he said of his chemo treatments. "I had the worst brain fog. We were sitting at dinner with friends that we've known for years, and I'm looking at the husband across the table, thinking to myself, 'I can't remember your first name.' And it was like that all the time. I still feel it once every couple days — I'll forget a word — but it's much better."
Thankfully, it all paid off in the end, and Hoppus is cancer-free today. He's still recovering, but "in a much better place" than he was before.
"Today I'm doing good," he said. "I feel like I have a second shot at life.
"I'm 50 years old and glad to be alive."
If you or someone you know is considering suicide, please contact the 988 Suicide and Crisis Lifeline by dialing 988, text "STRENGTH" to the Crisis Text Line at 741741 or go to 988lifeline.org.
Mark Hoppus' Cancer Journey
Hoppus was diagnosed with stage 4 diffuse large B-cell lymphoma, a type of blood cancer, in June 2021 after seeing his doctor about a lump on his shoulder. Diffuse large B-cell lymphoma is a type of non-Hodgkin lymphoma. There are many specific types of non-Hodgkin lymphoma with diffuse large B-cell lymphoma  (DLBCL) being the most common. In fact, about 1 in every 3 lymphomas are of the diffuse large B-cell variety.
When Caught Early, Diffuse Large B-Cell Lymphoma Is Highly Treatable
Thankfully, he entered remission after chemotherapy treatments and shared the news of his "all clear" in September, but he "still [has] to get screened every six months."
But Hoppus has opened up about his difficult recovery from chemotherapy. Part of which included recovering from chemo brain, or brain fog – a sense of mental cloudiness experienced by people treated with chemotherapy.
RELATED: Blink-182's Mark Hoppus Says He Accidentally Told the World About His Cancer Diagnosis Because of Brain Fog; What to Know About This Common Chemo Side Effect
"The chemo brain is just heartbreaking to me because I can feel myself diminished mentally right now," he previously said in an interview with GQ.
But despite his harrowing health battle, Hoppus has relished in the support he's received from friends and fans alike. He's grateful to have been married to Everly for just over 20 years and have their 20-year-old son, Jack, as well as a flourishing career. In fact, he even felt like life was almost too good to be true before he was diagnosed with cancer.
"I had a really dark time after finding out," he told GQ. "I went through this whole period of like, not why me, but of course me. Why wouldn't it be me? We've had so much good luck and good fortune, and things have kind of fallen into place for me specifically for so long, that of course I was due. I was due for something tragic."
Mental Health after a Cancer Diagnosis
Dealing with a mental health struggle looks different for everyone, especially when it comes to a cancer diagnosis. But feeling sad or anxious about the changes coming your way after hearing the "c" word for the first time is very normal and understandable.
Dealing with Grief after a Cancer Diagnosis
"Grief comes in waves," Dr. Scott Irwin, a psychiatrist and director of supportive care services at Cedars-Sinai Medical Center, told SurvivorNet in a previous interview. "They're grieving the change in their life. The future they had imagined is now different."
RELATED: Do You Have a Question About Mental Health & Cancer– Strong In Cancer — A New Column From SurvivorNet with Dr. Marianna Strongin
Dr. Irwin stressed how helpful talk therapy could be when dealing with the mixed emotions. It's important to reach out to your doctor, a therapist or support groups in your community if you feel like you're struggling.
Ni Guttenfelder can attest to the benefits of therapy. She was diagnosed with ovarian cancer in October 2017 and quickly decided she needed a therapist to help process her feelings. Her suggestion is to seek a counselor you're comfortable with – one you trust and can open up to about your cancer diagnosis.
Ovarian Cancer Survivor Stresses the Importance of Finding the Right Counselor to Support You Through Your Journey
"Initially I went to a session where I just cried and the counselor basically told me what I was feeling was normal and didn't offer me any type of feedback. But I knew that I needed something more than that. Not just a crying session and a pat on my shoulder," she told SurvivorNet in a previous interview. "What I have found is that it's critical to find the right counselor, not just any counselor."
Once she found a counselor she truly trusted, Guttenfelder began to see some clarity.
"One of the things that my counselor has taught me from the very beginning that has helped me is the concept of acceptance," she says. "Acceptance is a process. It's like downloading a computer file in increments. Visualizing it in that way has really helped me."
Her therapist also taught her how to manage the people in her life. She decided to look into her relationship with her father, for example, because he was resistant to the idea of her receiving chemotherapy.
"It makes it more of an uphill battle and a challenge because we'll sometimes get into arguments about it," she says. "My counselor would say, for my own benefit and health that it's best to limit the time with others who may not be lifting me up during my treatment."
She also had some helpful advice for other women dealing with ovarian cancer: "You are stronger and more resilient than you could ever imagine."
"I think there's a misconception that we beat cancer when we finish treatment," she said. "Unfortunately, that's not always the case for everyone. I want you to know that you beat cancer by how you live your life."
Understanding Mark Hoppus' Cancer: Non-Hodgkin Lymphoma
Lymphoma, in general, is a type of blood cancer. Blood cancers can affect the bone marrow, blood cells, lymph nodes and other parts of the lymphatic system. The Leukemia & Lymphoma Society reports that every 3 minutes, one person in the U.S. is diagnosed with leukemia, lymphoma or myeloma.
More specifically, lymphoma is a cancer of the immune system that begins in the white blood cells called lymphocytes. Lymphoma begins when lymphocytes develop a genetic mutation that makes them multiply much faster than normal.
This mutation also forces older cells that would normally die to stay alive. From there, the quickly multiplying lymphocytes collect and build up in your lymph nodes, the small glands in your neck, armpits, and other parts of your body.
What Kind of Lymphoma Do You Have? Why Your Type Matters
There are more than 40 different types of the disease, but Hodgkin lymphoma and non-Hodgkin lymphoma are the main two sub-categories with the latter being much more common. The type of white blood cells linked to the disease determines the distinction. If doctors are unable to detect the Reed-Sternberg cell – a giant cell derived from B lymphocytes – then it is categorized as Non-Hodgkin lymphoma.
You might be at a higher risk for lymphoma if you:
Have been infected with the HIV or Epstein-Barr virus
Had an organ transplant
Have a family history of lymphoma
Have been treated with radiation or chemotherapy drugs for cancer in the past
Have an autoimmune disease
Signs of Lymphoma
One thing to note about lymphomas is that this type of cancer often creeps in quietly, without symptoms. And even when symptoms do show up, they don't necessarily point directly to cancer. In a previous interview, Dr. Elise Chong, a medical oncologist at Penn Medicine, explained that lymphoma symptoms could be difficult to detect.
Sneaky Lymphoma Symptoms Often Lead to a Late Diagnosis
"The symptoms of lymphoma, especially if you have a low-grade lymphoma, often are no symptoms," Dr. Chong explained. "People say, but I feel completely fine, and that's very normal."
RELATED: Student, 21, Believed Her Persistent Cough Was from Chilly Air Conditioning, But It Was Cancer: 'I Was in Shock'
People with lymphoma do not always have symptoms, but common ones are:
Swollen glands in your neck, armpit or groin
Fever
Chills
Night sweats
Unexplained weight loss
Feeling tired
Swelling in your stomach
No matter what, it's important to communicate anything unusual happening to your body with your doctor. Even if you think there's nothing to worry about, it's good to rule out the possibility of more serious issues.
Learn more about SurvivorNet's rigorous medical review process.