IBS vs. Colorectal Cancer: Know the Difference
Alexandra King, 37, received her stage 2 bowel cancer diagnosis in 2021, about one year after the onset of reoccurring bloody feces.
She is sharing her cancer journey in hopes that others understand "that you are never too young or healthy and to check your poo!"
Bowel cancer is a general term for cancer that begins in the large bowel, and this type of cancer can also be called colon cancer, rectal cancer, or colorectal cancer.
King's doctor misdiagnosed her with IBS, a common intestinal condition that can cause cramping, bloating, abdominal pain, constipation and, sometimes, blood in the stool. These symptoms can appear similar to that of colorectal cancer, so it's important to be vigilant and discussed concerning symptoms with your doctor promptly.
A 37-year-old woman from Somerset of South West England was diagnosed with stage 2
bowel cancer
after noticing blood in her stool, a symptom that was initially dismissed by a specialist as irritable bowel syndrome (IBS). With April being IBS Awareness Month, we're sharing her story to highlight the important distinctions between the common intestinal disorder and something more serious.
Alexandra King received her diagnosis in 2021, about one year after the onset of reoccurring bloody feces, and sought immediate medical advice when her stool resembled a "blood clot."
Read More
"In January 2020 I had a tiny bit of blood in my poo and then again the following week with some bad bloating after a stodgy meal out. It was easy to dismiss as it was gone the next day. The following month there was blood in my poo again after a meal out," King told
Bowel Cancer UK
. "In hindsight, I am really lucky there was an obvious symptom like blood." "I went to the doctors and the lady doctor examined my bum with a finger for any lumps and said it was probably a bit of IBS and piles," she explained. "This made perfect sense and I went on my way with no reason to think otherwise. I had a blood test just to check for anemia and it all came back fine. I just needed to take care of my body by eating more fiber, drink more water and chill out. "
Irritable bowel syndrome
is a common disorder affecting the stomach and intestines, according to Mayo Clinic. It can cause the following symptoms:
Cramping
Gas
Diarrhea
Abdominal pain
Bloating
Constipation
Changes in the appearance of your stool
Changes in how often your have a bowel movement
When there is constipation, the increased strain can lead to small tears in the rectum, resulting in some bleeding. However, persistent rectal bleeding is a serious symptom, and can be an indication of colorectal cancer (cancer that begins in the colon or rectum, including bowel cancer). Read on to get to know the symptoms that often come with the development of colorectal cancer.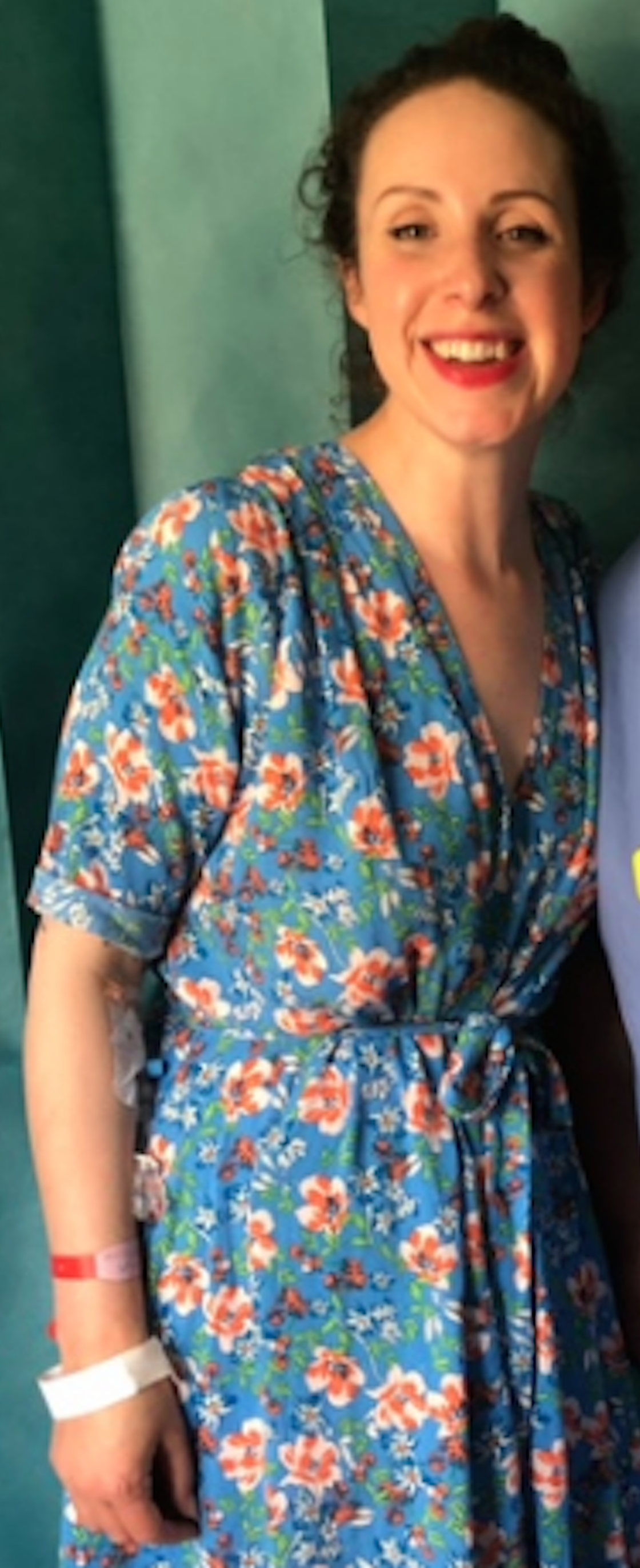 King recounted the blood in her "normal poo" would return once every six to eight weeks, around holidays or special occasions when she likely ate more than usual.
"It was easy to forget about it at this rate as it would just happen once and be gone, it was never explosive just a normal poo with a little blood on top. This continued until February 2021 when my poo suddenly looked just like a blood clot," she continued.
She immediately visited her doctors during the COVID-19 pandemic and showed them a photo of her stool, which prompted her to get an "emergency cancer referral for a colonoscopy," followed by scans and surgery.
The colonoscopy results revealed a "1-inch tumor" in her rectum, and she was diagnosed with bowel cancer.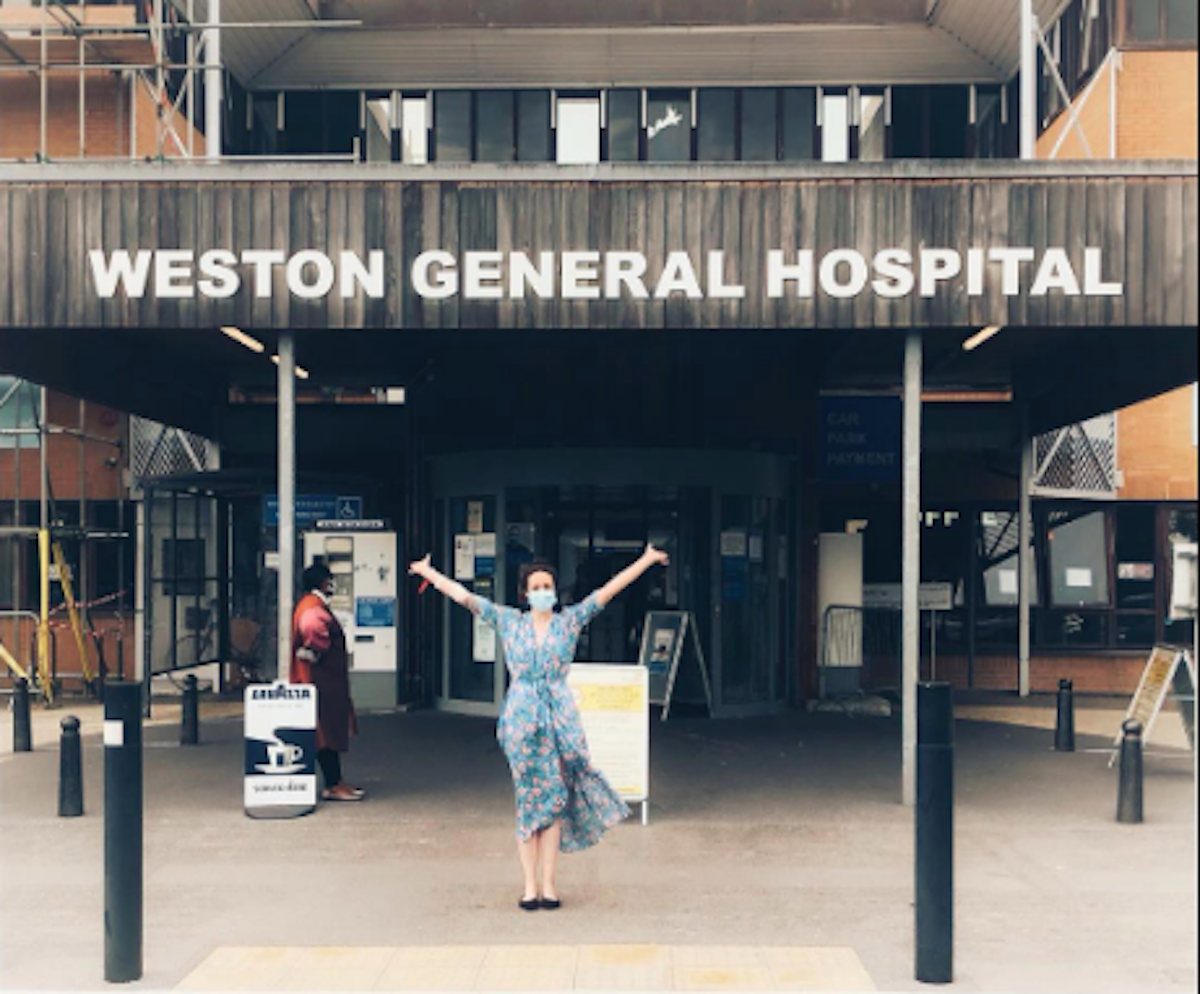 Looking back, King is thankful her consultant "played down the seriousness of the surgery" she needed to get.
"The conversation was very much 'there's just a little bit of cancer, we're going to chop it out, stick your colon back together and maybe do a little trick [the stoma] on the left whilst it heals, OK?', King explained, noting the cancer was able to be cut out and didn't spread to her lymph nodes. She was able to return home seven days after the surgery.
She happily learned three weeks after her surgery that she was cancer-free.
"My biggest promise to myself now is that I don't stress anymore or work myself to the bone damaging my health. I'm not going to waste any more of my life being pointlessly anxious about anything either. Now I make time for those I love rather than telling myself work comes first," she told Bowel Cancer UK. "I've also learnt that you are never too young or healthy and to check your poo!"
However, in April 2022, her cancer returned. She explained in her online journal, "I have a local recurrence of invasive adenocarcinoma (cancer in the glands that line organs) in my rectum where I haven't healed properly after my initial surgery. I'll be treated with a combination of both Chemo and Radiotherapy at the same time to kill it, then some more surgery.  This is why I am monitored and checked."
And recounting the timeline of her four-month cancer journey, King said she "went to the doctors on the 11th February, spoke to a consultant three weeks later, had a colonoscopy two weeks later, scans two weeks after that, an ultrasound a month later, and a month later surgery."
What Is Bowel Cancer?
Bowel cancer is a general term for cancer that begins in the large bowel, and this type of cancer can also be called colon cancer, rectal cancer, or colorectal cancer.
Colorectal cancer is a type of cancer that affects your large intestine (colon) or the end of your intestine (rectum).
Understanding Colorectal Cancer
The term colorectal cancer is used to describe cancers that begin in the colon or the rectum – so some people just use the term colon cancer if that's where the disease began. The cancer develops when abnormal lumps called polyps grow in the colon or rectum. It takes up to 10 years for a colon polyp to actually become cancer, according to SurvivorNet experts.
RELATED: How Is Rectal Cancer Treated Differently Than Colon Cancer?
Colorectal cancer, like all cancers, presents its own unique challenges for patients on the road to recovery. But Dr. Heather Yeo, a surgical oncologist and colorectal surgeon at New York Presbyterian Weill Cornell Medical Center, wants to remind people how far the treatment of this disease has come.
"One of the most exciting things about my job is that we've made a lot of progress on treatment options," Dr. Yeo says in a previous interview with SurvivorNet. "However, patients are still — while they're living longer, they are still living with colon cancer, and so I think it's really important that we talk about how some of the things in your life affect you."
Screening
Dr. Yeo also emphasizes the importance of colorectal cancer screenings such as colonoscopies because most colorectal cancers can be prevented early with screening.
"You Shouldn't Die From Embarrassment": Colon Cancer Can Be Prevented
"In the United States, on a national level, colorectal cancer has been decreasing for the last 20 years," Dr. Yeo says. "And much of that is thought to be directly due to screening for colon cancer."
RELATED: All Americans Should Begin Colorectal Cancer Screening at Age 45, According to New Guidelines; Previous Age Was 50
Even still, colorectal cancer cases are rising among younger people. And in the United States alone, rates have increased every year from 2011 to 2016 by 2 percent among people younger than 50. Because of this increase, the United States Preventive Services Task Force has recently updated its colorectal cancer screening recommendations to begin at age 45 instead of 50.
RELATED: New Research Shows More and More Young People Ages 20-39 Are Getting Late-Stage Colorectal Cancer; What's Going On?
"We know that colon cancers can be prevented when polyps are found early," Dr. Yeo said. "Lowering the screening age helps somewhat with this. But access to care is a real problem."
And increasing access is crucial to making sure that we don't see racial disparities within the world of colorectal cancer. Whites and Asians are significantly more likely to be up to date with their colonoscopies than African Americans, Latinos and Native Americans.
Research suggests that tailoring colon cancer screenings to each person's individual risk may be beneficial. If you are not yet 45 but have concerns about your risk, talk to your doctor. Ask about your individual risk based on your lifestyle and family history and find out when screenings would be right for you.
Symptoms of Colorectal Cancer
Colon cancer might not immediately cause symptoms, but there are signs to look out for.
Below are possible symptoms:
A change in bowel habits, such as diarrhea, constipation or narrowing of the stool that lasts for more than a few days
A feeling that you need to have a bowel movement that's not relieved by having one
Rectal bleeding with bright red blood
Blood in the stool, which might make the stool look dark brown or black
Cramping or abdominal (belly) pain
Weakness and fatigue
Unintended weight loss
As you can see, symptoms of colorectal cancer can appear similar to those of IBS, which may be why people may confuse one for the other based on presenting symptoms. Because of this, it is important to be vigilant and take note of any concerning changes to your body, discussing them with your doctor promptly. And if you feel your symptoms aren't being addressed appropriately, our experts recommend being persistant and pushing for the tests you feel you need.
Treating Colorectal Cancer at Stages 1, 2 and 3
When it comes to treatment for colon cancer at stages one, two and three, there is the potential for a curative effect with surgical resection.
Colon Cancer Stages One, Two and Three
"As long as it hasn't spread outside of the local area, it's still considered a curable colon cancer," Dr. Yeo told SurvivorNet.
According to Dr. Yeo, all patients with stage one to three colon cancers undergo surgery "if they're healthy enough to tolerate it." But there's more nuance to the possibility of additional treatment for stages two and three.
"Stage 2 a little bit more in between," she said. "It really depends on kind of the depth of the tumor into the colon wall and the risk that it has to spread.
If a stage two colon cancer has "bad features" identified by a pathology report, chemotherapy might be the right move.
"For example, if when they look at the pathology slides under the microscope, if they see that it's involving some of the vessels nearby, then that is a higher risk factor," she explained. "And then, those patients might be more likely to benefit from chemotherapy."
Stage three colon cancers have spread to the lymph nodes. So, these patients "at least need a conversation of chemotherapy," according to Dr. Yeo.
"For our patients with 3 or higher, they all need chemotherapy," Dr. Yeo said.
Leading Experts Urge Us to Be Proactive
"If I had any advice for you following a cancer diagnosis, it would be, first, to seek out multiple opinions as to the best care," National Cancer Institute Chief of Surgery Steven Rosenberg told us in a previous interview, "because finding a doctor who is up to the latest of information is important."
As we highlight in several areas of SurvivorNet, highly respected doctors sometimes disagree on the right course of treatment, and advances in genetics and immunotherapy are creating new options. Also, in some instances the specific course of treatment is not clear cut. That's even more reason why understanding the potential approaches to your disease is crucial.
At the National Cancer Institute, there is a patient referral service that will "guide patients to the right group depending on their disease state so that they can gain access to these new experimental treatments," Rosenberg says.
Cancer Research Legend Urges Patients to Get Multiple Opinions
Furthermore, getting another opinion may also help you avoid doctor biases. For example, some surgeons own radiation treatment centers. "So there may be a conflict of interest if you present to a surgeon that is recommending radiation because there is some ownership of that type of facility," Dr. Jim Hu, director of robotic surgery at Weill Cornell Medical Center, tells SurvivorNet.
Other reasons to get a second opinion include:
To see a doctor who has more experience treating your type of cancer
You have a rare type of cancer
There are several ways to treat your cancer
You feel like your doctor isn't listening to you, or isn't giving you good advice
You have trouble understanding your doctor
You don't like the treatment your doctor is recommending, or you're worried about its possible side effects
Your insurance company wants you to get another medical opinion
Your cancer isn't improving on your current treatment
Be Pushy, Be Your Own Advocate, Says Leading Expert 
Bottom line, being proactive about your health could be a matter of life or death. Learn as much as you can from as many experts as you can, so that you know that you did your best to take control of your health.
Contributing: SurvivorNet Staff
Learn more about SurvivorNet's rigorous medical review process.
---