You Are Always in Control of Your Health
Cancer diagnoses are often times extremely difficult to navigate—both physically and emotionally. Even tougher? Going through the mental gymnastics of a misdiagnosis: being told you have cancer and even getting treatment and/or surgery when there is no disease present.
A hospice nurse from the United Kingdom was misdiagnosed with breast cancer, had her right breast removed, then was told that doctors did not find any cancer in the "healthy" tissue after all.
One of the greatest cancer researchers of our time tells SurvivorNet that people should get "multiple" opinions following a cancer diagnosis.
Cancer diagnoses can be extremely difficult to navigate—both physically and emotionally. Even tougher? Going through the mental gymnastics of a misdiagnosis: being told you have cancer and even getting treatment and/or surgery when there is no disease present. What if you went 35 years thinking you had survived brain cancer? Read on, because it happened.
Most ethical medical professionals will typically encourage a second, or even third opinion. They want you to feel as comfortable as possible about your decision, and as confident as doctors can be, nobody is perfect.
Read More
Sometimes the stress following a diagnosis will be so taxing that you just want to get the cancer removed. Waiting to see another medical professional can be double the stress, but it's often worth it in the end, especially if another doctor catches a monumental error. Sometimes the misdiagnoses can be more minimal, but still a potentially dangerous mistake, such as being diagnosed with one type of breast cancer then finding out later it was actually a mix of two types, which can happen.
Here are some shocking misdiagnosis stories reported in 2021 that will serve as a reminder to consider a second opinion, and always to advocate for your health and the health of your family.
A Breast Cancer Misdiagnosis Caught After Mastectomy
Brenda Young, a hospice nurse from South Yorkshire in the United Kingdom, was diagnosed with invasive breast cancer following a routine scan. She had her right breast removed. After analyzing the breast tissue, the hospital found that it was actually healthy breast tissue with no evidence of cancer.
The hospital told Young what happened and offered an apology. "By this time it was too late and I had already undergone the mastectomy," Young said in a statement.
To make matters worse, the ongoing pandemic forced hospitals to limit or cancel non-emergency procedures, so Young was not able to have reconstructive surgery on her breast for another eight months.
Related: 'My Life Is In Jeopardy': Cancer Patients Terrified As Hospitals Overrun with COVID Cases Postpone Critical Surgeries and Treatments
"I felt frustrated that I had undergone removal of my breast for a cancer that I didn't have, but then had to wait so long for reconstruction," Young said.
Rebecca Hall, the medical negligence lawyer who investigated Young's case, said in a statement: "The first-hand account we've heard from Brenda is truly shocking. Understandably what happened to Brenda has not only had a physical effect but also a psychological impact on her."
Related: Woman Had Mastectomy After Getting Misdiagnosed with Breast Cancer Then Had To Wait Eight Months for Breast Reconstruction; When To Get a Second Opinion
Young had to live with one breast, which made her feel "extremely uncomfortable and self-conscious."
A hospital spokesperson issued an apology.
"We welcome the trust's apology and pledge to learn lessons," investigator Hall said. "Patient safety should always be the fundamental priority in all care."
A Man Spent 35 Years Believing He Survived Brain Cancer
Jeff Henigson believed he had survived a rare type of brain cancer, diagnosed 35 years ago at age 15. He was given two years to live.
When California-born Henigson looked back at old records, he noticed that two out of three medical reports stated that he had pilocytic astrocytoma (spongioblastoma), a benign (non-cancerous) tumor.
Henigson wrote a firsthand account about his unfathomable experience for The Washington Post.
Right before his 50th birthday, Henigson received a call from neuropathologist Karl Schwarz, who specialized in anaplastic astrocytomas, the type of cancer allegedly found in Henigson's brain when he was a teenager. Schwarz said in his 38-year career, he'd come across only three patients who had lived well beyond the correct expected years of survival from this type of brain tumor. In two out of the three patients, it was found that they had been misdiagnosed.
Henigson, who suffered a seizure right after he was contacted, dug out his medical records that had been neatly organized by his mother. Sure enough, Schwarz was right.
 

View this post on Instagram

 
Henigson wrote a list of the consequences of the misdiagnosis. "Brain radiation damaged my vision, my hearing and my hormones, and its long-term effect on the scar tissue in my brain is possibly why I'm epileptic. Chemotherapy harmed my lung function."
His life had been filled with fear, "every time I had a headache, every time I've been stuffed into a tube for another precautionary MRI, waiting to hear that I'm clear for a year or two."
"My diagnosis wreaked havoc on each member of my nuclear family, harming them, hurting them, for many years," he wrote in the painful essay. "There was so much to be angry about. So much to grieve … for 35 years I was afraid my tumor would come back — that the cancer would kill me."
For the first time in his life, at least the first time post-diagnosis at 15 years old, despite all the trauma endured due to this massive error, he felt relief for the first time. "I do hope that will grow."
A Mother Lost Her Daughter to a Cancer Misdiagnosis
A devastated mother turned her aguish into action after losing her daughter, 27, to stage IV cancer.
Andrea Brady appeared in front of Parliament to demand better cancer care for individuals between 25 and 49, like her daughter Jessica who was diagnosed with stage IV adenocarcinoma. Adenocarcinoma is aggressive cancer found in the secretory cells that line the body's organs and release mucus, digestive juices and other fluids.
Related: 27-Year-Old Dad Dies of Cancer After COVID-19 Allegedly Caused Delays In Getting MRI, Resulting In Misdiagnosis
In her remarks, Andrea revealed that this diagnosis came five months after her daughter's desperate pleas with doctors for an in-person visit during the pandemic.
Jessica made 20 of those requests in total, said Andrea, and was rejected each time while being prescribed antibiotics to treat Long COVID – despite her tests for the virus all coming back negative.
Related: Anguished Mother Reveals Daughter, 27, Begged For In-Person Doctor Visit and Was Rejected 20 Times Before Terminal Stage IV Cancer Diagnosis
It was not until Jessica began to develop large glands in her neck that an in-person visit was granted, but Andrea said that the doctor assured her it was not cancer.
Related: Mother, 43, Discovers Rashes Covering Her Body Are Not Eczema But Incurable Skin Lymphoma: 'I Am Living Proof That Docs Can Be Wrong For Many Years'
Andrea, who had watched her daughter's health deteriorate over the course of five months, then paid for her daughter to see a specialist, who performed a biopsy. The two went together to get the results, learning that not only did Jessica have stage IV cancer, but she would need to be admitted immediately and placed on oxygen. There were no treatment options available.
"Jess was a very gentle, sweet person, but she really did attribute her late diagnosis to the slow reaction of her [doctor]," said Andrea while speaking in front of the Health and Social Care Committee. "I think the most important thing is we feel, and Jess felt that no one listened, no one took it seriously, and more than anything, she needed a permitted face-to-face appointment really early on, with people making notes."
Instead, Jessica was admitted to the hospital the day she was diagnosed and passed away less than four weeks later.
"What can I say to express how I feel at Jess leaving? The gnawing emptiness of her going, my dearest, precious girl. My world has stopped, yet the hands of time beat ruthlessly on," said Andrea. "The world still turns, and I want to halt it, to hush it. The rawness of waking in the morning to the realization she is no longer here, the cruelty of closing my eyes at night knowing another day has passed. Heartache is real, and so is heartbreak."
A Mom's Relentless Attitude Got a Proper Diagnosis for Her Son
A British toddler has his mother's intuition to thank for saving his life after doctors diagnosed the boy with acute lymphoblastic leukemia.
Louise Chessell took her son, Jensen, then 2, to the doctor after a series of infections resulted in the boy limping around the house and growing increasingly pale. She left with a prescription for antibiotics after being told Jensen was feeling the effects of various infections.
Related: 'Pushy' Mom's Concerns About Son's Sore Neck Reveal Boy, 3, Has Acute Lymphoblastic Leukemia After Misdiagnosis; How To Be Your Own Advocate
Chessell began to doubt that assessment when Jensen's condition began to worsen and eventually demanded more tests and answers from doctors.
Those tests came back positive for acute lymphoblastic leukemia.
"He started getting reoccurring ear infections, tonsillitis, he started limping, he was going pale. He just wasn't himself," Chessell told Cheshire Live of her son's condition before that first visit to the doctor.
"He was bruising easily. He was falling over. We went to the doctors, and they were putting it down to either viral or chest infection, ear infection, tonsillitis, them types of things."
It was a sore neck, however, that convinced Chessell this was not just an infection.
"He was on constant antibiotics, and then one Thursday night, he woke up at three in the morning, and his neck was sore, and he was crying. He was two at the time, in April 2020," she recalled. "I felt all around his neck, and he had lumps after lumps in it. I phoned my doctors on the Friday and said what I'd seen and they said it would be worst case scenario, but I asked for a blood test."
That blood test happened on Monday, and by the end of the day, the family was called into the hospital.
"We got there, and that's when they said he had leukemia, blood cancer," said Chessell.
Related: 19-Year-Old's Chest Pains Dismissed as Anxiety More Than 10 Times Before He Received a Terminal Blood Cancer Diagnosis
She is now using her experience to encourage parents to trust their instincts, even if they may be wrong.
"If they feel like something isn't right, then follow their gut instinct and push for more answers and tests. If I didn't push for answers and tests, it could've gone on for a longer time with [my son] being undiagnosed," said Chessell. "Obviously, nine times out of ten, it's not going to be cancer really, but if you feel like your child's not very well.."
Chessell says that it has been difficult watching her son go through chemotherapy, which began when Jensen was 2-years-old and will last through 2023.
"It's hard to watch him go from what he was to how he did in the first nine weeks," Chessel said. "Usually when you get diagnosed you're only in the hospital a week or two, but we spent the first nine weeks in hospital because of how poorly he was."
She then added: "He'd never stayed away from home, and the next thing he was in hospital getting things pumped through him, people prodding and poking him, getting put to sleep and all these types of medicines and stuff."
Man Learns He Doesn't Have Cancer After Having His Prostate Removed
Eric Spang, an IT engineer from the Philadelphia suburbs learned he never had cancer after surgery to remove his prostate.
"It has devastated me," Spang told CBS Philly.
In September 2020, Spang underwent a routine Prostate Serum Antigen (PSA) test and learned his levels were slightly elevated. Those levels were lower when he took the test a second time in November but still elevated enough to warrant further screening.
Related: Devastated Father-of-Five, 48, Learns He Never Had Cancer After Doctors Surgically Remove His Prostate
Out of an abundance of caution, Spang had a biopsy in January, at which time he was told by the doctor "that his prostate biopsies had actually looked pretty good and he would be surprised if they showed cancer but they would have to wait for the pathology results," according to court documents.
Four days later, Spang was told that six of the 12 slides from the biopsy "were positive … for prostate cancer." He sought out second opinions to confirm this diagnosis he says, but those all came from doctors and clinics in the same medical group, which does not specialize in oncology.
Spang underwent a "laparoscopic, robot-assisted radical prostatectomy with bilateral pelvic lymph node dissection."
It was two weeks later that Spang learned that he was cancer-free, news that would normally be reason to celebrate for most people recovering from surgery.
In addition to the mental and emotional anguish, there were also physical repercussions caused by his unnecessary surgery.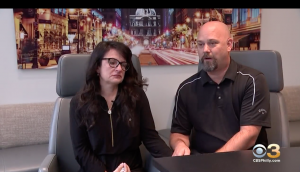 Spang suffered from severe abdominal pain, urinary incontinence and sexual dysfunction because the doctor "had not been able to spare the nerves controlling sexual function because … one of the nerves had been 'sticky.'"
Spang says that he hoped to save his life by having this surgery, and now his life and the lives of his family members have been changed forever.
Leading Experts Urge Us to Be Proactive
"If I had any advice for you following a cancer diagnosis, it would be, first, to seek out multiple opinions as to the best care," National Cancer Institute Chief of Surgery Steven Rosenberg told us in a previous interview, "because finding a doctor who is up to the latest of information is important."
Related: Second (& Third) Opinions Matter When Deciding Between Surgery or Radiation
As we highlight in several areas of SurvivorNet, highly respected doctors sometimes disagree on the right course of treatment, and advances in genetics and immunotherapy are creating new options. Also, in some instances the specific course of treatment is not clear cut. That's even more reason why understanding the potential approaches to your disease is crucial.
At the National Cancer Institute, there is a patient referral service that will "guide patients to the right group depending on their disease state so that they can gain access to these new experimental treatments," Rosenberg says.
Cancer Research Legend Urges Patients to Get Multiple Opinions
Furthermore, getting another opinion may also help you avoid doctor biases. For example, some surgeons own radiation treatment centers. "So there may be a conflict of interest if you present to a surgeon that is recommending radiation because there is some ownership of that type of facility," Dr. Jim Hu, director of robotic surgery at Weill Cornell Medical Center, tells SurvivorNet.
Other reasons to get a second opinion include:
To see a doctor who has more experience treating your type of cancer
You have a rare type of cancer
There are several ways to treat your cancer
You feel like your doctor isn't listening to you, or isn't giving you good advice
You have trouble understanding your doctor
You don't like the treatment your doctor is recommending, or you're worried about its possible side effects
Your insurance company wants you to get another medical opinion
Your cancer isn't improving on your current treatment
Be Pushy, Be Your Own Advocate, Says Leading Expert 
Bottom line, being proactive about your health could be a matter of life or death. Learn as much as you can from as many experts as you can, so that you know that you did your best to take control of your health.
Contributing: SurvivorNet staff reports
Learn more about SurvivorNet's rigorous medical review process.