Deborah James Gets Massive Support for Cancer Fund
BBC host Deborah James, 40, is battling stage 4 bowel cancer and has raised over £2 million for bowel cancer research; £1 million was raised in just 24 hours!
James was diagnosed with stage four bowel cancer in December 2015.
Spending time with family can help the cancer journey. James has two children with her partner and says she is spending a lot of time with them.
BBC host and bowel cancer warrior Deborah James, 40, shared this week that she's raising money for her charity,
Bowelbabe Fund
for Cancer Research initiative, and she raised a jaw-dropping amount in record time: Over $1 million in 24 hours.
James is fighting stage four bowel cancer, and the London resident has been a tireless advocate for bowel cancer awareness since the time of her diagnosis. The BBC host has two children with her husband, and she has recently been moved to hospice care.
Read More
James was overwhelmed by all the donations she received for her cancer charity. She says, "It makes me feel like we're all kind of in it at the end together and we all want to make a difference and say 'You know what? Screw you cancer."
She has raised over £2 million for her cancer charity, and the number keeps growing.
James writes that all funds will be used for "Funding clinical trials and research into personalised medicine that could result in new treatments for cancer patients, including projects in collaboration with partners such as The Institute of Cancer Research (ICR) and The Royal Marsden. [And the] Continued support to raise awareness of cancer, such as Bowel Cancer UK's Never Too Young campaign."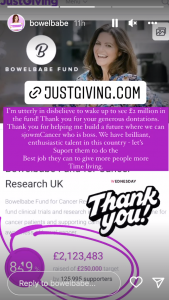 Deborah James' Bowel Cancer & What is Bowel Cancer?
James was diagnosed with stage four bowel cancer in December 2015. Bowel cancer is a general term for cancer that begins in the large bowel, says the National Health Service. Depending on where cancer starts, bowel cancer is sometimes called colon or rectal cancer, or colorectal cancer.
In the UK, where James lives, bowel cancer is one of the most common types of cancer diagnosed. And it typically presents in people over the age of 60. And in the U.S., colorectal cancer is the third most commonly diagnosed cancer in both men and women, excluding skin cancers. The American Cancer Society (ACS) estimates that in 2021 there will be 104,270 new cases of colon cancer and 45,230 new cases of rectal cancer.
Treating a Bowel Obstruction Caused by Colon Cancer
Spending Time with Familly Through Cancer
Deborah James has shared how she's spending lots of time with family at home. Surrounding yourself with loved ones, like family members and children, and a spouse, can make a big difference in helping you feel supported and emotionally attended to.
In an earlier interview, ovarian cancer survivor Beverly Reeves stresses how critical it is to have a supportive, loving community guiding you during your cancer battle.
Reeves tells SurvivorNet, "f I had one piece of advice for someone who had just been diagnosed with ovarian cancer, it would be to get a strong support group together. Get your close friends. If you're connected to a faith community, get your faith community."
"Get your family," says Reeves. "Let them know what's going on and let them help you. And sometimes that's the most difficult thing to do, but just know that they are there. If they love you, they're there to help you. And don't be embarrassed."
She continues, "Because this is a cancer that not a lot of people want to talk about. But it's real and we need to talk about it, and we do need that help. So talk to your family and your friends and your faith community, and get that network together so they can support you and be there for you."
'Faith, Family, and Friends' Helped Beverly Reeves Get Through Ovarian Cancer Treatment
Learn more about SurvivorNet's rigorous medical review process.