Six Year Old Boy's Leukemia Diagnosed After Family Friend Noticed He Wasn't Playing Outside
Cian McGrath of Liverpool England was six years old when a family friend noticed he was playing with other kids
Several doctors' visits later he was diagnosed with leukemia.
Now 22 and in remission, he's studying medicine and raising money for a charity that supports children with cancer.
Pediatric or childhood cancer is diagnosed in 43 children in the United States every day.
It's hard to imagine a six year old boy choosing not to be outside playing with his friends. But Cian McGrath of Liverpool England discovered his disinterest was due to leukemia.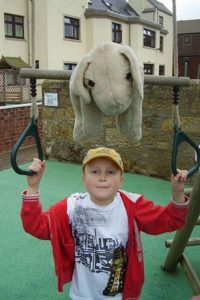 Read More
"I remember when I was six, I wasn't myself," McGrath
told
The Liverpool Echo
. "It was near the end of Year Two and close to the last days of school and one of my mum's friends, who was a doctor, noticed that I was tired a lot and not playing with my friends."
McGrath was sent to more doctors who gave him a battery of tests, especially after more symptoms appeared.
"Then bruises started coming out of nowhere and eventually I was diagnosed."
Doctors confirmed McGrath was suffering from leukemia, the most common cancer in young children.
His treatments were grueling and exhausting.
"I remember I used to go to theatre once every four to six weeks and it was quite a lot," he said. "But when I was ten, I was in remission."
McGrath is now 22, and studying medicine while working in the oncology department of Newcastle Hospital.
He says his own ordeal has inspired him to give back.
"I've recently done a placement on the oncology department in Newcastle and it was there I was really able to see the work being done by doctors," he said. "It felt right to be able to do something and raise some money for the charity."
That charity is Children's Cancer North, an organization that supports families of children with cancer, raising awareness and investing in research.
"It's more than helping through treatment. There are specialists who help you play games and make you feel somewhat normal," he said.
McGrath will take part in the Great North Run next month with proceeds going to CCN.
"You can see it at the hospital, you can see the work everyone does to try and help and it feels nice to see the charity is making a difference on the wards they are at, and knowing that I was one of those children."
McGrath has started a gofundme page, and so far, he's raised $1000 of his $1800 goal.
"It just feels great to be able to raise money and make you feel like you are making a difference, no matter how much you raise."
What is Leukemia?
Leukemia is a blood cancer that develops when the body produces large quantities of abnormal white blood cells. Because they're abnormal, they prevent the bone marrow from producing any other type of cell, namely red blood cells and platelets.
Doctors say there's a huge range of symptoms for leukaemia, with four main types of the blood cancer named according to the type of white blood cells affected.
Among them, chronic myeloid leukaemia, and the main symptoms include fatigue, weight loss, loss of appetite, abdominal discomfort, and bleeding or bruising easily.
Pediatric Cancer: A Breakdown
Pediatric cancer, also known as childhood cancer, is diagnosed in 43 children in the United States every day. Thanks to decades of research and treatment advances, there is a 90% survival rate for children facing this disease which is a significant leap from 50-years-ago when the survival rate was only 10%.
The most common types of cancers found in children include:
Tumors on the brain and spinal cord
Leukemia
Neuroblastoma
Wilms tumor
Lymphoma
Rhabdomyosarcoma
Retinoblastoma
Bone cancer
Learn more about SurvivorNet's rigorous medical review process.
---