As the U.S. gears up for another football season this fall, Sportscaster Erin Andrews is prepping to hit the sidelines again with the FOX Sports NFL team. Andrews — who is also a host on ABC's Dancing With the Stars — is every bit the busy career woman. When she's not interviewing top NFL stars or gracing the Dancing With the Stars stage — the 41-year-old TV personality is enjoying time off and vacationing with her former hockey player husband, Jarret Stoll. You would never guess that in 2016, Andrews was diagnosed with cervical cancer.
When Andrews was 38, the cancer was discovered during a routine screening. After her own experience with the disease, Andrews became an advocate — encouraging women to make sure they visit a gynecologist yearly, and stay up-tp-date on cancer screenings.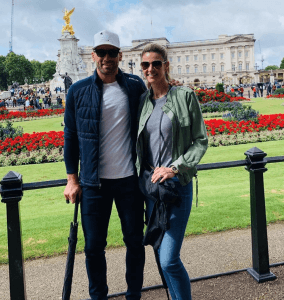 Read More
"Even if you feel like you're healthy and you're busy, it's so important to go to the doctor," Andrews said in a
2018 interview with InStyle
. "I made time to do it every single year, and no one in my family had ever dealt with cervical cancer before. I didn't have any symptoms whatsoever, and I was getting ready for football season. I just went in for a normal exam and thought everything would be good to go. Then, I got a message from my gyno explaining that things were not good."
Because Andrews was screened regularly, her cancer was caught at an early stage. Women who are diagnosed at a later stage may have to undergo radiation, chemotherapy, or some other aggressive treatment option. In Andrews' case, she and her doctor decided that surgery was the best option for her particular situation.
While Andrews was undergoing treatment, she kept her cancer diagnosis between herself and her closest family and friends. She told InStyle that even though she could have taken the time off to rest, she decided instead to power through the football season — and not mention the diagnosis to colleagues.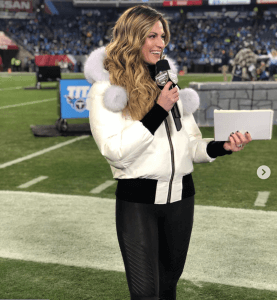 "I was in the middle of football season at that point, and I wasn't about to miss a game," she said. "Being on my feet for about seven hours at a time was very hard, physically. But what was even harder was that, because I work with a bunch of men, I didn't want to act like I was sick. I didn't want it to seem like I was in pain or that I couldn't do my job well. Mentally, it was draining."
After Erin got the word that she was cancer-free, even though she said she still worries about a relapse, she became much more open about discussing her experience with cancer publicly. She's committed to spreading awareness about the disease — which claims the lives of more than 4,000 women in the U.S. alone every year, according to the American Cancer Society. Cervical cancer was once one of the deadliest types of cancer for women, however, the mortality rate has dropped significantly as the use of regular Pap tests became common practice. That's the message Andrews attempts to spread with her advocacy.
"This is treatable and preventable, and women should not be dying of it," she said.
Another aspect of Andrews' cancer journey that she has spoken candidly about is the question of having children after cancer. When Andrews and her doctor first decided they would go the surgery route for treatment, her doctor sat her down to tell her that if she wanted children to be a part of her future, she should consider freezing her embryos. At the time, she and her husband were not yet married and hadn't discussed the topic of children in depth.
Andrews was really worried that even if she froze her embryos, she would not be able to carry a pregnancy and the couple would need to use a surrogate. Luckily, she had a very supportive partner through it all.
"After that first appointment, we sat at The Ivy across from the hospital and ordered a bottle of Pinot Grigio. I was bawling, and wondering if I'd be able to have kids," Andrews told InStyle. "I said, 'What if we have to get a surrogate and I'm not pregnant for our baby shower?' and he said, 'Then we'll go to Napa with all of our friends and just drink.' I was very lucky that he looked at it that way, but there was still the thought of, 'What if?' We had to have some very real conversations."
Fertility After Cervical Cancer
For young women battling cervical cancer, and many other types of cancer, there are fertility preservation options available. But it's important to have the conversation with your doctor about which options you may be able to take advantage of before you undergo cancer treatment. A woman's ability to get pregnant after cervical cancer depends on the stage of the cancer and the treatment received.
In a previous conversation with SurvivorNet, Dr. Jaime Knopman, a reproductive endocrinologist at CCRM NY, said that when it comes to preserving fertility for women with cancer — time is always of the essence. So this is a conversation to have with your doctor sooner rather than later.
"The sooner we start, the sooner that patient can then go on and do their treatment," Dr. Knopman said. "A lot of the success comes down to how old you are at the time you froze and the quality of the lab in which your eggs or embryos are frozen in. Oftentimes we just do what we call a 'fast start.' We start them no matter where they are in their menstrual cycle. Because of that, it can sometimes take a bit longer than it would for traditional IVF stimulation. But all in, you're never really talking about more than two weeks."
Learn more about SurvivorNet's rigorous medical review process.