Applegate Filming 'Dead to Me' in Wheelchair
Actress Christina Applegate, 49, is currently filming Netflix's Dead to Me; on-set, Applegate was pictured in a wheelchair, as part of her character's story arc.
The actress was diagnosed with early-stage breast cancer in 2008 and underwent a double mastectomy to treat it.
Mammograms screen for breast cancer and women aged 45 to 54 should have mammograms annually.
Actress Christina Applegate is currently filming season 3 of her hit Netflix show, 
Dead to Me
, and of great interest to fans is the breast cancer survivor's latest on-set look: Applegate was
pictured in a wheelchair
.
Related: Christina Applegate, Julia Louis-Dreyfus; 5 Stars Who Beat Breast Cancer And Are Doing Great
Read More
According to fans of the show, the wheelchair is part of her character's story arc. The character she plays, realtor and widow Jen Harding, was in an accident that required her to use the wheelchair. At the end of season two, Applegate's and co-star Linda Cardelinni's characters were involved in a car accident when they were hit by a drunk driver, played by James Mardsen. The three were pictured together shooting in Los Angeles last week, as masked crew members joined them on set.
Applegate was nominated for a Golden Globe in 2020 for work on the show in the category of Best Performance by an Actress in a Television Series – Musical or Comedy.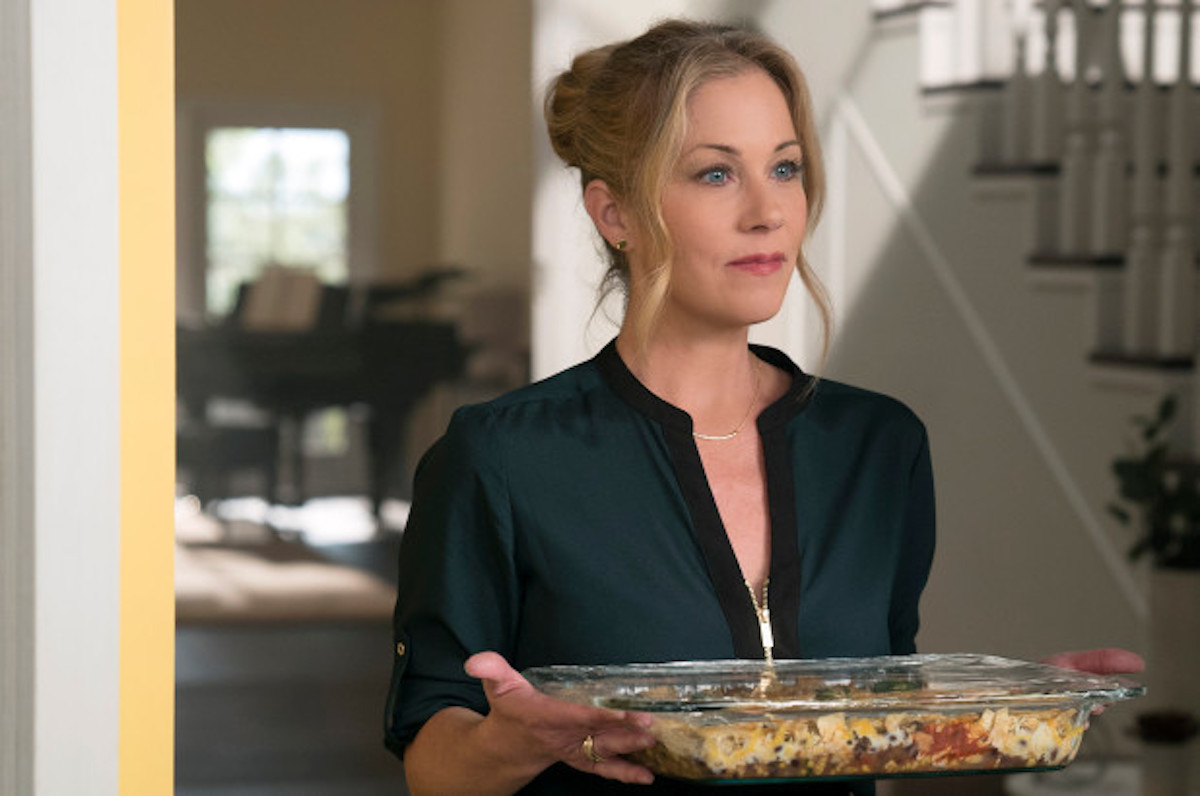 Applegate's Breast Cancer Journey
Applegate was diagnosed with early-stage breast cancer in 2008 at 36. She says that the diagnosis led to a "total emotional collapse." A cancer diagnosis leads many to reckon with feelings of anxiety, grief, and depression. Resources like therapy and support groups can be helpful when you're coping with a cancer diagnosis.
Related: 47-Year-Old Christina Applegate Had Her Breasts, Ovaries, and Fallopian Tubes Removed. Now She's Up For an Emmy Award!
Applegate's treatment plan included a double mastectomy. Dana-Farber oncologist Dr. Ann Partridge explains in a previous interview the influencing factors around opting for a mastectomy to treat breast cancer. She says, "So when I talk to a woman who comes to me and she has breast cancer, I evaluate what the standard options for treatment for her are."
"[This] typically includes cutting out the cancer, which is either a lumpectomy – if you can get it all with just a little scooping around of the area that's abnormal – or a mastectomy for some women meaning taking the full breast because sometimes these lesions can be very extensive in the breast," she explains. "And I'll talk to a woman about that and I'll say these are two main options or the big fork in the road."
Related: What is a BRCA Mutation?
The actress also discovered, following her diagnosis, she carries the BRCA1 mutation, which significantly increases a woman's chance of developing both breast and ovarian cancer. She later had her ovaries removed.
When Should You Consider a Mastectomy?
Screening for Breast Cancer
Mammograms are the screening detection method for breast cancer, and women ages 45 to 54 should have them annually. Mammograms detect lumps in the breast tissue and early signs of cancer. Dr. Connie Lehman, the chief of the Breast Imaging Division at Massachusetts General Hospital, says in an earlier interview that mammograms save lives, and they're critical for that reason. She says, "If you haven't gone through menopause yet, I think it's very important that you have a mammogram every year. We know that cancers grow more rapidly in our younger patients, and having that annual mammogram can be lifesaving."
Related: Getting to Know Your Breasts with Self-Exams
"After menopause, it may be perfectly acceptable to reduce that frequency to every two years," explains Dr. Lehman. "But what I'm most concerned about is the women who haven't been in for a mammogram for two, three, or four years, those women that have never had a mammogram. We all agree regular screening mammography saves lives."
When Should I Get a Mammogram? 
Learn more about SurvivorNet's rigorous medical review process.